eBay Sellers Charged USPS Short Paid Fee, Didn't Ship USPS
UPDATE: eBay has reportedly told sellers this was a "display glitch" that caused the page to say the fees were for USPS, but they were really for FedEx shipments.
Community staff member Tyler@eBay said:
Hi everyone - I have heard from our shipping team on this:



Some charges for FedEx labels were incorrectly titled "USPS Short Paid Fee." These are newly invoiced fees for FedEx labels and the description reflects the correct FedEx tracking number and charges. We apologize for any confusion this may have caused. Members impacted will be receiving an additional eBay message with more detail.
And a reader sent this screenshot of the email affected sellers received.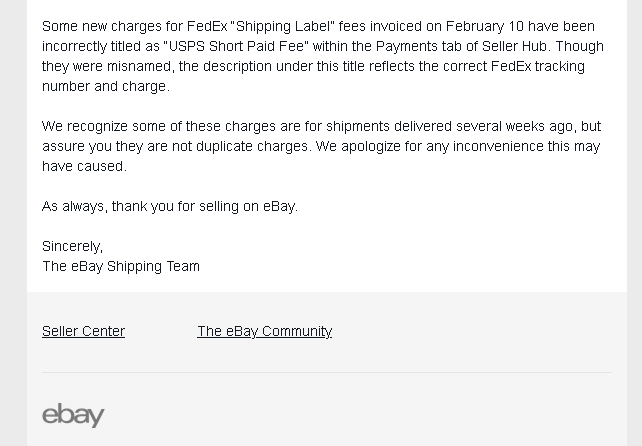 However, affected sellers are still confused and questioning these charges - many of which are from shipments as far back and November or December.
And as Jackie M. pointed out in the comment below:
The page where sellers can check USPS APV charges has been out of commission for at least a week. Coincidence?
---
eBay sellers are reporting being charged extra USPS Short Paid fees on package that didn't even ship USPS.
Sellers in the eBay community are reporting the issue as well.
I got hit today with a $500+ USPS SHORT PAID FEE even for FedEx packages....so it is not generally related to USPS...it might actually be an eBay technical issue because the CS I was talking to could not make sense of why FedEx shipments were being classified as USPS SHORT Paid Fee clients.... Has anyone disputed and gotten an answer for this issue. Thanks in advance
I just had the same thing happen today for FedEx. It says USPS short fee but all the labels are for FEDEX packages I shipped (and was already billed for) in Q4. It's about 15 packages and around $300 total.
Same thing just happened to me this morning. I got hit for $89 in fees on 6 packages. Those labels were paid for last month! I'm currently trying to figure out how to dispute them. Any idea?
20+ Years of doing this and never THIS. I open up my ebay messages this morning and am met with list of 40+ items, dating back to November...A LIST of "USPS SHORT PAID FEES" to the tune of around $1000.00 to be taken out of my bank account.
And MOST of the shipments were FedEx!



Every eBay rep I talk to or message is a different person. They are all just guessing as to the issue, not looking any further than one shipment. Just a run around is all I'm getting.



They tell me I need to dispute these.

I ask how?

They tell me since it's a shipment where USPS "and" FedEx are involved, I need to start with USPS? (I have NEVER involved both usps and fedex in a shipment...never chosen that option).



Yet still, won't tell me how, or where to go to dispute?
My packages are not weighed, nor measured incorrectly.
---
At first I thought maybe this was an issue where sellers were using FedEx SmartPost, where USPS may handle the package for delivery. However, one affected seller told me they do not use FedEx SmartPost and all affected shipments would have been FedEx Ground.
They provided the tracking number to me to verify, and it is definitely a FedEx Ground shipment.
There has been no response from eBay yet, but I'll update if there is.
In the mean time, have you been charged USPS Short Ship fees by eBay for non-USPS shipments? Let us know in the comments below!
---