eBay Standard Envelope Offered In Categories That Don't Qualify
Back in January, eBay introduced the new eBay Standard Envelope shipping option for trading cards.  This option offers a low cost, trackable shipping method for small, lightweight items and expanded to include coins, paper money, postcards, and stamps in April.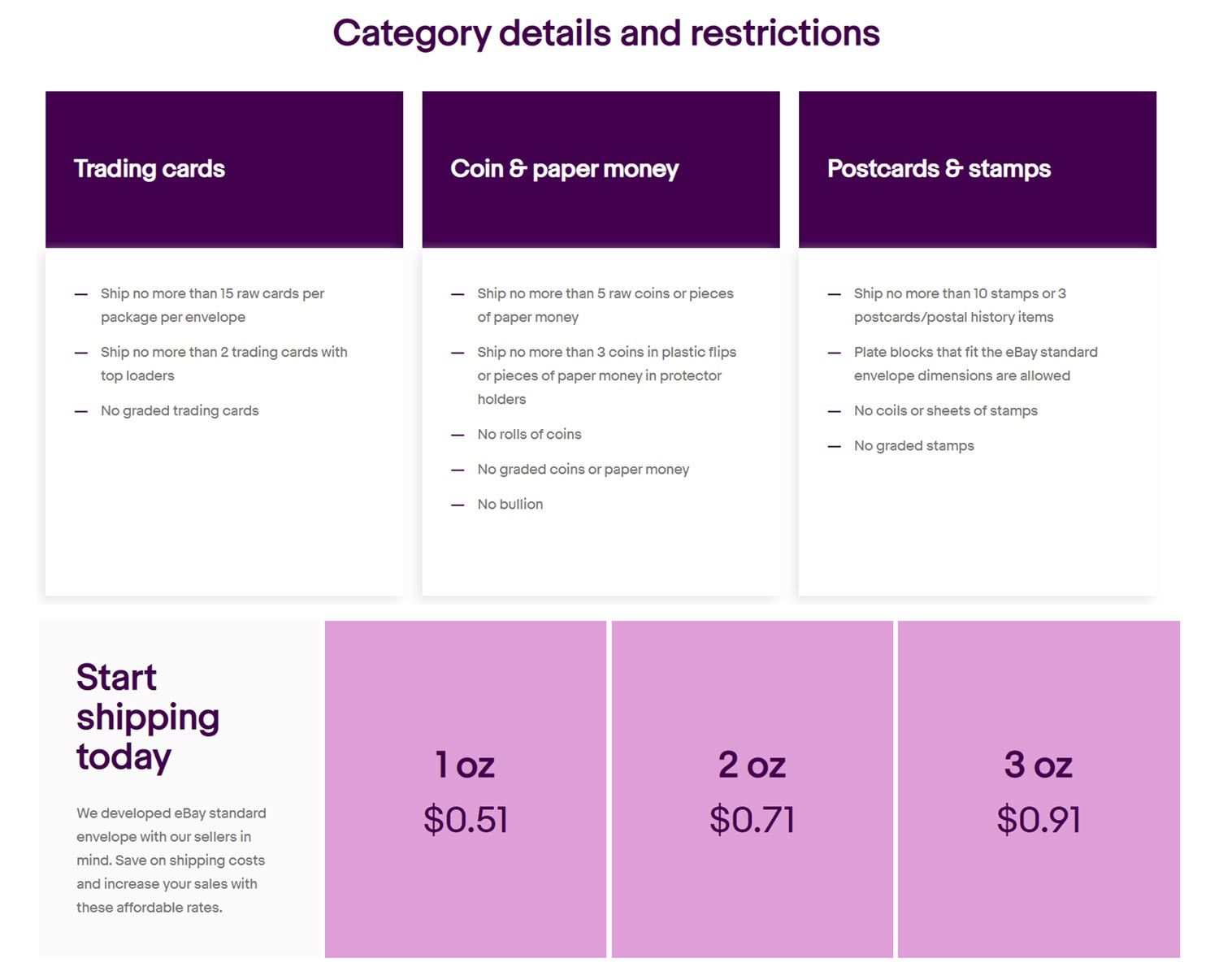 Since it's introduction, eBay Standard Envelope service has hit a few bumps in the road.  Sellers and buyers both love the cheaper price, but there have been many problems reported with tracking not receiving carrier scans or having shipments rejected by USPS due to being too rigid.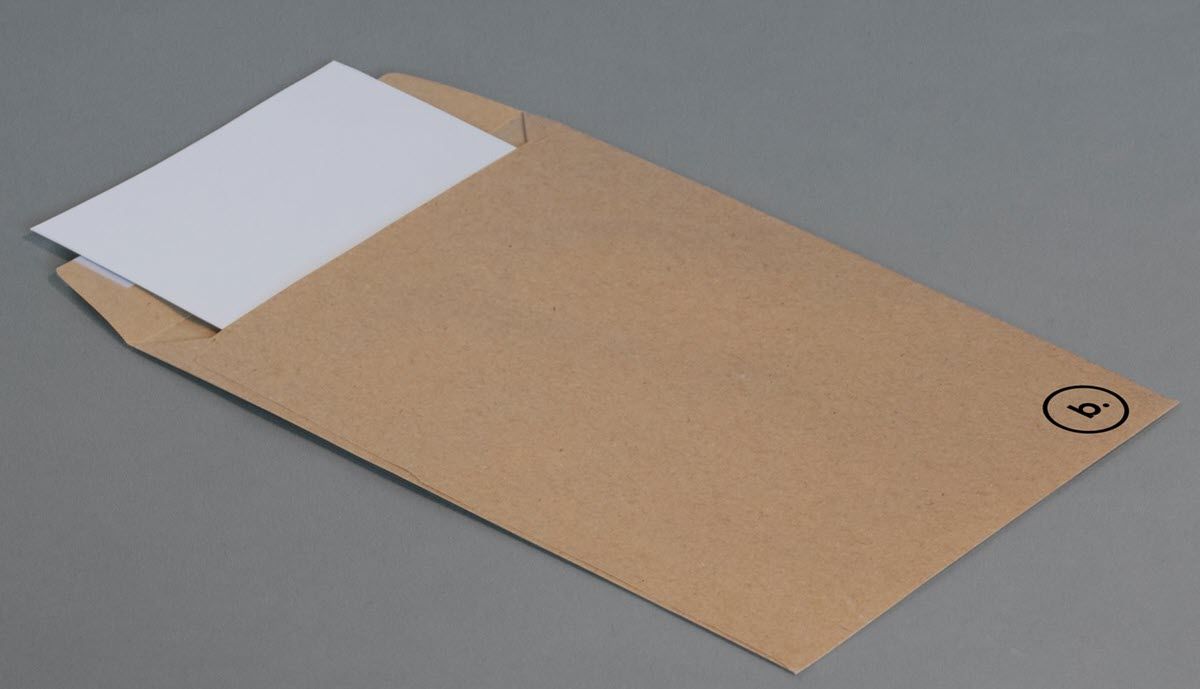 ---
A seller reached out to report a new problem - eBay is apparently showing Standard Envelope shipping to buyers on items that are not in the correct categories to qualify.
This seller has had two sales so far on comic books where the buyer was shown the option for eBay Standard Envelope for $1.  The items are listed in the Comics & Graphic Novels category (which is not one of the categories eligible for eBay Standard Envelope) and the seller typically charges $4.99 for shipping.
When the seller attempted to purchase shipping labels from eBay, the eBay Standard Envelope method the buyer was shown and paid for was not an option and the only available options cost more than the buyer paid.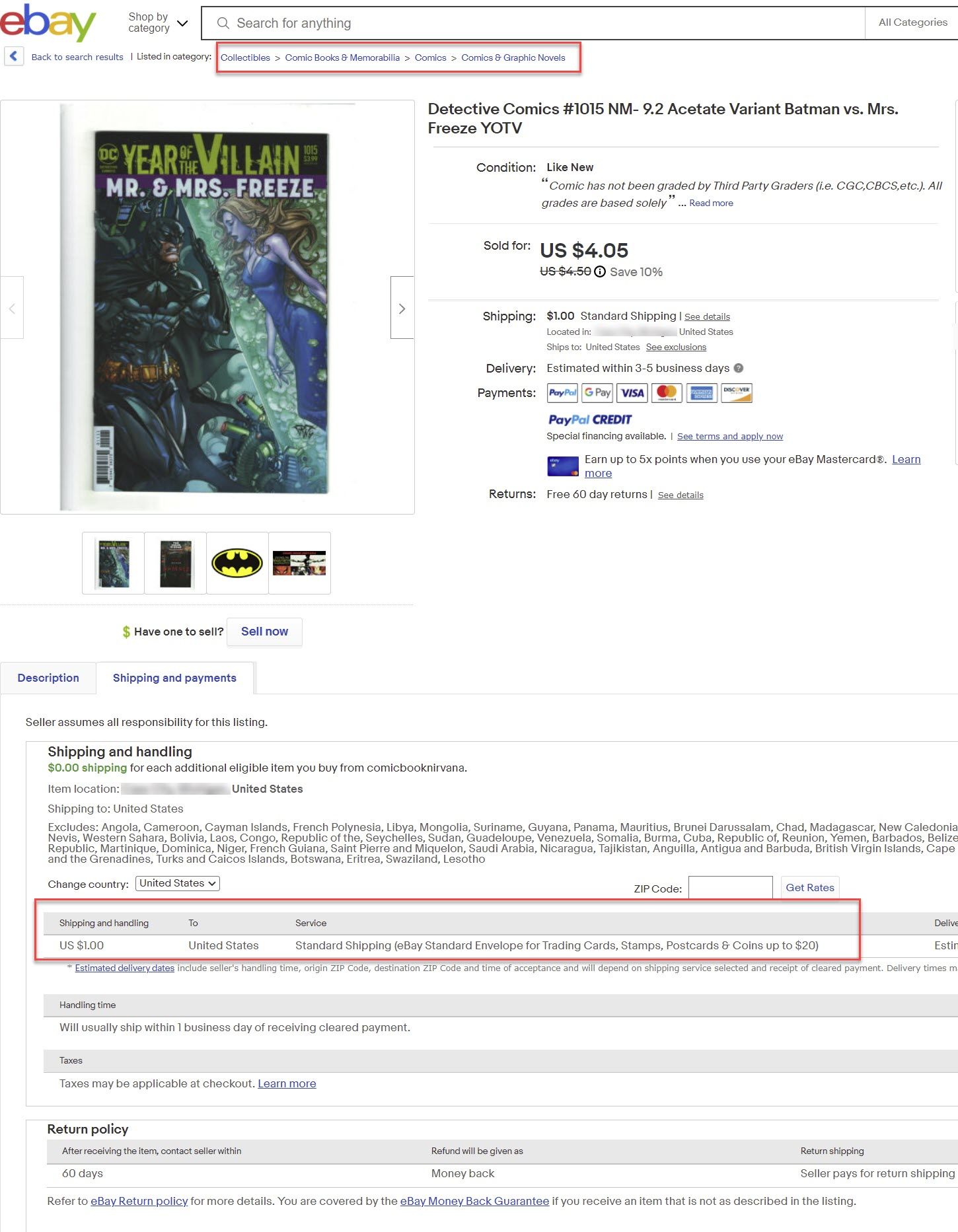 ---
Just to test things out, I did "sell similar" to see if a seller even has the option to offer eBay standard envelope in the comic books categories and sure enough - they don't.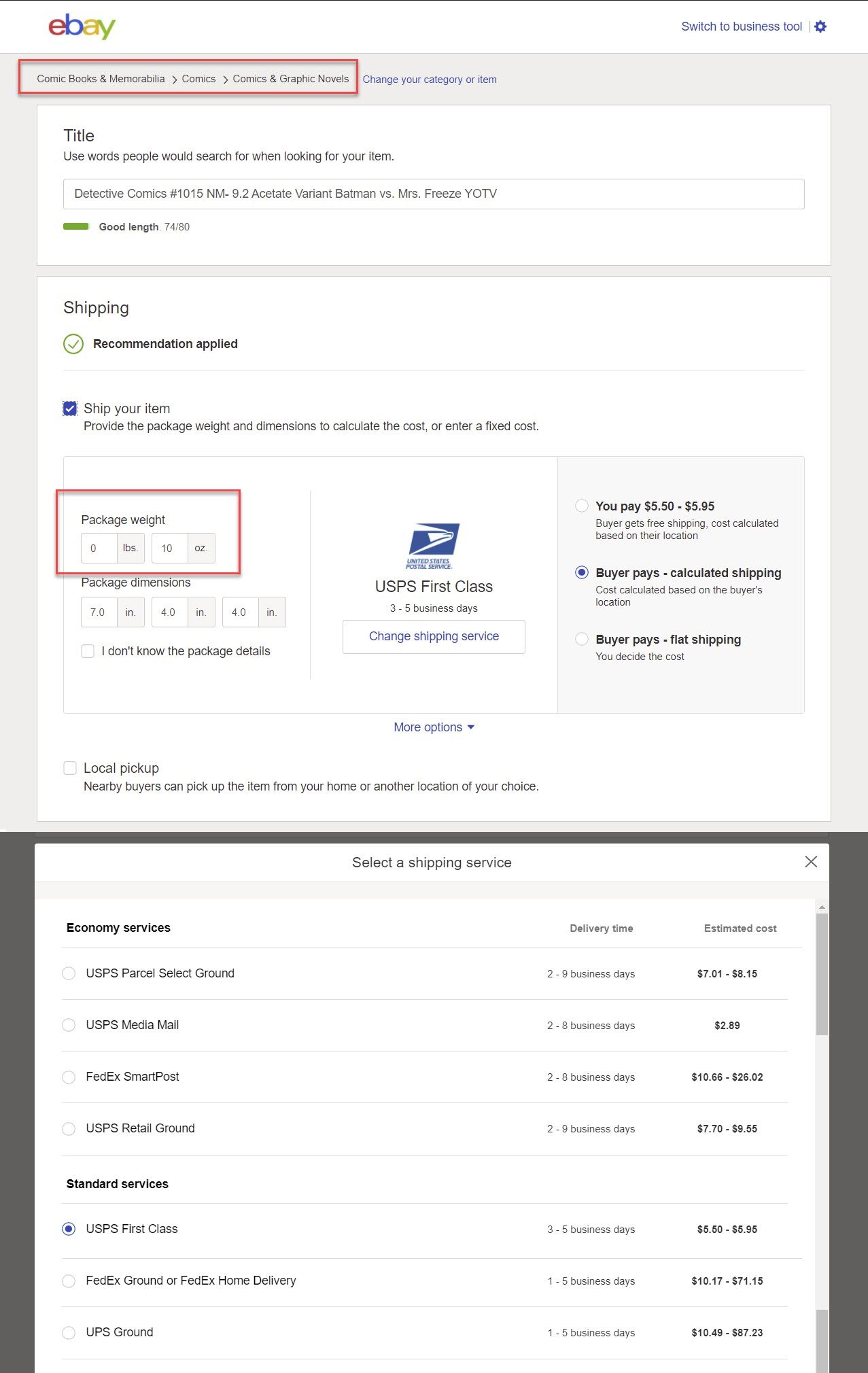 ---
Not only did I have to change the category to Trading Card Singles to get eBay Standard envelope as an option, I also had to change the weight.  The original listing had 10 oz. as the shipping weight and eBay Standard Envelope has a limit of 3 oz.
That means there are actually two reasons this comic book should not have shown the eBay Standard envelope shipping - it was in a category which doesn't qualify and it was over the weight limit.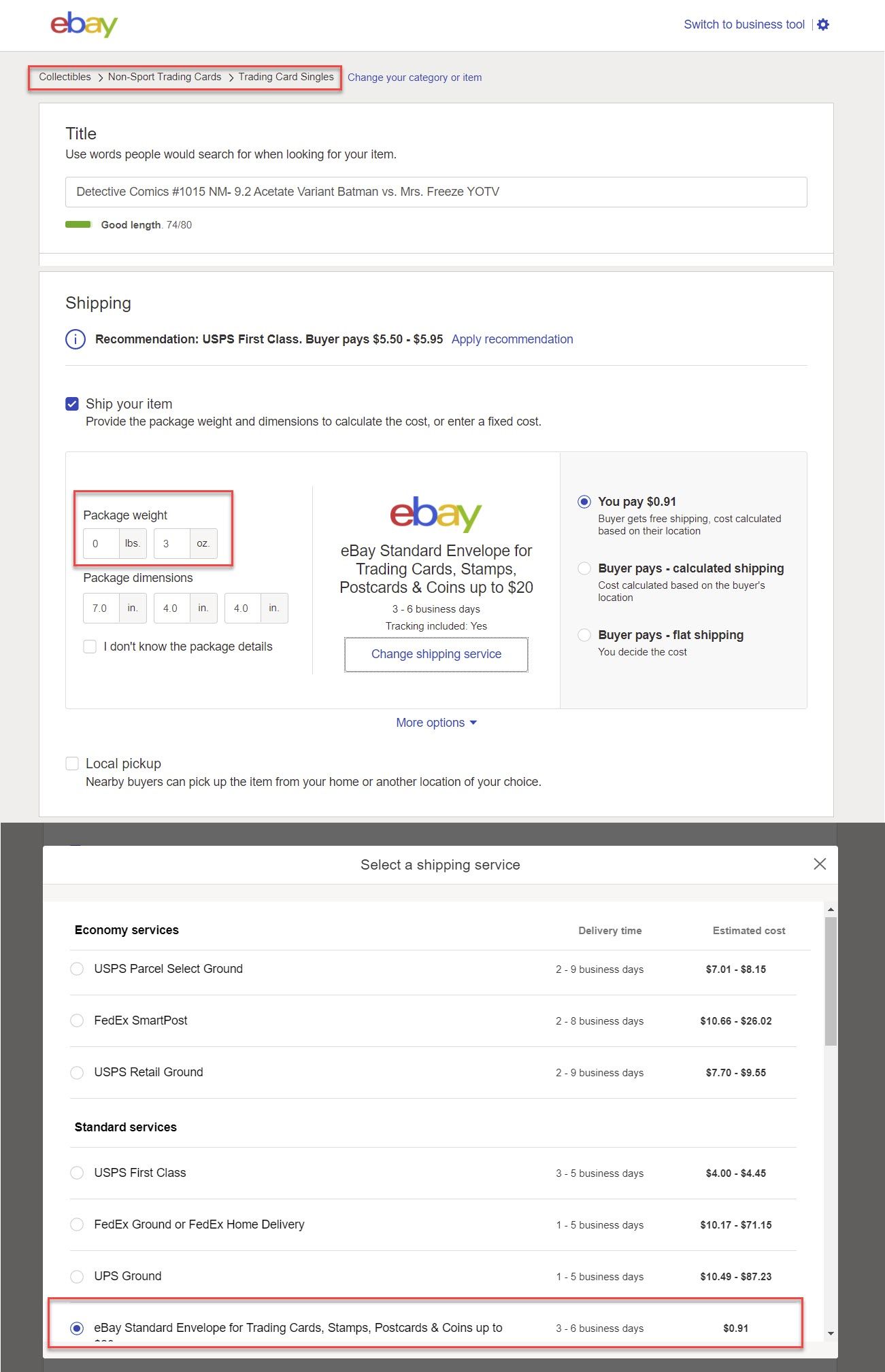 ---
The seller contacted eBay support the first time it happened. They confirmed the listing should not have had eBay Standard Envelope shown to the buyer and it must be a glitch.  Support promised to open a ticket on the issue, but when the seller called back after this glitch occurred on another listing, he was told a ticket had not been opened yet and assured this time it really would be (trust us!).
eBay support provided no other assistance or guidance on what should be done with the two orders that had been received. The only resolution offered was for the seller to cancel them. The seller instead chose to do the right thing for his buyers and shipped the orders with a more expensive option.
The seller says at this point it has only cost him about $5, but he is concerned it may keep happening and the additional costs could add up quickly. He has thousands of listings and it's not feasible to expect him to go through every single listing to try to catch any others which may be affected by this glitch.
It is appalling to me that eBay support didn't immediately offer a "courtesy credit" to cover the additional costs and maybe even a little extra to thank this seller for being willing to go above and beyond to ensure buyer satisfaction rather than simply canceling the orders.
By the support rep's own admission and clear evidence showing there isn't even an option for the seller to have added eBay Standard Envelope shipping in the listing process, this is 100% an error on eBay's part and neither the buyer nor the seller should be inconvenienced or bear any additional cost because of it.
Pro tip for CEO Jamie Iannone - empowering your customer service department to proactively do the right thing in these situations would be an excellent way for eBay to "become the partner of choice for sellers and cultivate lifelong trusted buyer relationships." 👍
Bonus Pro tip: "If you can't measure it, you can't manage it." Proactively issuing "courtesy credits" for these kinds of business impacting technical glitches would also give eBay a metric by which to measure the impact they have on users and incentive to take quick corrective action to fix them.
---