eBay Sellers Frustrated With Community Forum Glitches
UPDATE 11-17-21
After 2 months, eBay and Khoros are finally on the road to fixing this issue with test patches rolled out to the smaller French, German, Italian, Indian, Australian, Belgian and UK eBay Communities, soon to be extended to the US.
Important to note you will need to grant additional permissions for the fix to be applied.
I want to share an update on this issue along with some good news! First, good news: Khoros has created a fix for the avatar issue that has passed our quality check and we have cleared for deployment. In the last few days we launched the patch to the French, German, Italian, Indian, Australian, Belgian (both French and Dutch speaking) UK eBay Communities. This patch resolves the missing avatar, feedback score and listing link issue.



Although, this patch resolves the problem, there are still some challenges that we're working on trying to fix (more on that in just a moment).



You might be wondering when you'll see the patch here? Because the .com Community is the largest one on the site, I am having us tread carefully so nothing else breaks. That's why we deployed to many smaller eBay Communities, and based on their success I'm confident about rolling the patch out to our community in the coming days. While I don't have a specific date to share now, please know that it's right around the corner!



Once the fix goes live, you might come across a 'Grant Access' interstitial page when you log into Community. Here's a screenshot from my test environment.






This fix is dependent on Community members logging into the Community, so if you see missing avatars, feedback scores and listings once deployed, it's because they haven't logged back in yet.



Some of the links on this page aren't functional and I'm working on getting that resolved currently.



The biggest takeaway from this is to remember that the 'Grant Access' screen is a legitimate page, and is part of the 'handshake' between eBay and Khoros as you move from the Marketplace side of things (eBay) to the Community side (Khoros). While it is an extra click that occasionally will present itself (it does not happen each time I log in), it was more important to me to get a fix for the avatar issue implemented prior to upcoming code freezes instead of waiting until mid Q1 for the same patch only without an interstitial screen.
---
UPDATE - 10-15-21 It has been a week since Sheila@ebay assured us a fix was imminent but the problem still persists.  I understand eBay has been a bit busy this week with the category and item specifics issues, but that in no way should prevent Khoros from doing what they need to do.
So, here we are again early on a Friday and "hoping" to hear something before the weekend.
---
UPDATE - 10-8-21 Community Manager Sheila says Khoros has finally identified the issue and are working on a fix, with hope it may be resolved before the weekend.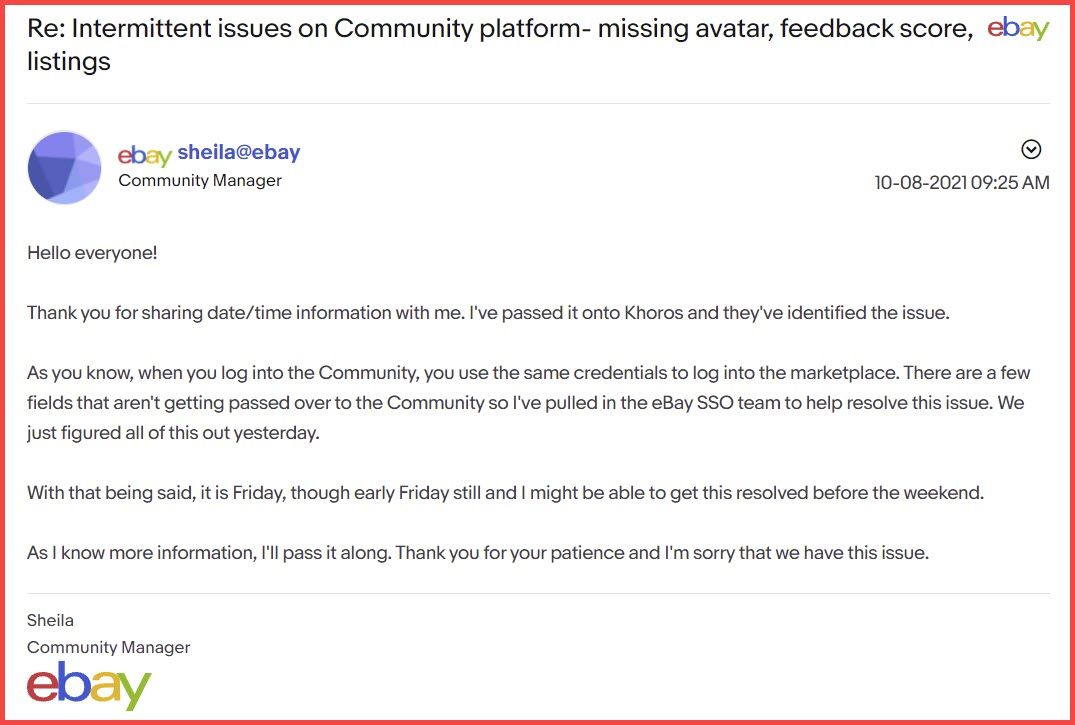 Hello everyone!



Thank you for sharing date/time information with me. I've passed it onto Khoros and they've identified the issue.



As you know, when you log into the Community, you use the same credentials to log into the marketplace. There are a few fields that aren't getting passed over to the Community so I've pulled in the eBay SSO team to help resolve this issue. We just figured all of this out yesterday.



With that being said, it is Friday, though early Friday still and I might be able to get this resolved before the weekend.



As I know more information, I'll pass it along. Thank you for your patience and I'm sorry that we have this issue.
---
One of the hottest topics in the weekly eBay community chat today was the ongoing (and apparently worsening) technical issues being experienced with the community forum itself.
eBay has contracted with Khoros (formerly Lithium) to power and support the eBay community platform.  Users have become increasingly annoyed over the last few weeks as persistent bugs and technical issues interfere with navigating and participating in the community.
eBay community staff have been diligently taking reports and "passing them on to Khoros" with few results and long time community members are running out of patience.
From the chat today:
RE: Feedback Profile on eBay ids on Community Posts



Has there been a change on the community posts showing the poster's eBay id, but not their feedback, view listings, etc?



A few days ago, when we clicked on their feedback, it would not pop up, but now, their feedback isn't even there to click on.



Those of us that answer community posts like to check the poster's feedback, etc to make sure they are legit, not contradicting what they post, that they are on the correct international site, etc. but that no longer seems possible w/o a work around bc it only shows their id name.



We already go thru time consuming reading and answering and having this just piles on to that.
Just checked. Still cannot see anyone's feedback.



And the work-arounds that others have offered are probably offered with good intentions, but we should not have to take further steps to do a job we are not being paid for.
At one point Tyler@eBay said:
Our only recourse at this point is to document as many folks being impacted as possible, which will hopefully help Khoros isolate root cause
One seller responded:
What are they telling you about this issue as of today? They've been aware of it for weeks now, and hopefully working on it for almost as long, so what have they been able to determine so far?



As I said elsewhere already, it appeared that the Khoros link was trying to call the eBay API named eBayISAPI.dll, but getting nothing in return. Perhaps Khoros has removed the dead links to spare us the distraction, though hopefully someone is actually trying to solve the problem rather than hide the symptoms.



Given the size of the customer that is eBay, they should be offering you periodic Zoom status meetings at minimum, say, once a week. Having it on Tuesday afternoons or Wednesday mornings would be ideal, as you would be up to date in time for the Weekly Chat.



I know it seems like I am suggesting some obvious things here, but I'm finding it frustrating when the obvious things don't seem to be actually occurring. Thanks!
Tyler responded
sheila@ebay has a regular meeting cadence with Khoros to discuss issues and has been to additional one-offs on the topic of this bug. I don't have any other update past that I'm afraid.
The seller responded again
Sounds good! Please ask sheila@ebay if she can post the latest news on this problem here, as it's only getting worse in severity.



If she can tell us when to expect news from the next scheduled meeting on this, that will be great, too. In other words, we really need to see the wheels turning. Thanks!
Another seller in the chat offered a possible tip in finding the root of the problem.
You're probably already aware that the URLs for the feedback profile page was changed on eBay Core recently, and they didn't get all the links updated on all the pages at the same time. They appear to have made changes to other profile pages as well, possibly including the avatar links. Redirects sometimes worked and sometimes didn't.



It seems likely that this would have contributed to the issues with displaying avatars, and feedback pages in the community. The redirects could be contributing to the intermittent nature. Has this been checked and ruled out?
Tyler responded
I'm not certain (though that sounds like it could be intertwined with our issue) but I'll make sure this gets to Sheila and Khoros for review and testing. Thanks for pointing this out!
Over on a different community thread specifically dedicate to this topic, sellers have been pushing for answers for weeks.
On 9/22 community manager Sheila posted:
I wanted to let you know that Khoros is aware of the intermittent issues where avatars, feedback scores and listing have gone missing. I know that this is impacting some users or all users. It's not a fun experience!



There's an issue with one of Khoros' servers. I don't have an ETA on when this will be fixed but I'am pushing to get this fixed sooner than later.
Before the chat today, a seller posted this in that dedicated thread:
With this afternoon being the Weekly Chat on general topics, can you please hit up Khoros for an actual update on the status of these problems? That way you can open the chat with some news, and save everyone from having to ask about it all over again.



Note that "we're working on it" or "we'll get back to you" are not valid answers after all this time has gone by since the first reports. If the initial response is not helpful, escalate it. (This is a little like "asking for a supervisor," I know, but as you're contractually tied, you should be able to get better results than us civilians.)



One thing I noticed was that of the postings that did still have their listing links and feedback counts visible, they didn't work anyway. It appeared that the Khoros link was trying to call the eBay API named eBayISAPI.dll, but getting nothing in return. Perhaps Khoros has removed the dead links to spare us the distraction, though hopefully someone is actually trying to solve the problem rather than hide the symptoms.
Sheila responded
There are a lot of paths I need to go through to get an issue escalated. Khoros considers a P1 as an outage (we can't log into the Community and we can't post in the Community). I actively communicate with Khoros support and our Technical Account Manager, so they're aware of these issues.



I'm as frustrated as you and the Community are. I don't like these 'we're working on it' responses from Khoros either. Sometimes that's all of the information I can get after all of my communications with Khoros.



I do have an update to share. It turns out that the missing custom profile avatar is related to an SSO issue. Data isn't getting properly sent from eBay to the Community and hence that's the reason why we're seeing missing avatars. I'm working on connecting our eBay SSO team and the Khoros team.



Now the missing feedback scores and listings, Khoros has said that they can't link it back to SSO because they don't have access to that information. I suspect it is, but in the meantime, Khoros is asking us to continue providing time/timezone and dates of when the Community sees these issues.
The seller responded
Thanks for your update! I'm a little puzzled as to why Khoros is claiming to need samples for this particular issue when, well, all you need to do is look at most any post in the Community to see that the links to listings, feedback count and avatar image are simply not there. I would tell Khoros to just have their developer(s) open an eBay/Khoros/Community account and see for themselves.



I can add one thing now, which I noticed this afternoon after much ransacking of the Community postings during the Weekly Chat, hoping to find any that still showed a feedback count and listings link (and there are a few): those links did work to call eBayISAPI.dll and bring up the poster's feedback or listings to display. Previously, clicking on either would simply hang on a blank screen.
---
These posts highlight the overwhelming amount of heavy lifting that the unpaid volunteer users do to keep the community humming along, both in helping other users with eBay issues and also helping the community staff keep the lights on.
There are some great suggestions from community members here and it would appear this may in fact be an issue that will require action from both eBay and Khoros to find a resolution.
The eBay community staff appear to be doing their part but once again, it seems they are not truly empowered to get issues resolved or effectively advocate for the eBay user community. Sheila's efforts to communicate with eBay's assigned Technical Account Manager at Khoros seem to have hit a brick wall.  Maybe it's time to bump things up a few levels?
I propose eBay Chief Marketing Officer/VP of Seller Community Andrea Stairs, Director of eBay Community Engagement Rebecca Michals, and Khoros Chief Marketing Officer Katherine Calvert should get together ASAP to get this figured out - whatever it takes.
---
Follow Value Added Resource on Twitter & Facebook ✔
Subscribe to receive eBay seller news, tips, and insights in your inbox 📧
Share with friends and leave a comment 👇
---