Worthpoint Launches Equity Crowdfunding Campaign
Would you like to own a piece of one of the largest online resources for researching, valuing, and buying/selling antiques, art and vintage collectibles?
Worthpoint Corporation has launched an equity crowdfunding campaign to raise capital for future product expansion including enhancing their mobile app with visual search, releasing a standalone user-generated digital database called Worthpoint Vault and launching WorthPoint Indices, an index-linked investment product that statistically measures price trends.
WorthPoint Corporation, an online resource for identifying and valuing fine art, antiques, and collectibles, today announced the launch of a crowdfunding campaign on StartEngine. This Regulation Crowdfunding venture allows the public to purchase equity in the company as it prepares for future product expansion.



The company plans to use the funding raised through the campaign to roll out new tools and services to meet consumer needs. These undertakings include enhancing its mobile application with visual search recognition and releasing the WorthPoint Vault—a user-generated digital database to organize collectibles—as a standalone product. The company is also positioning the launch of WorthPoint Indices, an index-linked investment product that statistically measures price trends.



"There's something for everyone," said William Seippel, founder and CEO of WorthPoint. "It's the right time in WorthPoint's life that we're ready to roll out and do this—from the products that are coming out to how the community has embraced us. It's time to share the company's future with people of the same passion that will be found on StartEngine."



By fundraising, WorthPoint aims to continue providing pricing transparency within the growing antiques and collectibles industry. The company invites interested investors to help ensure that data from online marketplaces, auction houses, and private dealers is "available to everybody and preserved," said Seippel.
---
Worthpoint's StartEngine page shows a  $45.31M valuation. The current buy in is at $12/share with a $492 minimum investment required. $40,253.22 has been raised so far out of a goal of up to $5M with 36 investors onboard.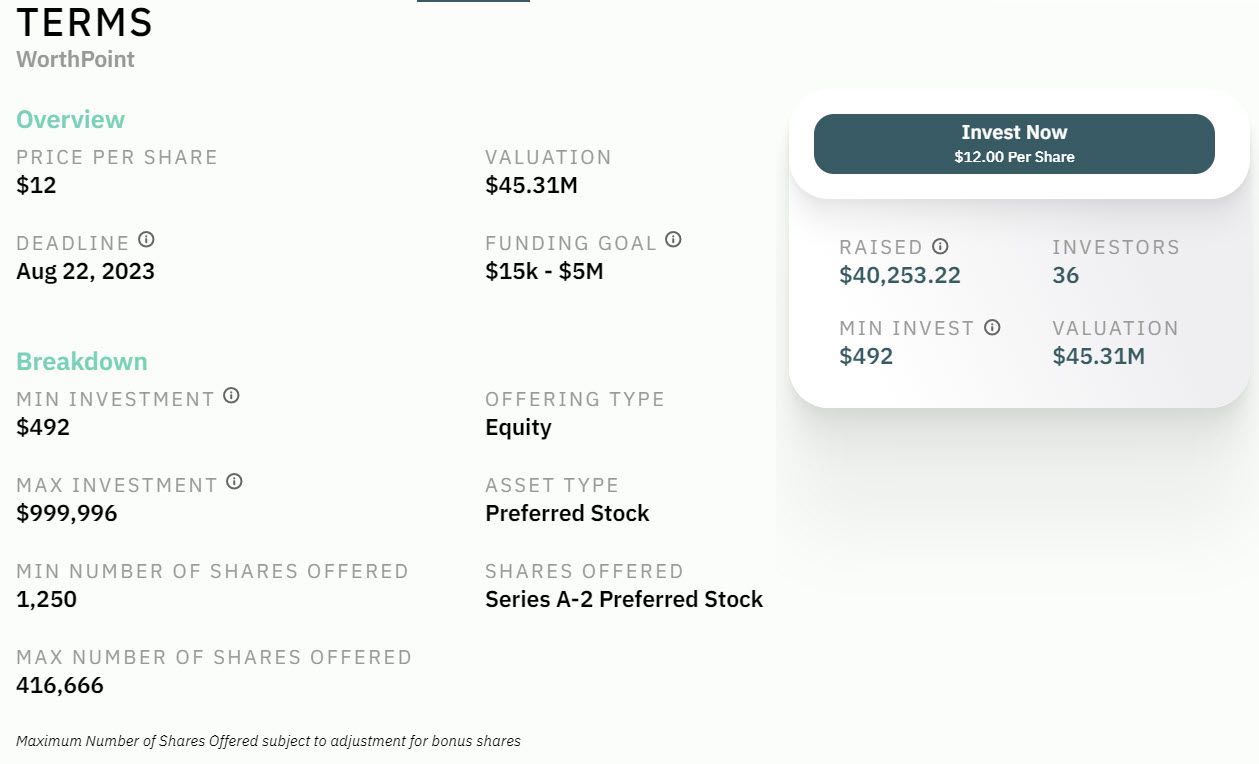 Worthpoint's long-standing connection and partnership with eBay is featured prominently in their investment pitch.
WorthPoint is believed to be one of the world's largest sources of how to value fine art, antiques, and collectibles. This popular site, which brings 200,000 to 300,000 visitors to its platform daily, contains 1.3 billion images and more than 715 million values of vintage and antique items. The Price Guide is enhanced by the company's Dictionary of more than 8,000 articles and a visual database of more than 227,000 identifiable marks, autographs, patterns, and symbols.



This industry-leading suite of services allows buyers and sellers to figure out what an item is, what it's worth, and what price is reasonable for sale. WorthPoint believes it is the only outside company to share a long-lasting, close working relationship with eBay, the world's largest e-commerce marketplace for secondhand goods. The company has had eBay as a partner since its founding in 2007.
Could a play for investment directly from eBay's venture capital arm be in the works too?
---