Walmart Offers Reduced Fees, Ad Credits To Entice New Sellers
Walmart is in full gear to win sellers over from Amazon and competing marketplaces, now offering fee reductions and ad credits to sweeten the deal.
Our New Year's resolution is simple: To be our customers' number-one shopping destination and the preferred easy-to-use, low cost and profitable platform for sellers of all sizes. That's why we're giving new sellers an extra boost to get their products in front of our customers. Our New-Seller Savings offer is packed with incentives and benefits to support new sellers based in the U.S. as they launch on Marketplace – and help them achieve their own New Year's goals in the process.



New-Seller Savings
New-Seller Savings is designed to make launching on Walmart Marketplace as simple, seamless and rewarding as possible. This limited-time offer grants new sellers based in the U.S. up to a 25% commission rate reduction for 90 days when trying Walmart exclusive tools and services including:

Walmart Fulfillment Services (WFS): End-to-end fulfillment services for Walmart Marketplace sellers of all sizes.
Sponsored Search advertising: High-visibility Search ads to help get your brand in front of customers actively searching for products like yours.
Repricer: Automated pricing tool that helps sellers stay ahead of the competition.
New sellers will get a 10% reduction when they complete sign up and the new seller survey, plus additional fee discounts for opting in to Walmart Fulfillment Services, Walmart Connect advertising, and Walmart Repricer

Build up your Walmart Marketplace business in 90 days with up to 25% off referral fees and a $500 Sponsored Products ad credit. Here's how you can take advantage of the New-Seller Savings offer*:

Join and start selling on Walmart Marketplace in 3 easy steps
+10% referral fee discount
Before you go live, complete the New-Seller Survey**
+5% referral fee discount
Ship with Walmart Fulfillment Services**
+5% referral fee discount
Advertise with Sponsored Search** to unlock a $500 Sponsored Products ad credit*
+5% referral fee discount
Manage pricing with the Repricer**



And 3 weeks after onboarding, opt-in via email to receive a $500 Sponsored Products credit offer from Walmart Connect.
As always, read the full terms and conditions:
---
Walmart opened up their marketplaces to more ellers last year and have been pulling out the stops to try to build up their 3rd party merchant network.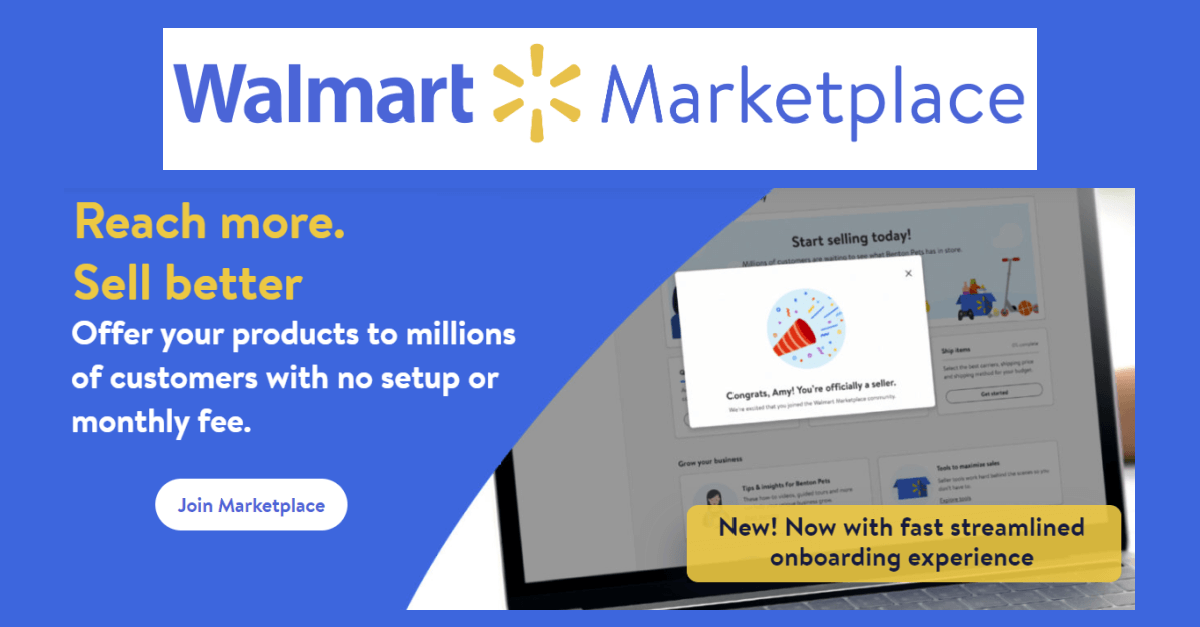 Do you sell on Walmart Marketplace? Let us know about your experience in the comments below!
---