eBay File Exchange Changes Coming Soon
Update 5-15-21: eBay has officially announced File Exchange will be moving to Seller Hub Reports.
---
It appears eBay is making some updates and changes to its popular File Exchange feature.  Many sellers use File Exchange to create/manage listings, update inventory & prices, download order information and more.
This tool is especially useful for larger/higher volume sellers who may need to update large numbers of listings quickly in bulk.
I haven't seen an official announcement about this, but noticed this thread in the eBay community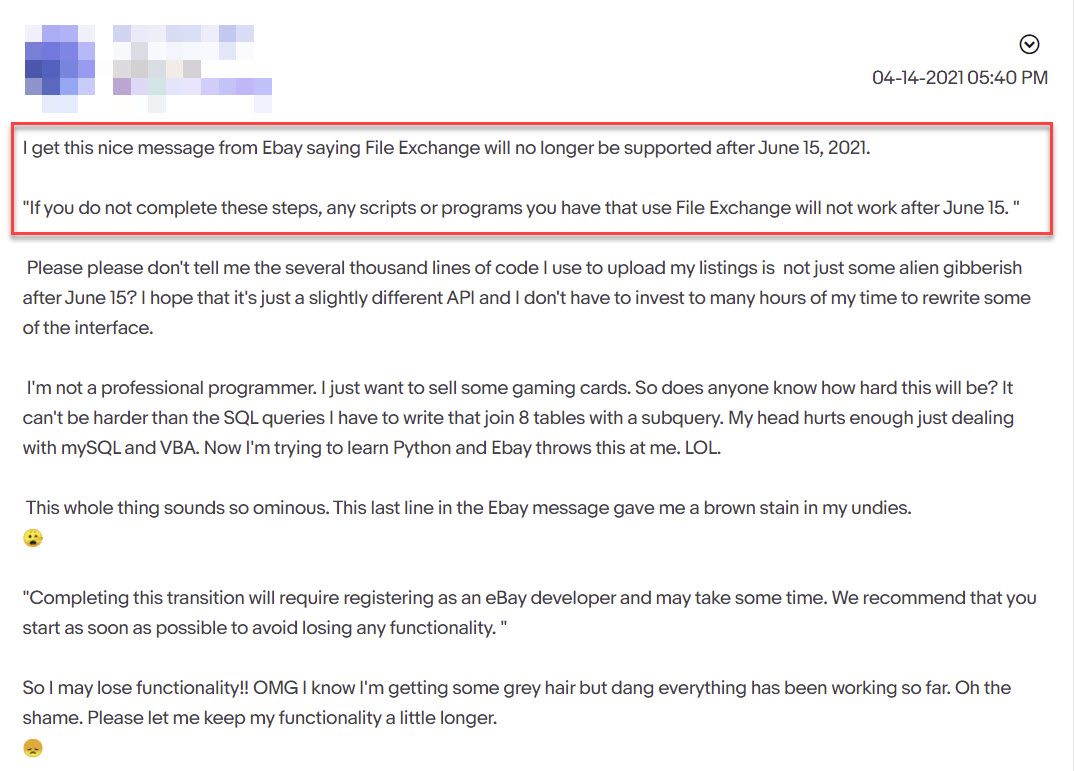 ShipScript, a long time community volunteer, offered this clarification on what is changing:
Just to be clear, this has nothing to do with sellers who upload their CSV files to File Exchange. That interface will continue as before. So if you can create a CSV file, it will still be a simple process to upload that file through eBay's webform.

This new mandate would only be addressing programmatic uploads from a personal server to eBay servers. I was not aware these recent changes were going to affect File Exchange users who upload XML files, but should not have been surprised.

---
I'm still digging into what these changes mean both for those who use File Exchange from the web interface and those who use it programmatically and will update once I have more information.
For now, it looks like eBay plans to migrate File Exchange functions into Seller Hub for web interface users, while other users will need to migrate to the Feeds API.
Existing File Exchange users

To provide sellers with an improved experience, the File Exchange tool is being replaced by Seller Hub Reports. If you previously used File Exchange you will find most of its core functionality is now in Reports, including the ability to create active listings reports, sold reports and revise price and quantity reports. The ability to upload templates will be added in the coming weeks.



The downloads of your reports and templates in Reports should be familiar to you from the old File Exchange tool. All commonly used reports and templates are backwards compatible. However, because of this improvement in user experience, you will have to schedule brand new reports for your order management logistics.



For ease of access, you can bookmark this new tab or select Reports from the Seller Hub Overview page. If you have been using File Exchange via the URL link in a programmatic way be aware that this will no longer be available. To integrate programmatically, you will have to migrate to the Feeds API.
---