Shopify Benchmarks & Global Entrepreneurship Index Show Power Of Data Sharing
Shopify is leveraging its massive amount of data to provide granular insights for merchants and bigger picture ecommerce industry data to the masses with Benchmarks and Global Entrepreneurship Index.
First, Shopify Benchmarks allows merchants on the platform to compare key metrics like conversion rates, average order value, retention rate, and fulfillment times with similar stores.
Benchmarks are industry-specific metrics that establish a performance standard for businesses. They provide insights into your online store's performance, allowing you to make informed decisions about where to focus your efforts and resources.



With millions of merchants on our platform, Shopify has the unique ability to match merchants not against industry standards but to surface benchmark data against similar merchants. Comparing performance against stores similar to yours, gives merchants a highly competitive and achievable advantage.



Benchmarks in Shopify are based on cohorts of stores that are similar to yours. These cohorts are defined by looking at the order volume, primary market, and product categories sold over the past 30 days. If there aren't enough similar stores like yours on Shopify, Benchmarks data may not be available for your store...



What KPIs are Benchmarks available for?
In this first iteration, Benchmarks data is available for the following metrics in Shopify: online store conversion; average order value; retention rate; and time to fulfill, ship, and deliver. You can access these metrics using the relevant reports in Shopify.



Online store conversion
Online store conversion is the percentage of website visitors who make a purchase. View the Online store conversion over time report in Shopify to find out how your store's conversion rate is doing compared to other similar stores in the industry over a period of time.



Average order value
Compare the average value of an order placed on your store against similar stores using the Average order value over time report.



Retention rate
Retention rate is the percentage of customers who return to your website to make another purchase. Dig into your Customer Cohort Analysis report to view the retention rate for your store and compare against similar stores.



Time to fulfill, ship, and deliver
Time to fulfill is the average time it takes for you to start processing an order after it's placed. Time to ship is the average time it takes for an order to be shipped after it's been processed. Time to deliver is the average time it takes for an order to be delivered after it's been shipped.



The Fulfillment, shipping, and delivery times report in Shopify gives you a clear view of these metrics along with Benchmarks data to analyze your performance in fulfillment, shipping and delivery.
But Shopify is taking it even further with a beta release of their first ever Global Entrepreneurship Index.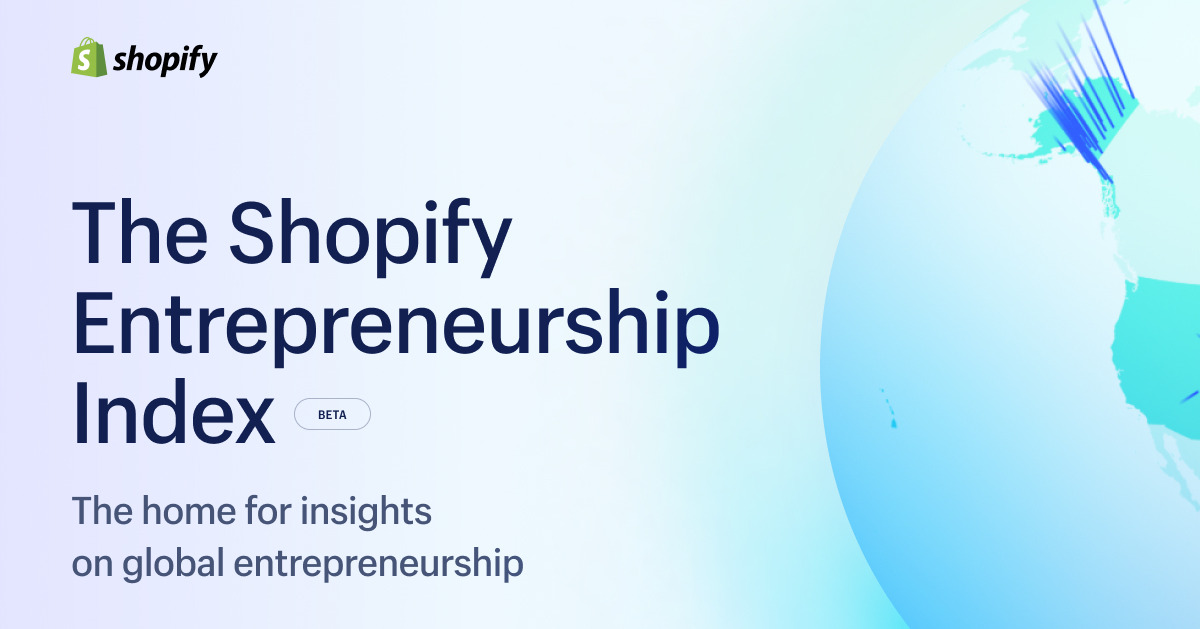 Today, we're beta launching the Shopify Entrepreneurship Index: the world's first home for data and insights on global entrepreneurship across 40 countries and all U.S. states.



Shopify powers millions of businesses globally, providing the data and network needed to build something that did not previously exist: a comprehensive dataset on entrepreneurship around the world.



The Shopify Entrepreneurship Index measures the economic impact of entrepreneurs in Shopify's ecosystem on national economies, tracking the fastest growth and greatest contributions. Today's launch is the beta version of this Index—we're just getting started. In the future, we'll add even more data aimed to inspire smart policies and give leaders the insights they need to harness the power of entrepreneurship. We'll continue to update this Index quarterly.



In 2022, Shopify entrepreneurs:
Supported 5.2 million jobs (+8.3% from 2021)
Generated $27.7 billion of exports (+7%)
Contributed $229.3 billion to GDP (+8.8%)
Created $490.5 billion in economic activity (+8.6%)



Leading the Index was the U.S., which saw an 11% increase in total jobs supported* since 2021. Delaware was the top-ranked state, Wyoming came in second, and California ranked number three.



Countries in Eastern Europe earned second and third place globally. Lithuania's #2 position is a testament to the country's investment in financial literacy, entrepreneurship, and new technologies that keep its businesses competitive globally. In third place, Romania saw a huge rise in ecommerce following an increasing digital transformation of the country.



Japan emerged as Asia's entrepreneurship engine, earning 10th place on the Index. Much of Japan's growth comes from its government's focus on cross-border trade and improving the funding environment for small businesses.
To calculate the Entrepreneurship Index, Shopify worked with Deloitte to calculate the GDP impact, business activity impact, jobs supported, and exports generated by millions of entrepreneurs in the Shopify ecosystem over the last year.
They compared that impact to national values for each country and state, using public data from the International Monetary Fund (IMF), the Organization for Economic Cooperation and Development (OECD), the International Labour Organization (ILO), and government statistical agencies.
Access the full report:
---