Formula Shortage Leaves Parents Paying eBay Scalper Prices
UPDATE 5-11-22
I asked whether eBay is planning to enable the same proactive, automated systems they used during peak pandemic for the current infant formula supply shortage in the weekly eBay community chat today.
No response from eBay staff yet, though to be fair, it would probably be smart of them to run this one by legal first. I've also reached out to eBay's media contact and will report back if I receive an official statement.
---
Parents across the country are facing an infant formula crisis with a reported 40-50% of products currently out of stock due to lingering supply chain pressure made worse by a massive formula recall in February.
As with many other essential products during the pandemic, the situation is ripe for price gouging and profiteering - especially on eBay.
The manufacturer of Ashley Hernandez's preferred baby formula for her two girls said it was out of stock on its website. Listings on eBay showed it would cost her up to $120 for a single can.
'We've called the WIC office,' Bradford told WTVR. 'We've called Thrive, which is a supply company. We've called every hospital system in the state. I've contacted personally, every Kroger, Walgreens, Walmart and CVS within the tri-cities area.'



She noted she found eight cans of the formula the child needs on eBay, but it's being sold for $800. The cans typically cost between $43 and $47.
Just in a quick search on eBay, I found many examples including this one for a 12.4 oz. can of Enfamil Gentlease which normally sells for $18.99 from the manufacturer that is listed at $89.99 + $9.95 shipping.
Awfully nice for eBay to offer special financing options though - at these prices, parents might need it!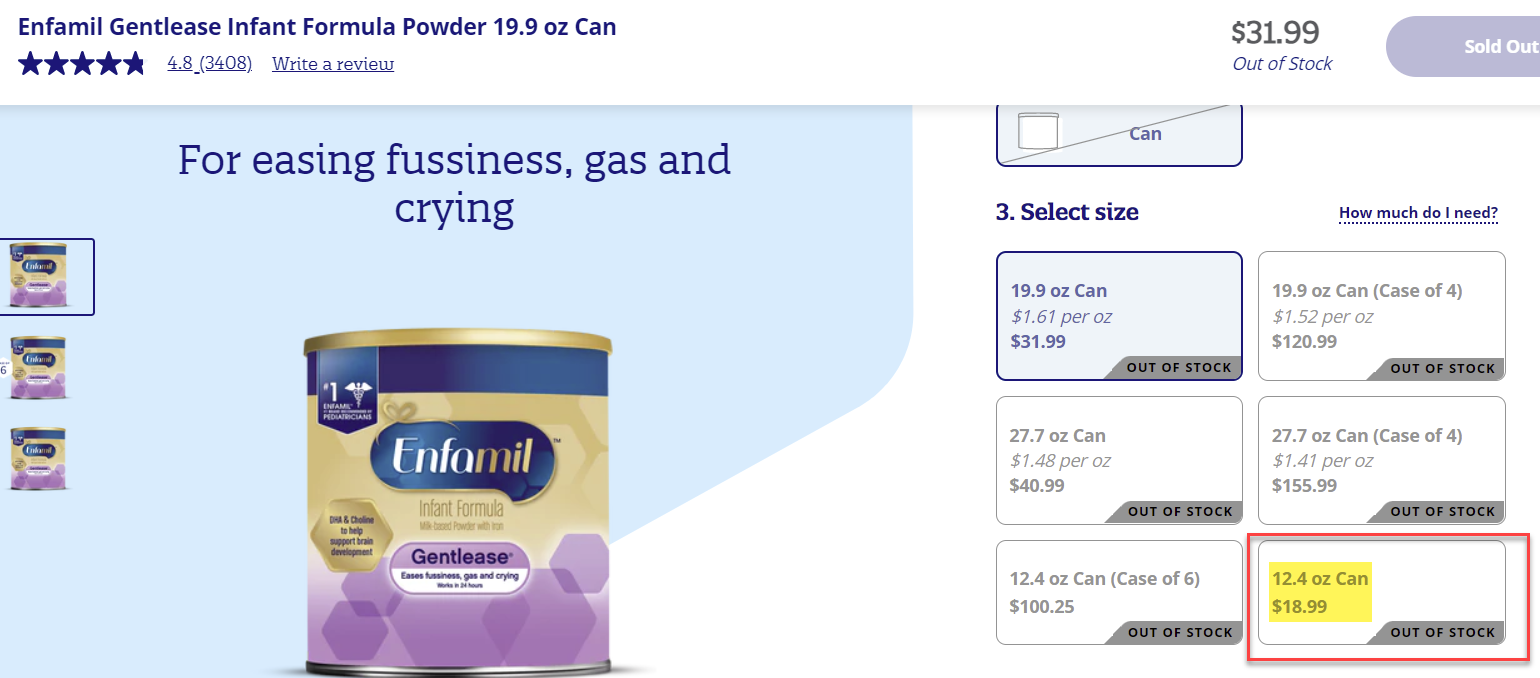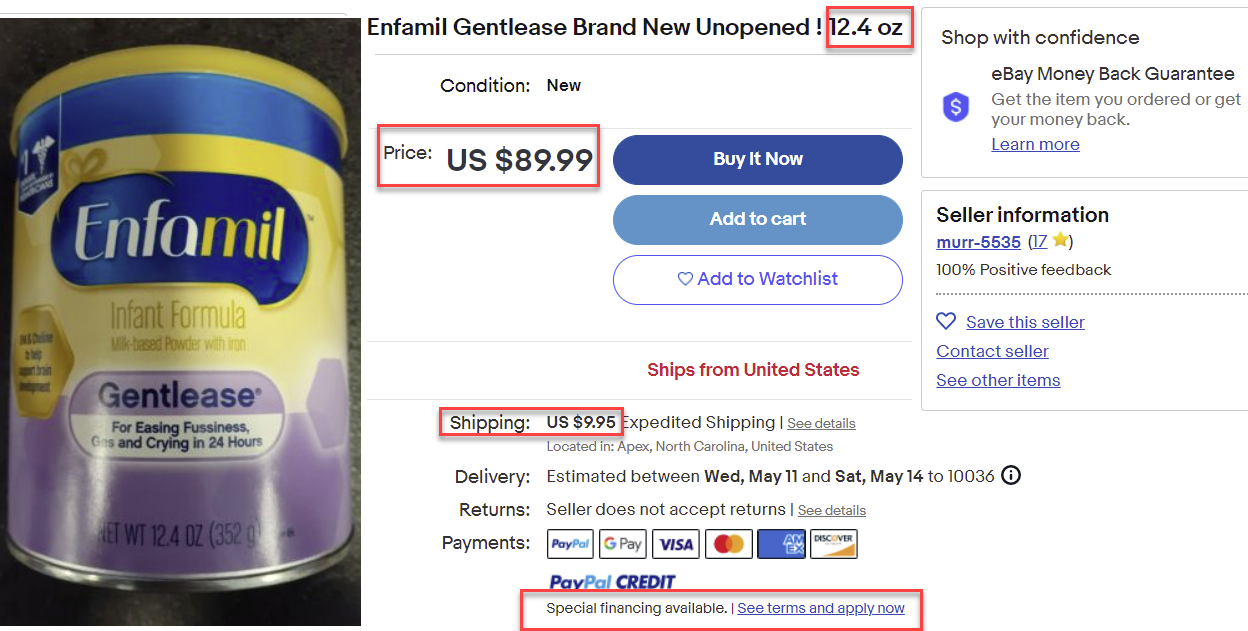 Or a 6 pack that normally goes for $100.25, listed at $244.50 with shipping.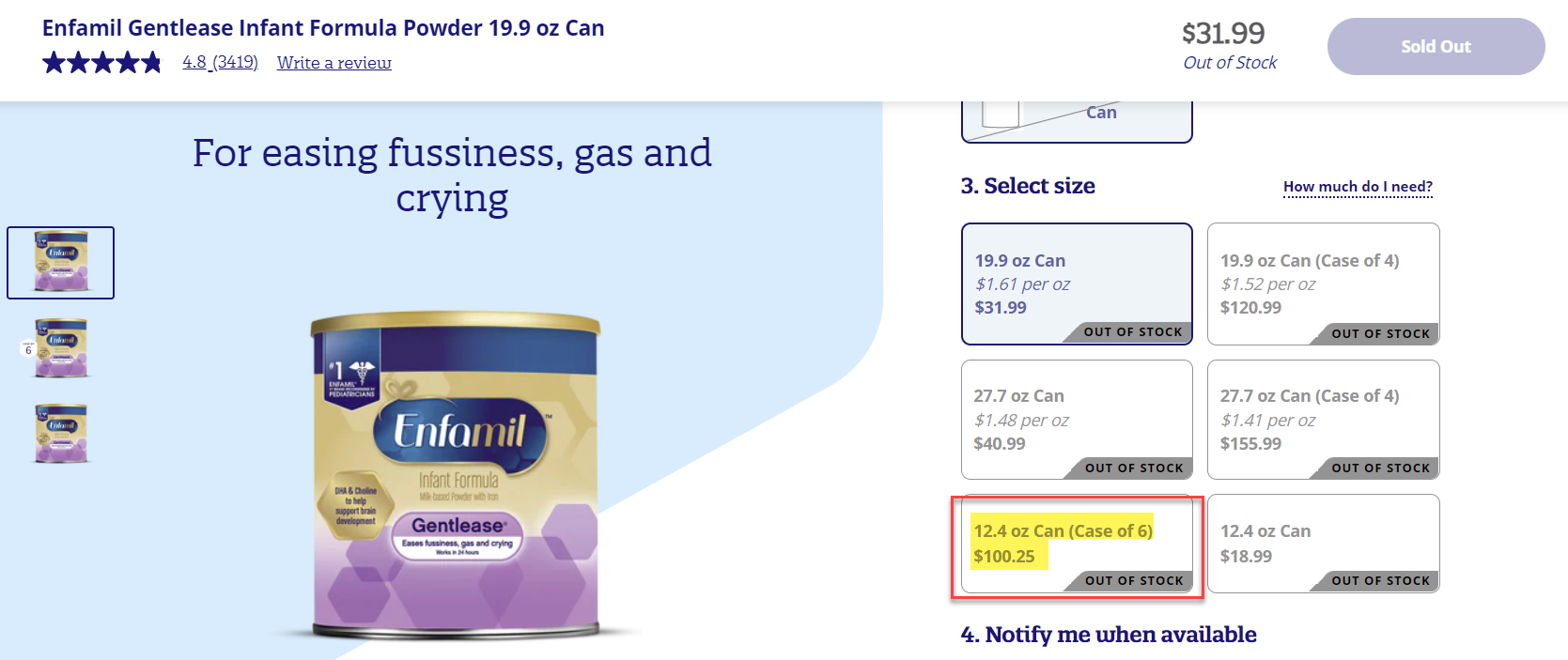 ---
Obviously eBay is not the only place where price gouging may be occurring during the current baby formula crisis, so why am I focusing on them specifically?
Because I believe there should be accountability and responsibility for what is happening on their platform - especially after the big public show they made out of removing price gouging and prohibited items during the peak of the pandemic.
What is eBay's price gouging policy?
Offering items at a price higher than is considered fair or reasonable is not allowed on eBay.
eBay is an important source of goods for buyers during emergencies and when supply chains are disrupted. Sellers offering essential items must offer them at reasonable prices, and may not attempt to unreasonably profit from increased demand or decreased supply caused by emergencies or disasters.

What is the policy?

Items that are considered essential must be offered at a reasonable price
Inflating the price of goods in response to an emergency or disaster is not allowed
eBay may restrict the sale of items that are susceptible to price gouging behavior - for example, by only allowing items to be sold by authorized sellers
Sellers must follow all applicable laws and regulations that apply to the sale of their items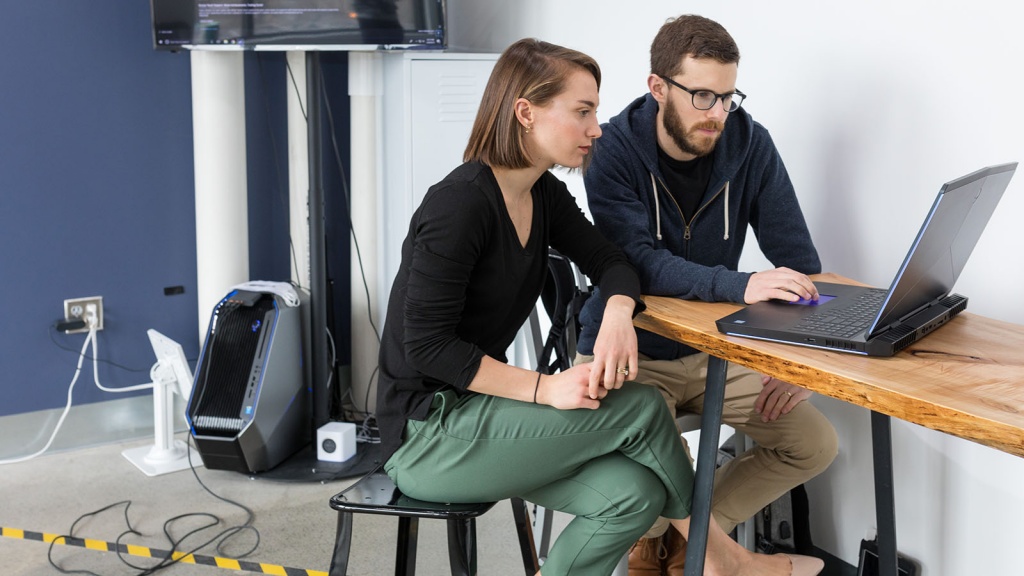 Excerpts from eBay's March 26, 2020 press release regarding steps taken to actively remove price gouging and prohibited items from the marketplace (emphasis mine).
Editor's note: We have a zero-tolerance policy on price gouging on our marketplace to ensure buyers are able to find essential items at reasonable prices. As of August 2021, eBay has removed or blocked 85+ million listings in violation of policies related to COVID, including price-gouging and false medical claims.



...This week, we expanded the restricted items list to include toilet paper, baby formula and baby wipes, tampons and diapers, which will only be permitted for sale by business sellers in a fixed price format...



How We're Removing Prohibited Items
We use a rules-based filtering system with algorithms that identify and block prohibited items and have a team of customer service agents dedicated to round-the-clock manual review to remove any listings not caught by our tools. The manual reviews include removing all listings for certain items, like masks and sanitizers; products with inflated prices; and products making false health claims, including test kits.
If eBay can supposedly automatically block 85+ million listings violating price gouging/prohibited items policies during peak pandemic when the site was flooded with massive amounts of listings, there is absolutely no excuse for not deploying the same systems now.
---