Flexport Revolution Promises AI-Driven Supply Chain Solutions For Entrepreneurs
Flexport launches AI-powered self-service, global trade solution for finance, freight and fulfillment with Flexport Revolution and Flexport+, moving ahead after abrupt leadership change at the company.
Flexport today launched a supply chain revolution for entrepreneurs, creating the first truly all-in-one, end-to-end global trade solution powering instant access to financing, freight, fulfillment, and replenishment to all major marketplaces and retail stores.



Joining Flexport's supply chain revolution provides one-click access to 20+ supply chain services on a single page, enabling entrepreneurs to seamlessly sell in more places and automate the movement of their products from factory floor to customer door. With the new tool, entrepreneurs can focus on driving sales at lower costs and radically reduce the effort needed to manage their entire supply chain, freeing up precious resources to focus on their customers.



Entrepreneurs can access Flexport's new all-in-one solution at no cost, and those who want even more can join Flexport+, a new membership program offering exclusive access to industry-leading supply chain financing, priority shipping services, and easy access to supply chain experts to provide heightened support for their business if and when they need it.



Flexport empowers entrepreneurs by financing, handling cross-border freight, fulfilling, and/or replenishing their inventory directly to the store or customer with minimal effort. With Flexport+, entrepreneurs get more capital at terms uniquely oriented to the needs of small businesses, as well as priority services and access to an exclusive community of like-minded business owners and industry experts. Flexport+ is available for a 90-day free trial and will be $149/month.



Powered by artificial intelligence, the new end-to-end supply chain solution offers replenishment injection directly into Fulfillment by Amazon (FBA), Walmart Fulfillment Services (WFS), and 15+ wholesale channels, including Costco, Target, and Nordstrom.



Additionally, merchants can leverage fulfillment and last-mile delivery services for Shopify and Amazon's Seller Fulfilled Prime program, as well as for their own e-commerce stores. All these integrations enable merchants to form a single pool of inventory, allowing Flexport customers to sell everywhere without the need to manage multiple providers.



Flexport also helps enable transparent and reliable delivery promises – including two-day and next-day delivery – on 20+ e-commerce marketplaces, including Shopify, Walmart, and eBay storefronts.



This capability allows merchants to build trust with their customers and significantly boost sales. For example, Shopify merchants using Flexport's fast fulfillment capabilities saw up to a 25% sales increase.
FAQ
Do I need to commit to a long-term contract?

No, there is no long-term commitment required with Flexport. Payment terms are due upon receipt, which means you need to make the payment as soon as the invoice is generated and is based on the services provided. Learn more about our billing and invoicing details.



Which products are eligible for Flexport Revolution?

Flexport can handle most products, including apparel, footwear, and consumer packaged goods, as long as they meet the size and weight criteria of being under 40"x30"x15" or under 50 lbs. There are some goods that are ineligible due to safety concerns, such as those containing lithium batteries or hazardous materials. Learn more about restricted products.



Can I sell my products internationally with Flexport?

Yes, you can sell your products internationally using Flexport. We offer support for international orders with options for both Delivered Duty Paid (DDP) and Delivered Duty Unpaid (DDU). Learn more about how to utilize Flexport for fulfilling international orders.



What is non-compliance and how does it impact me?

Non-compliance refers to situations where products sent to our partner fulfillment centers are not packaged or labeled correctly, or they fall under our list of restricted items. When your SKUs are non-compliant, Flexport and the fulfillment center need to take corrective actions before the products can be received and made available for sale. Learn more about non-compliance.



If this is a concern with suppliers, Prep is an optional service that you can use to simplify your processes for many destinations and ensure your products are properly prepared and ready to sell. You can mix and match Prep with any of our other solutions like Freight, Reserve Storage, or Returns in order to customize your own logistics infrastructure, whether or not you already use Flexport for fulfillment. Learn more about Prep Services.
---
The announcement comes on the back of a sudden leadership shakeup at the company as CEO Dave Clark was forced to resign and founder Ryan Petersen has returned with plans to refocus on core freight business.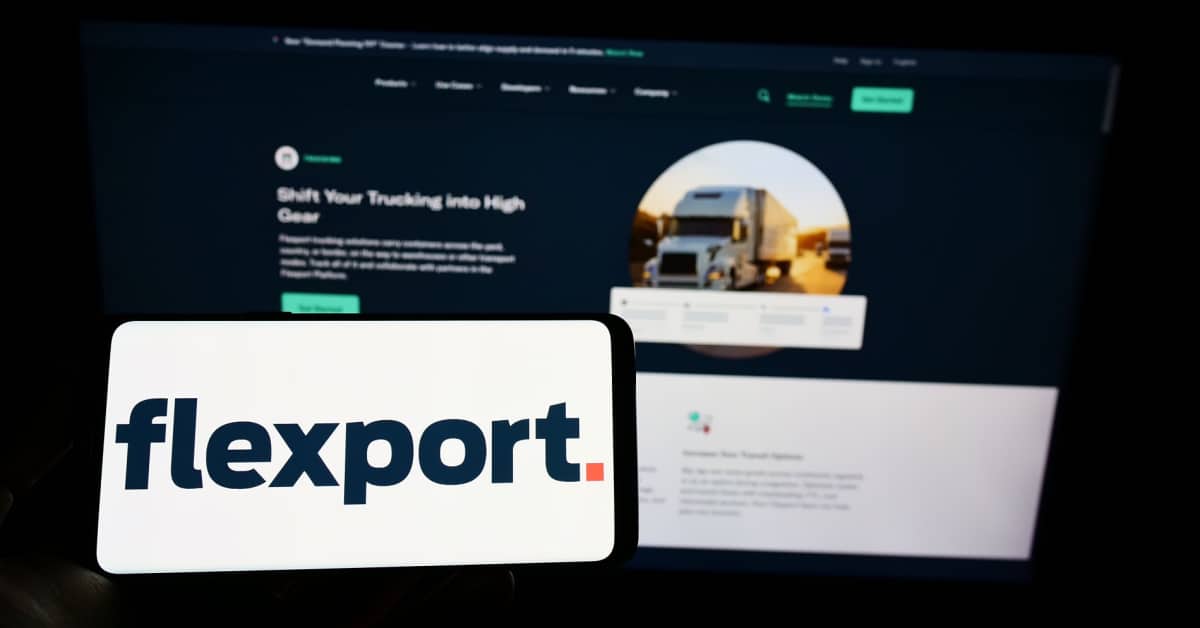 Clark said he was resigning due to disagreements over strategic vision and focus.
12 months ago, Ryan recruited me to join him at Flexport. As the founder, he expressed a desire to have a leader to take the company to the next level. In March, when I officially took over as CEO, we began to transform the company while facing challenging macroeconomic conditions.



I am very proud of the vision we agreed on and we have established an operating model and structure to realize that vision. We've built great tech at rapid speeds, especially the flagship SMB product for small business that we are launching for entrepreneurs tomorrow, and I'm grateful to the teams we built who are working hard for customers.



Founders have the right to change their mind. I came to Flexport to do big things and that's where I believe we were headed. Today Ryan and I discussed his desire to return to focusing on growth in the core freight business. In light of that, I believe he is best suited to lead the company in that direction. As such, I will be resigning from my position at Flexport.



As a shareholder in the company and as someone who believes in the mission and in all of you who are here, the entire Clark family will be cheering you on and wishing you nothing but the best.
Petersen diplomatically praised "a lot of progress" that was made under Dave's leadership, but said ultimately he and the board believe the company needs to prioritize a return to profitability in the near-term.
It's clear that important changes are needed to sustain our growth and return to profitability.Flexport sits at a crossroads where the choice is either to spend our way out of the current downturn in global logistics or pursue a path that gets us back to profitability quickly.The board and I agree that operational excellence and profitability in the near-term is the right path.
The abrupt departure played out publicly over Twitter/X, with Petersen blaming Clark for overspending and over-hiring as he rescinded signed offer letters for over 75 employees who were expecting to join the company this week.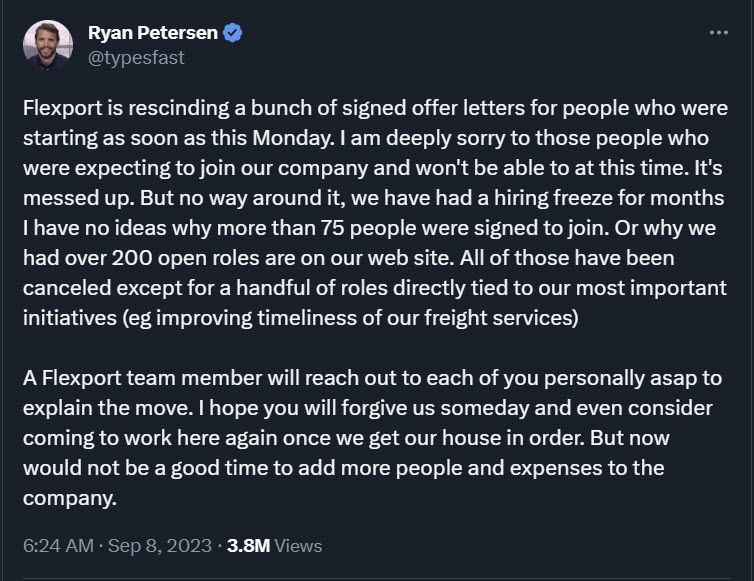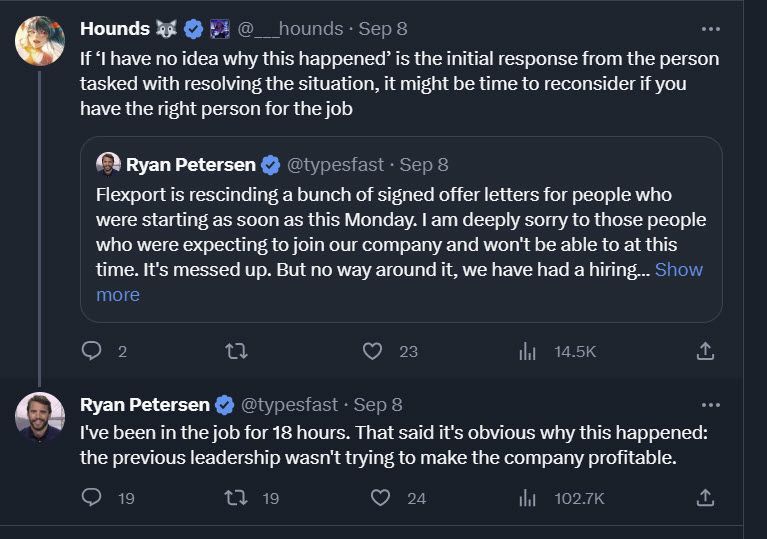 However, Petersen then praised Clark's work to bring these new ecommerce fulfillment and logistics services to life.

Was this just a move to try to quell customer and/or investor concerns about the future of the Deliverr/Shopify Logistics acquisition earlier this year and what this leadership change will mean for Flexport's ecommerce logistics offerings going forward?
---
We'd love to hear about sellers' experiences with Flexport Revolution! Drop a comment below or contact VAR.
---