Did eBay Get Rid Of Minimum Price For Sneaker Authentication?
UPDATE 8-25-22
While eBay has yet to officially acknowledge it, this does appear to be an intentional change - yesterday the FAQ page still said $100 new condition/$150 for used and today the FAQ has been updated to remove any mention price.
Interesting to note they've also changed it to be "select models" instead of entire brands.
Unfortunately they have not disclosed which models those may be, so it looks like there will be no way to know if an item will be covered by authentication before listing - you'll only know if it gets the badge or if the order is supposed to ship to the authenticator after it's been sold.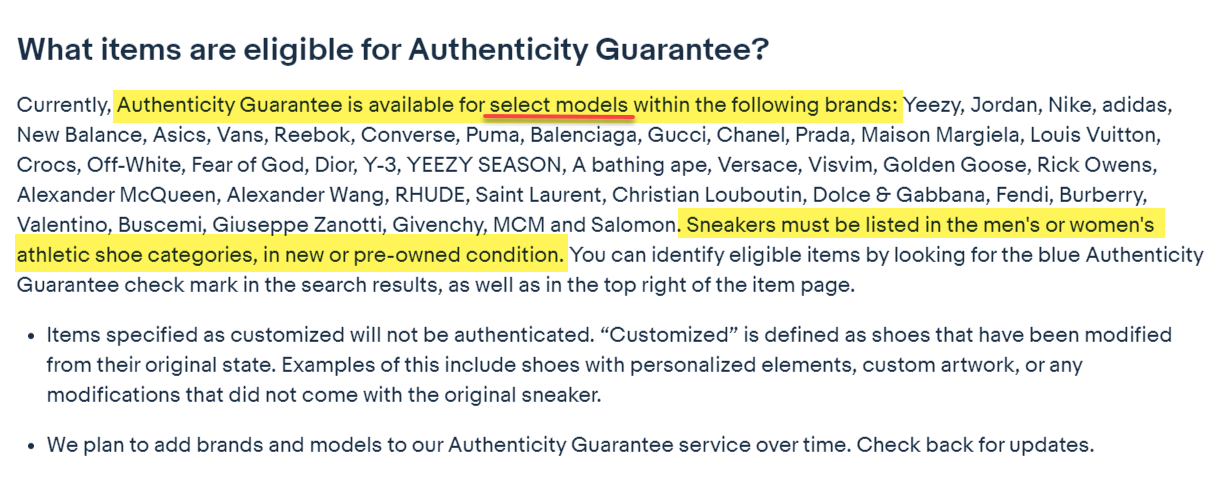 Currently, Authenticity Guarantee is available for select models within the following brands: Yeezy, Jordan, Nike, adidas, New Balance, Asics, Vans, Reebok, Converse, Puma, Balenciaga, Gucci, Chanel, Prada, Maison Margiela, Louis Vuitton, Crocs, Off-White, Fear of God, Dior, Y-3, YEEZY SEASON, A bathing ape, Versace, Visvim, Golden Goose, Rick Owens, Alexander McQueen, Alexander Wang, RHUDE, Saint Laurent, Christian Louboutin, Dolce & Gabbana, Fendi, Burberry, Valentino, Buscemi, Giuseppe Zanotti, Givenchy, MCM and Salomon.



Sneakers must be listed in the men's or women's athletic shoe categories, in new or pre-owned condition. You can identify eligible items by looking for the blue Authenticity Guarantee check mark in the search results, as well as in the top right of the item page.
---
At first this looked to me like eBay opening the floodgates by getting rid of the price requirement, but with the "select model" requirement they may actually be restricting/lower the amount of shoes going to authentication.
As I've noted before, eBay has used the authentication requirements as a lever to either pump up volume or put the brakes.
In the past, raising or lowering the minimum price allowed eBay to control the amount of shoes being authenticated - slowing down the flow when the authenticator was overwhelmed and backed up 4 weeks+ in processing or ramping things up if CEO Jamie Iannone needed a positive talking point for quarterly earnings calls.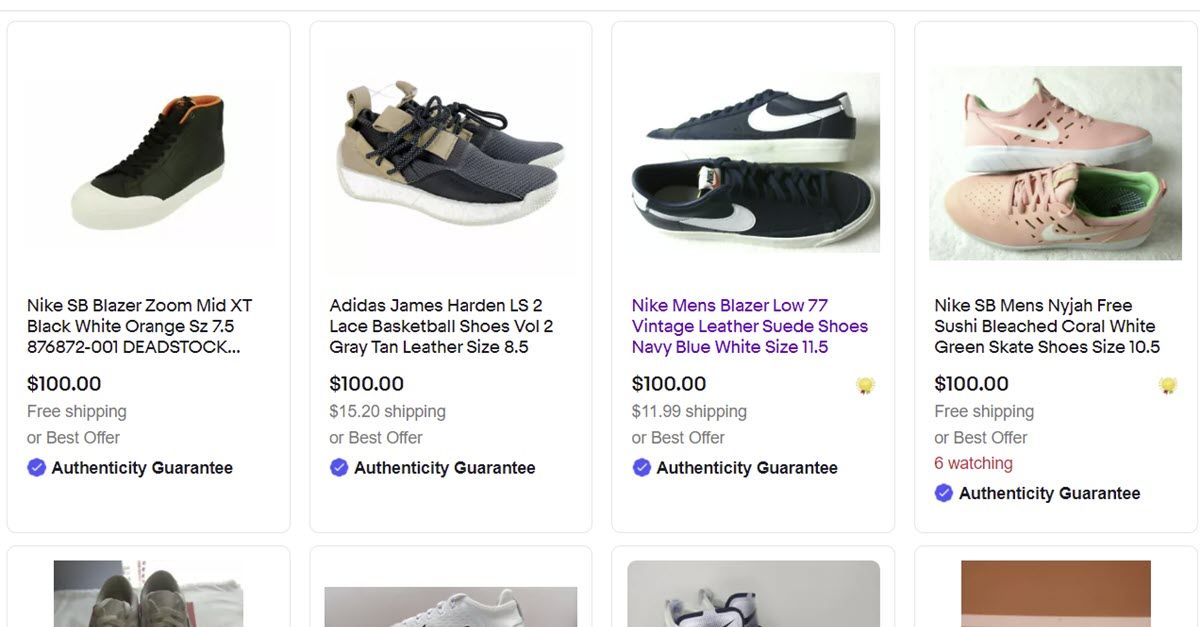 Now that they have gotten rid of the minimum price but put in a very non-specific "select models" clause, they can change up which shoes are covered at any time without notice.
Is this eBay's way of trying to mitigate and control the cost associated with authentication?
---
Is eBay getting rid of the minimum price requirement for sneaker authentication on the platform?
Sellers are reporting shoes under the $100 minimum price are suddenly receiving the Authenticity Guaranteed badging and when sold are being sent to the authenticator, causing them to question if this is a glitch or if eBay is expanding the authentication program.
Im not sure what is going on with authentication. I just sold a pair of pre-owned Nike Lebron's, BIN price was $60, I accepted an offer for $50. They have been listed for about 3 weeks, they never had the "Authenticity Guaranteed" tag on the auction. However, after they sold and I printed the label I saw that it was shipping to Authentication. I went and looked at the listing, and all of a sudden the listing is showing "Authenticity guaranteed".



Maybe eBay is randomly selecting shoes for authentication in advance of expanding the program?
They should let the seller know though, I had to explain to the buyer that the extra week that he would have to wait for his shoes were due to eBay making me send to authenticator, not any fault on my part. Also, I could only relay that info to him because he had sent me a question before he sent his offer, otherwise eBay shuts down comms between buyer and seller for authenticated shoes sales?
Yeah this just happened to me on a $45 pair of Nike running shoes. I looked through my listings and it seems to just be random items, different brands and different price points. Would like to know what's going on.
---
I've checked current Buy It Now listings in the Men's Athletic Shoes category, filtered by Authenticity Guarantee and can confirm eBay is currently showing authentication on shoes well below the $100 for new condition/$150 for used condition minimum price stated in the authentication terms and conditions.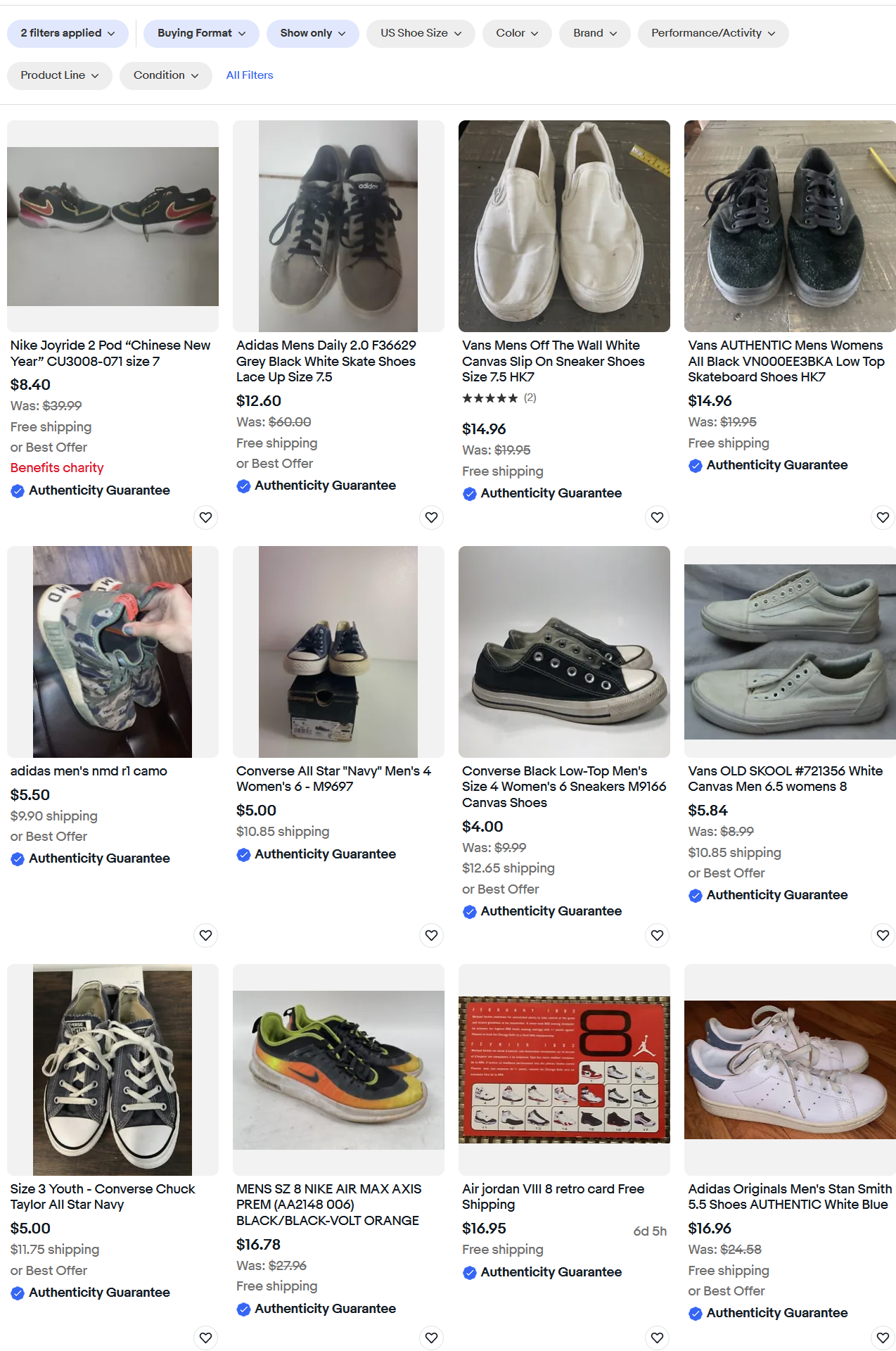 Previously when shoes below the minimum were being shown with authenticity guarantee, it was due to sellers gaming the system by setting the Buy It Now price at the minimum, but then accepting offers for a lower amount.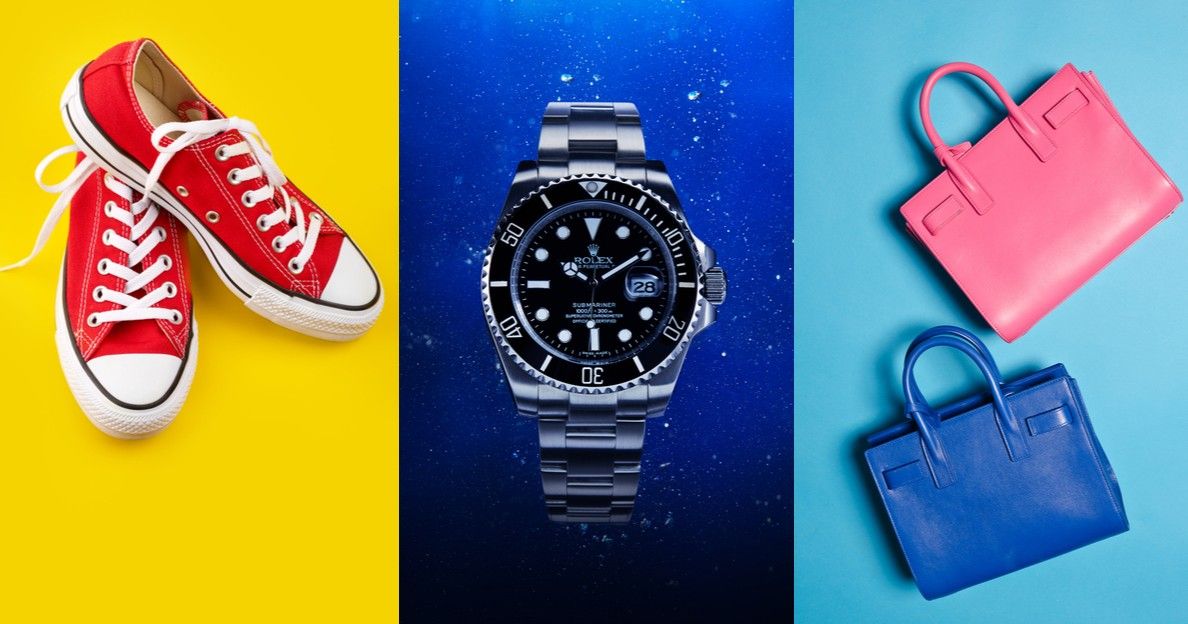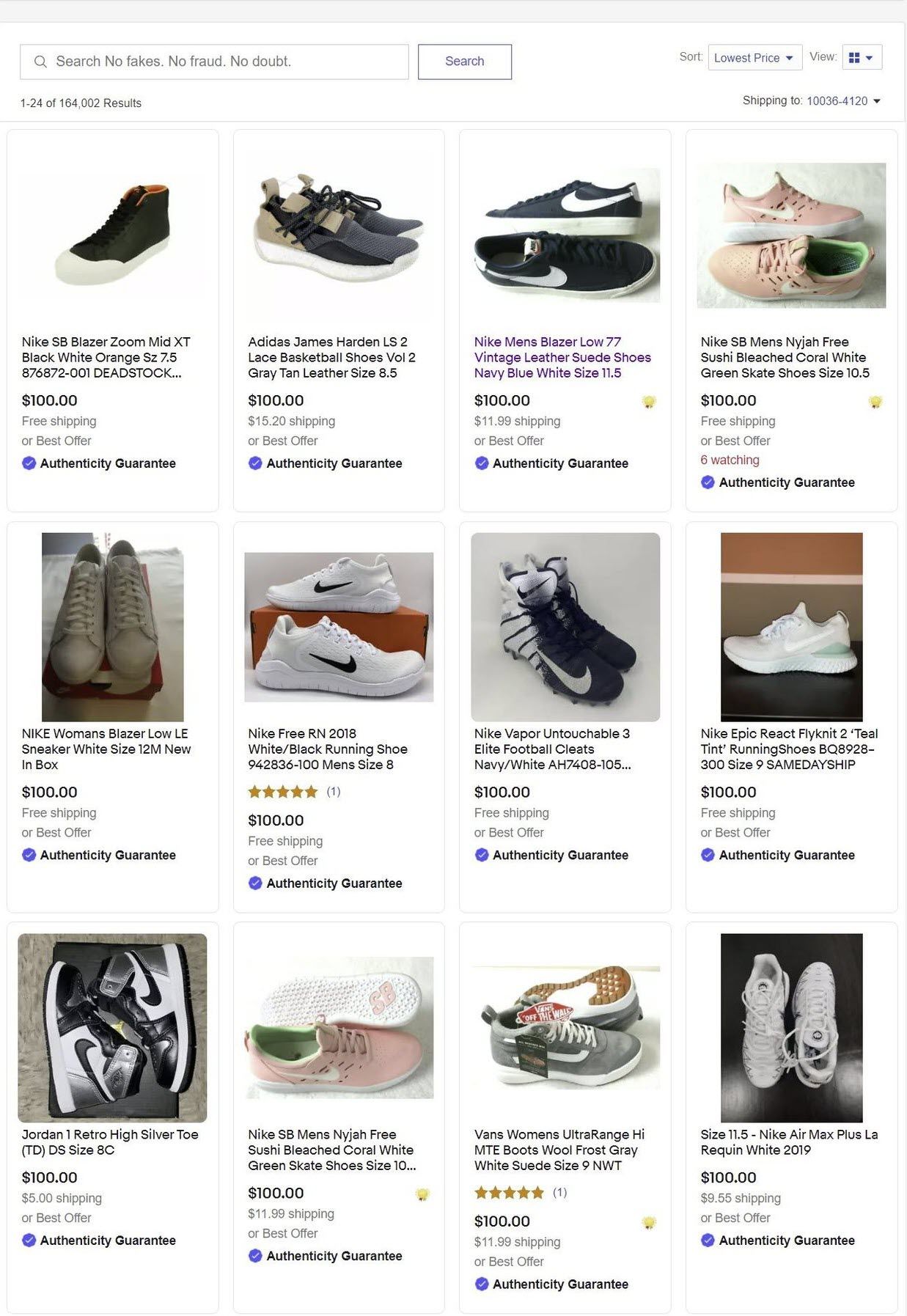 But that's not what appears to be happening now - instead it appears that eBay has in fact removed the price requirement and is adding authentication to many shoes from qualifying brands, regardless of the BIN price.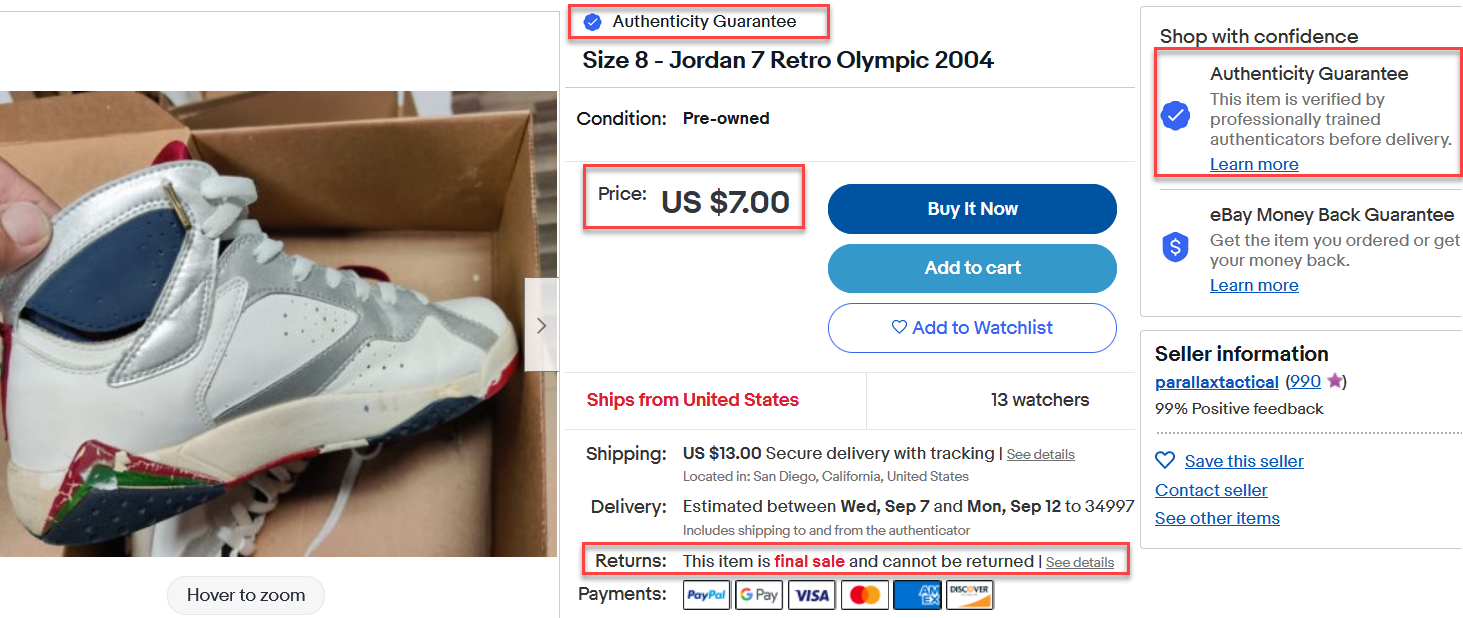 The terms and conditions page for authentication has not changed and still shows the minimum price at $100/$150.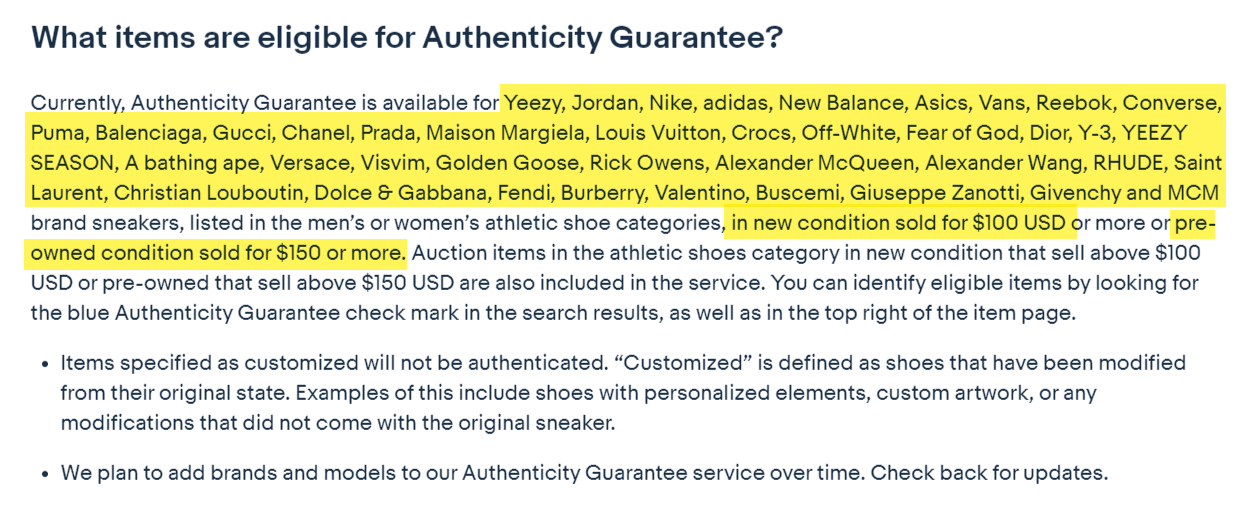 ---
Some may wonder why it would be a problem - shouldn't buyers and sellers be happy if their items are going to authentication?
However, many buyers and sellers have expressed they would prefer not to use eBay's various authentication programs, or at the very least allow them to be optional.
It can particularly be an issue with sneaker authentication because eBay blocks messaging between buyers and sellers for authenticated sneakers - so having mandatory authentication on these low dollar sneakers could actually provide for a worse buyer experience.
---
I've reached out to eBay and will report as soon as I have more information about whether this is a glitch or intentional change.
---