How To Set Up eBay Express Payout To Debit Card
eBay began rolling out an immediate payout option for Managed Payments in June. Here's what sellers need to know about the sign up process and how this new feature works.
First of all "immediate" payout is a bit of a stretch - you still have to wait the usual 1-2 business days for the buyer's payment to process and be in your available balance before you can request payout to your debit card.
Once you do have available funds, if you've enrolled in the immediate payout feature, you can request all or a portion of those funds to be paid out to your debit card on file. The funds will usually arrive in your account within 30 minutes and you'll pay eBay a 1.5% fee for the convenience.
Important Note: When you sign enroll in express payments, eBay will put a 48 hour hold on payouts while they verify you're new payment details - so make sure you do this at a time when you can afford to  wait a couple days before receiving your next payout.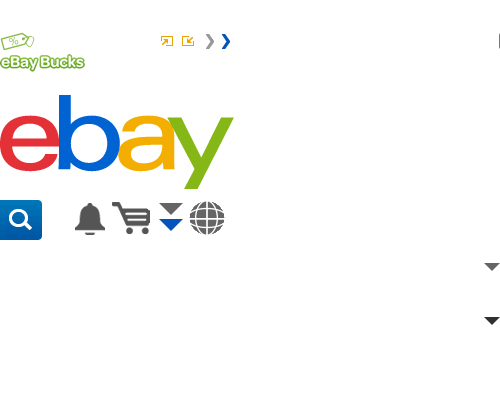 Payouts to your debit card



Sellers have the option, for a fee, to receive payouts to a verified Visa or Mastercard debit card. To set up your debit card for payouts, sign into My eBay or Seller Hub and follow the instructions on the banner. eBay will ask you to verify your debit card either by uploading a bank statement associated with your debit card, or by using micro-charges (small charges).



If using micro-charges, we'll initiate two micro-charges of less than $1 to your debit card. Once they've reached your bank account, sign into My eBay or Seller Hub and follow the instructions on the banner to confirm the amounts. Once verification is complete, any micro-charges will be refunded to your debit card.



Once you've added a card, as a security measure, there is a 48 hour waiting period when you will not receive payouts. After 48 hours, you can resume receiving payouts and once your card is verified, you can select your debit card as your preferred payout method or request a payout to your debit card on demand.



You can select your debit card as your preferred payout method for scheduled payouts, or request a payout to your debit card on demand. Funds requested to your debit card on demand typically arrive in 30 minutes.



You won't be eligible to use your debit card for payouts until you've been registered on the site for over 90 days and have an active linked checking account.



If you request a payout to your debit card, we charge a 1.5% fee on the payout amount (minimum fee $0.25, maximum fee $15). This fee is deducted from your payout total at the time the funds are transferred.
---
The first step in enrolling is to change your payout schedule if you're on the daily option. On demand payouts are only available if you use the weekly, bi-weekly, or monthly schedule.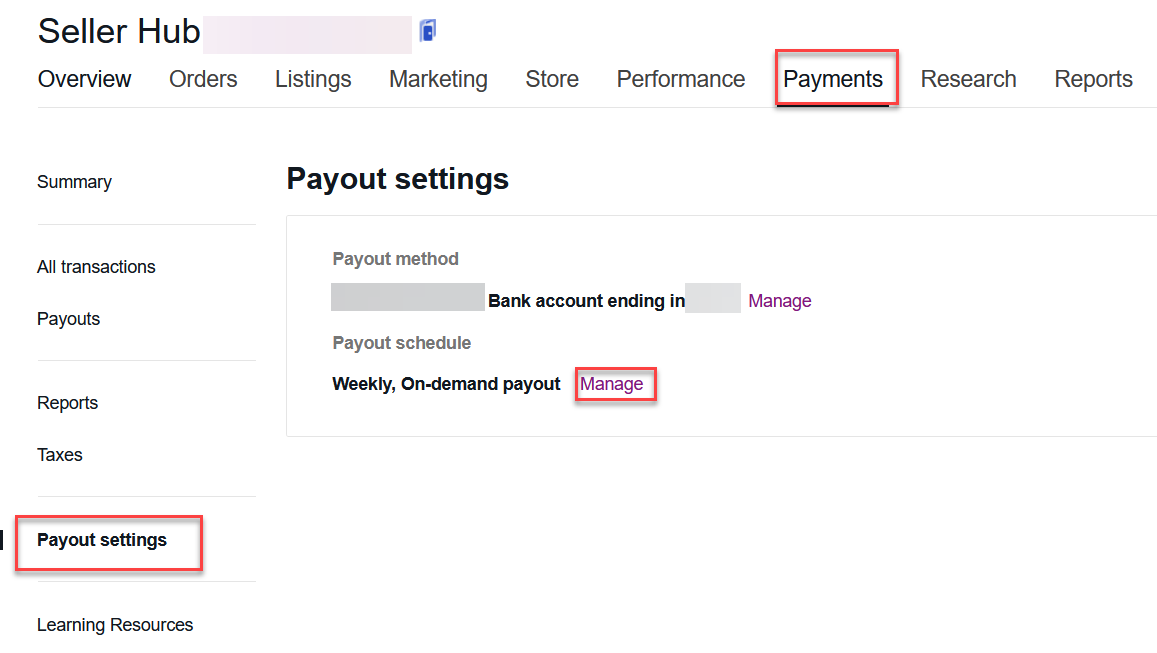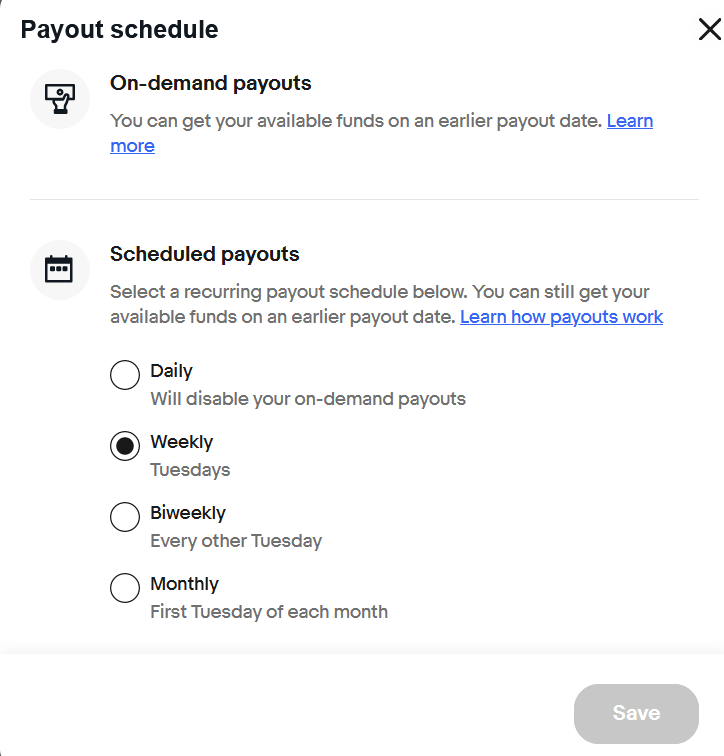 You'll know if you have the on demand payout option available if this shows on your payments summary page in Seller Hub.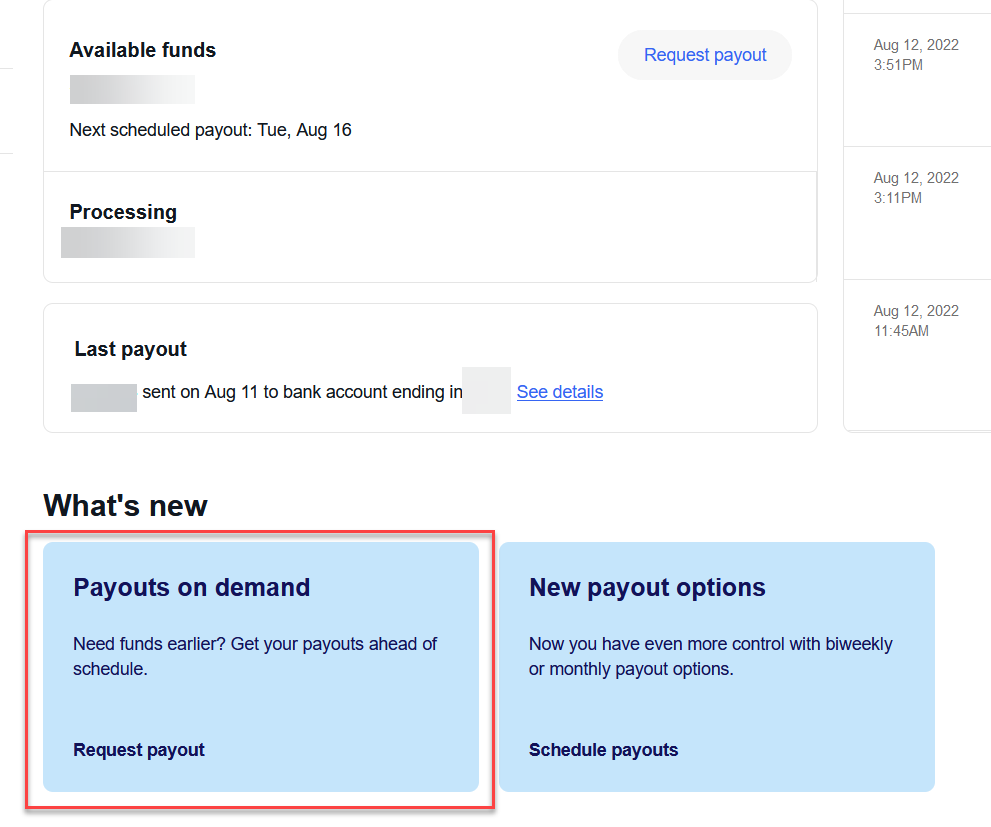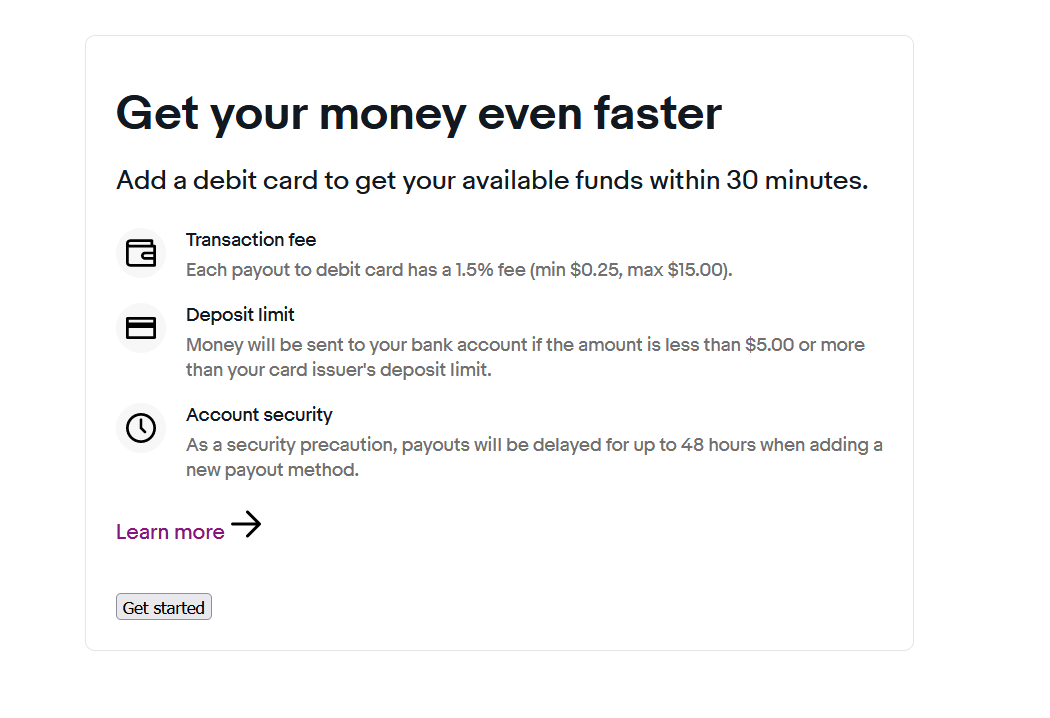 This part of the process is very straightforward, just make sure you enter the name and billing address exactly as it is on your bank account/debit card to avoid verification problems.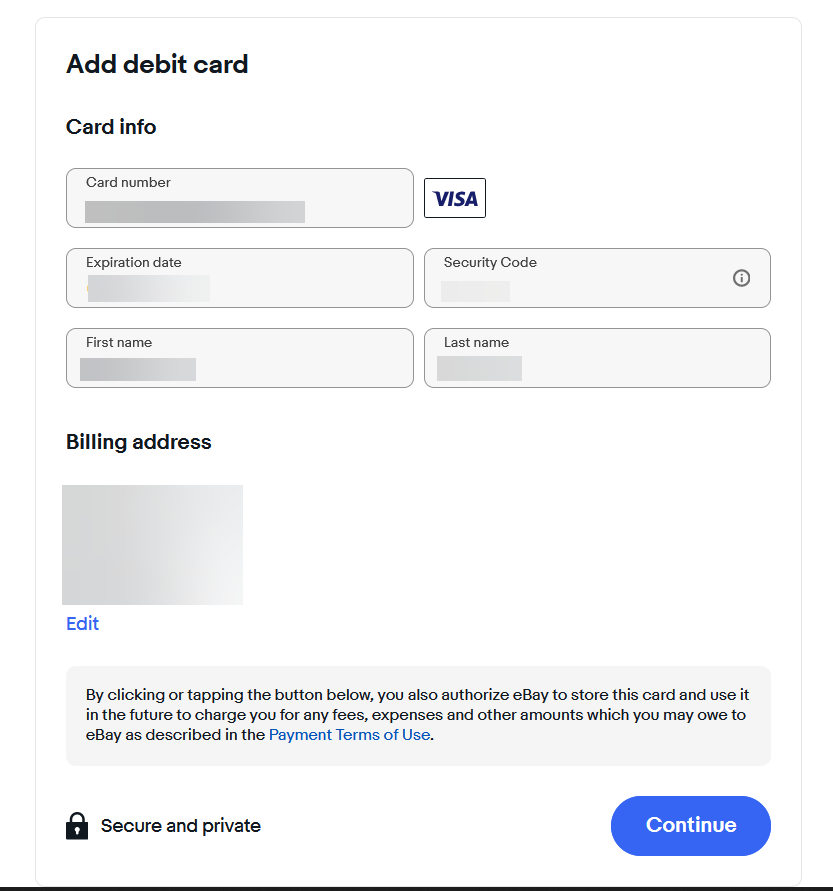 Check these toggle options very carefully - the first one for Payouts means you are enabling it for on demand, the second one for scheduled payouts means, for example, if you are on a weekly pay out schedule then every week the payout will automatically go to this debit card instead of your bank account and charge you the 1.5% additional fee every week.
Most seller will want to use express payouts for one off or emergency situations, not pay eBay extra fees every week, so most likely you'll want to toggle the first one but not the second, like in this example.
You can also choose if you want to use that debit card for selling costs as well.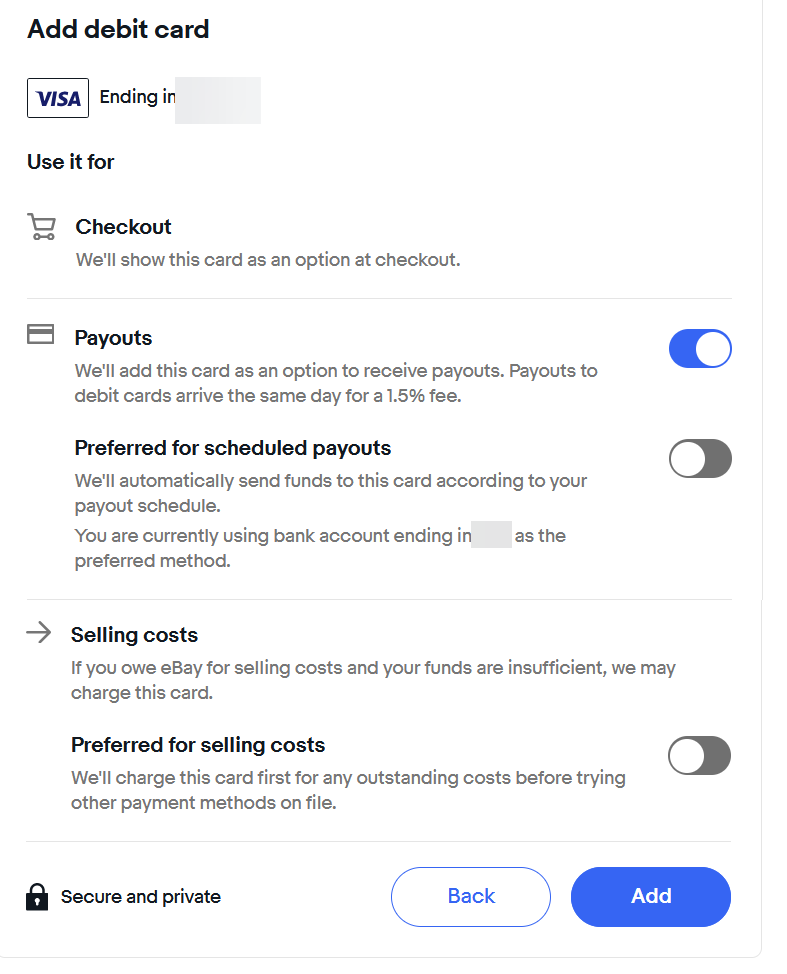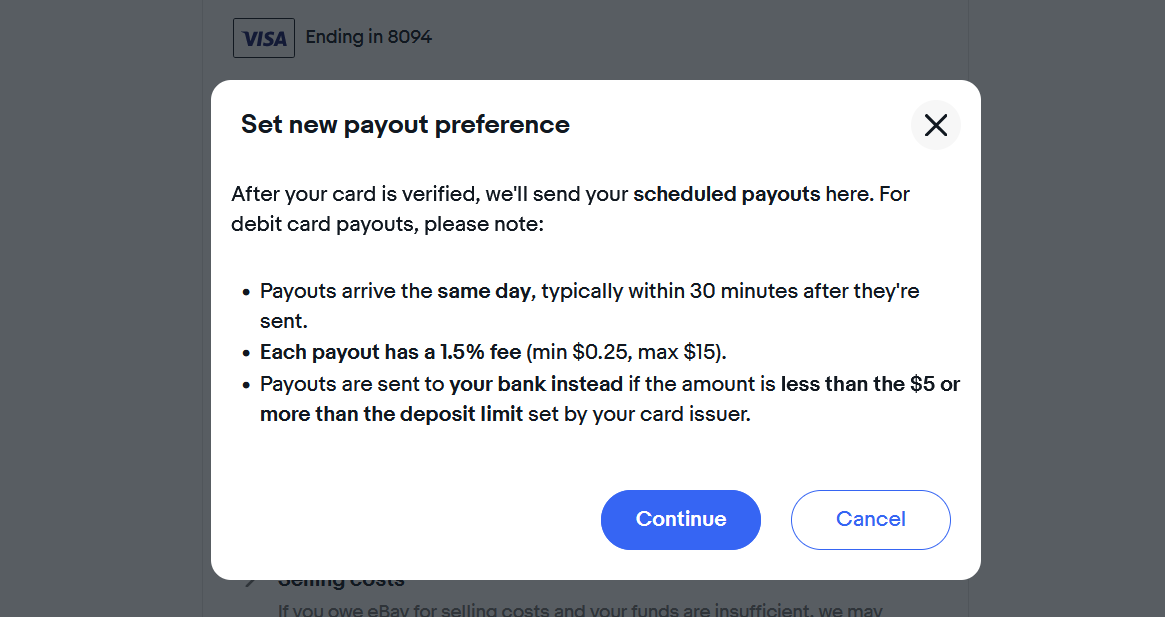 Next eBay will need to verify the change to your payment information. You may be asked to log in to your previous used bank account using eBay's integration with 3rd party app Trustly or by manually providing the bank account and routing number.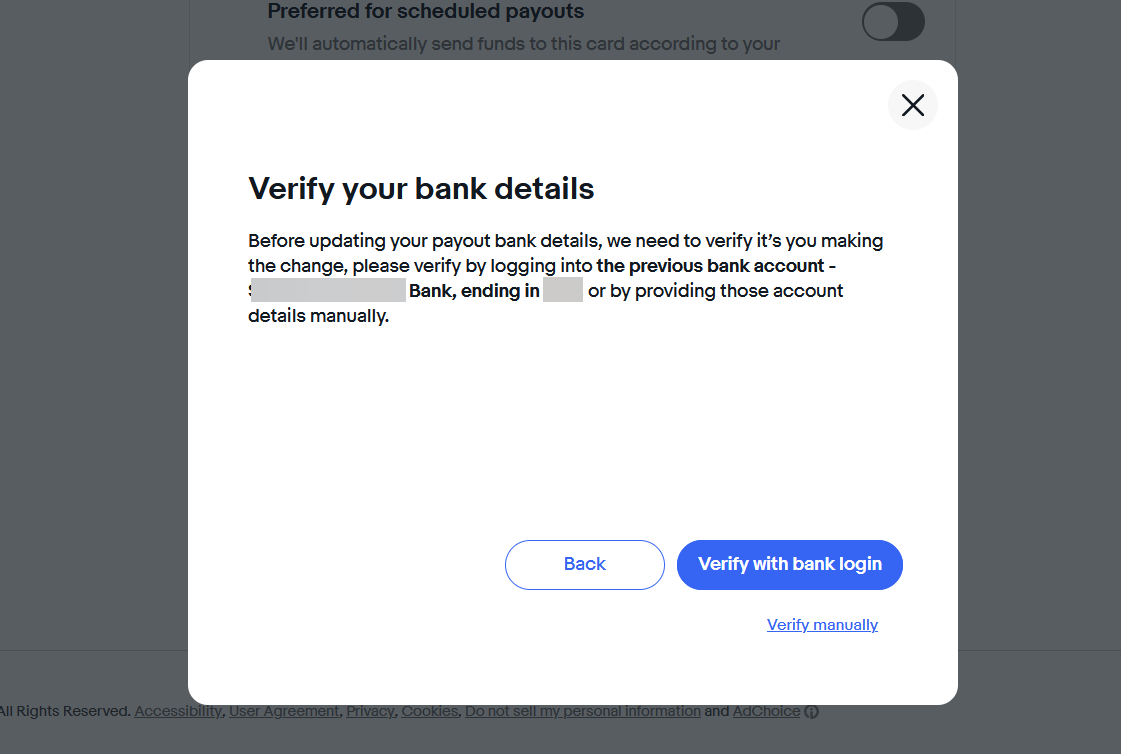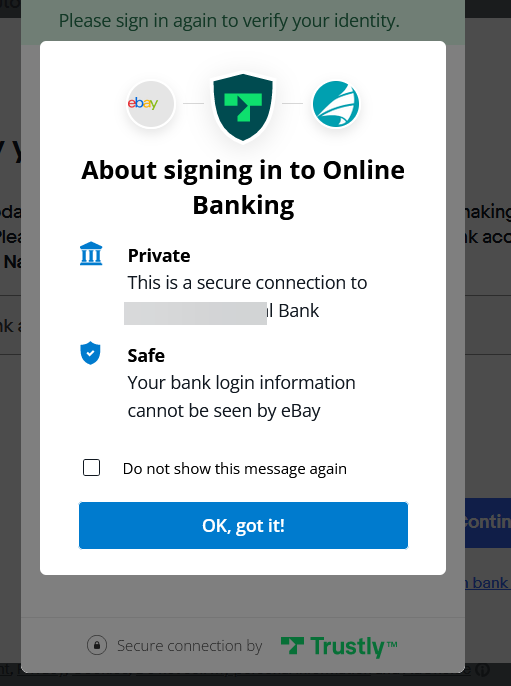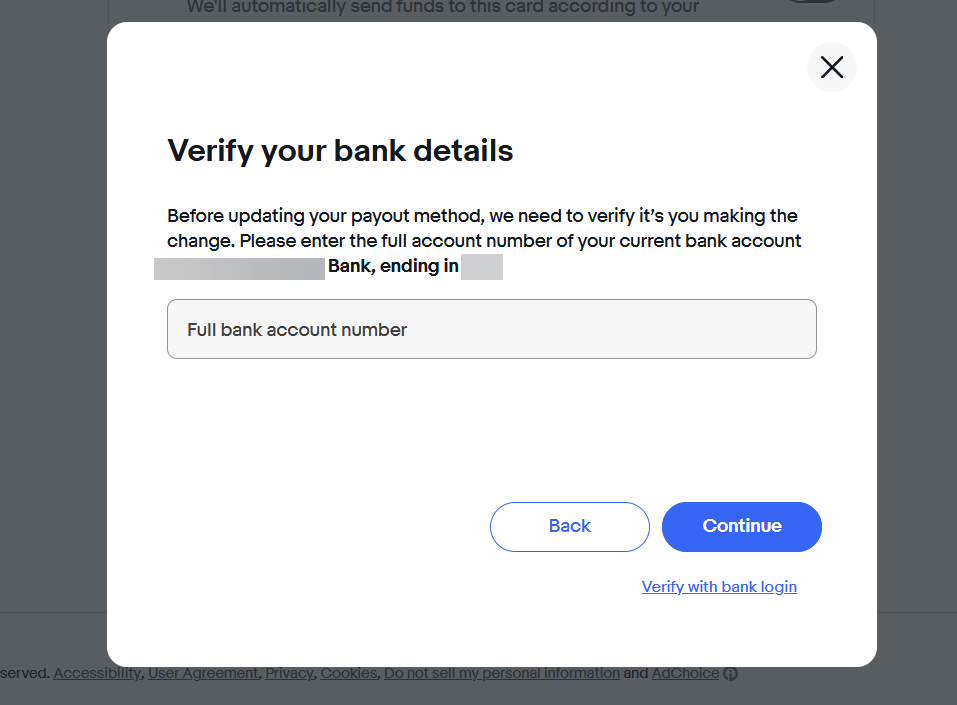 Once you've provided the required verification, eBay will show you a warning banner letting you know your payouts are on hold for up to 48 hours.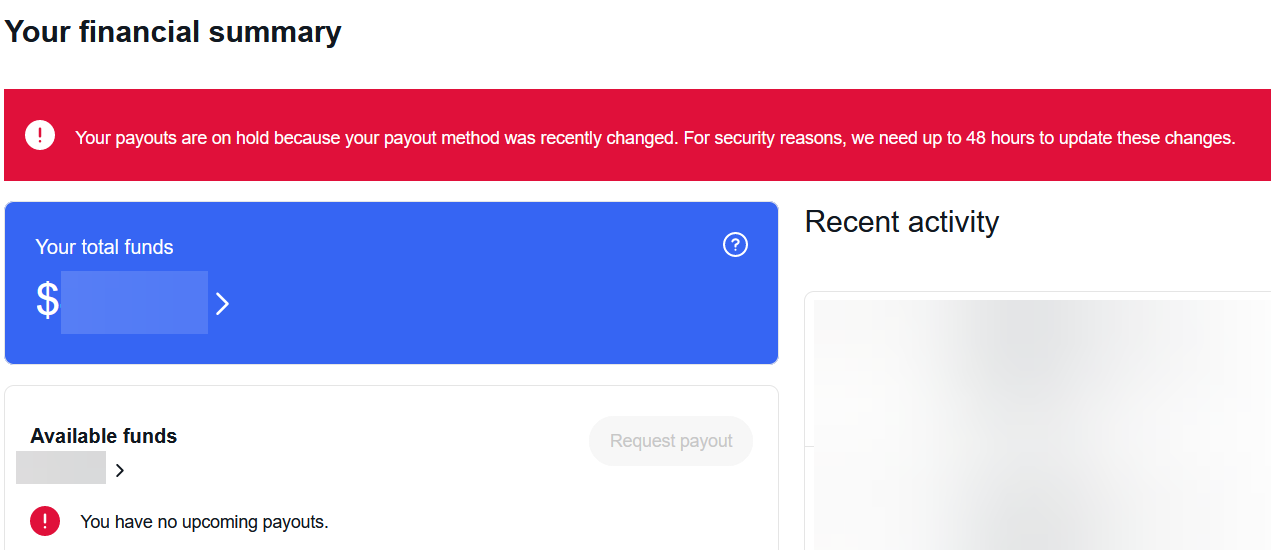 Once the red banner goes way, your scheduled payouts will resume and you'll have the option to request on demand payouts to your bank account for free (1-3 business days) or "immediately" to debit card (30 mins).
By default it shows the full amount of your available funds but you can edit the amount if you only want to transfer a portion. It will also automatically calculate and show you the fee for the immediate payout.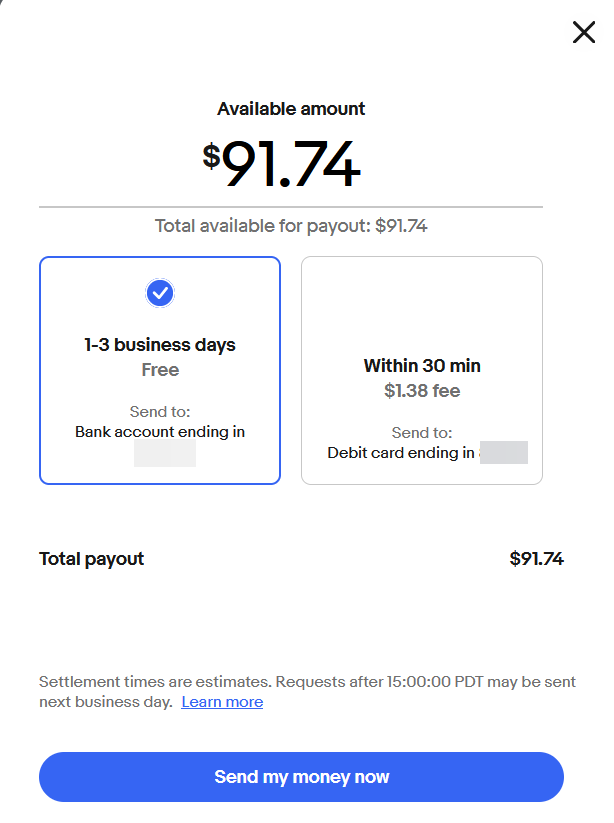 One warning: some sellers have experienced problems with the verification process that delayed set up past the 48s and required working with eBay customer support to resolve.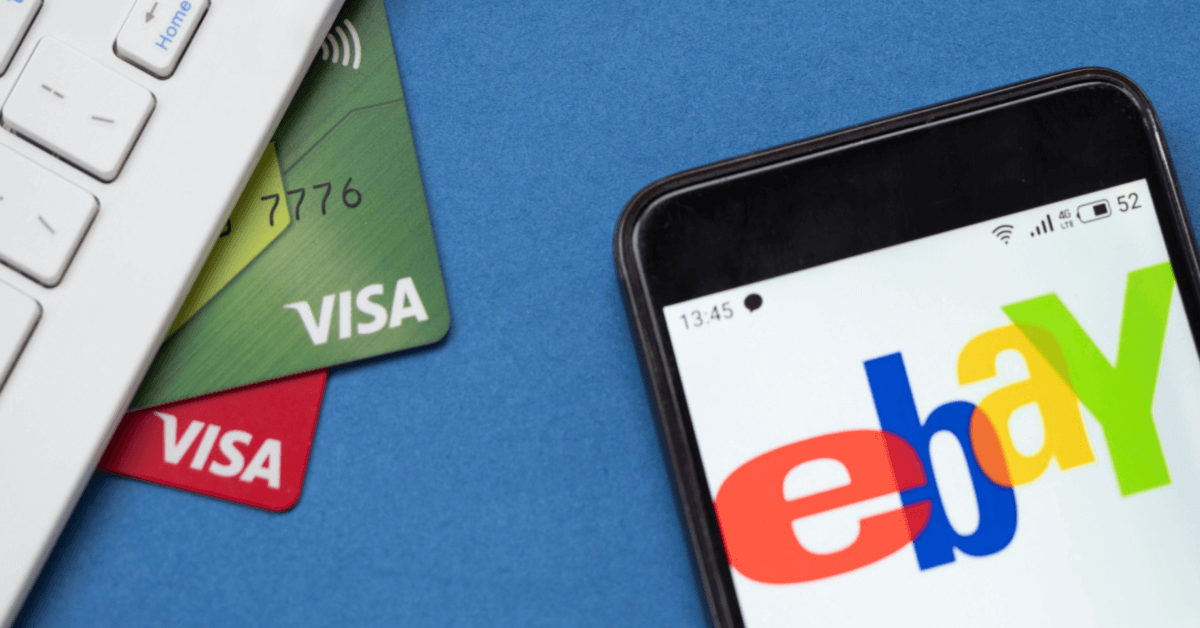 ---
So what if you want the option to request immediate payouts for one off emergency situations, but the rest of the time you want daily regular payouts to your bank account?
One seller in the eBay community has exactly that concern and here's what I suggested as a possible workaround.
If you want the ability to use this for emergencies, but also don't want to wait a week in between regular payouts, here's what I would suggest:

Pick a time when you can afford to go a few days without a payout - the initial set up for this requires a verification process that will lock up your payouts for "up to 48 hours" according to eBay.
Set your regular payout schedule to weekly, then go through the process to opt in and verify your account for the immediate payout option.
Keep the schedule on weekly, but use the regular "on demand" payout option to manually trigger a payout to your bank account as needed without having to pay any extra fees.

You could do this every day if you want, which would basically be the same as being on the daily schedule - the only difference is you would have to manually request it rather than having eBay automatically send it.
In an emergency situation or any time you feel like it is worth it to pay the extra fee, request an immediate payout to your debit card and have those funds available within 30 minutes.
I'll put the same caveat here I gave that seller: I have not personally tested this method, but believe it should work based on all available information about the on demand payout option.
---
Have you used eBay's express payout option? Let us know about your experience in the comments below!
---