Poshmark Rolls Out Promoted Closet Beta Ad Program
UPDATE 5-10-23
A Poshmark seller in the Promoted Closet beta trial has confirmed it is a pay per click model.
I currently have 1059 listings. I promoted my whole closet since it's free right now. My trial started on 4/23 around 9 pm. It's showing I had 73 clicks so far and the price so far would be $7.65, so a little more than .10 cents per click.



The "analytics" leaves a lot to be desired. Like, it's not really analytics at all. It doesn't show you what people are clicking on and there's no past data on clicks for comparison. It's literally a graph of clicks only. That's it. I'm on eBay so I'm used an overwhelming amount of data that would take a full day to wade through.



The dashboard does show that Impressions data is coming soon. But Poshmark makes lots of promises so I take that with a grain of salt. If there aren't vast improvements to my sales in the next month I will not continue to promote. I will post the results when this is all over. I have extensive spreadsheets going back three years so it will be evident if this works or not.



Basically, I'm underwhelmed so far but I'm underwhelmed with Poshmark in general so this isn't a surprise. It's good for moving my younger targeted items, and a supplement to my eBay business.
---
UPDATE 4-27-23
Poshmark seller and YouTuber Tabs McCaffery posted a great video with more info on Promoted Closets.
Poshmark has also released some additional information in an FAQ.
Promoted Closet helps sellers increase visibility of their listings. This is a paid marketing tool that allows listings in a seller's closet to be eligible for promotion to shoppers on Poshmark.



Promoted Closet will promote listings in a seller's closet during each campaign, which will last for 7 days. Only Available listings in your closet are eligible for promotion. Whether a listing in your closet is promoted will depend on factors like what shoppers are searching for.



Individual listings cannot be selected.
Sold listings and listings marked as Not For Sale will not be promoted.
At this time, the Promoted Closet beta free trial can only be accessed via the web.



Free Trial
Participating beta-testing sellers will have an opportunity to try Promoted Closet free for four weeks.



If you are a participating seller, you can start your free trial of Promoted Closet by completing the following steps:

On the web, select your profile image at the top-right of the page.
Select My Promoted Closet.
Select Start Free Trial.
Add your payment details and select Start Free Trial.
Note: After your trial ends, your weekly budget will default to $10. This amount will auto-renew weekly unless changed or cancelled before the next billing cycle begins. You may change your weekly budget at any time. Changes to your weekly budget (including cancellations) will take effect at the start of your next billing cycle.



To stop your free trial, go to My Promoted Closet > select Manage > Manage Promotion > select Stop Promotion. Once confirmed, your free trial will stop at the end of the 28th day and will not auto-renew.



Promoted Closet Overview
Once a closet promotion has been launched, closet performance will be available.



The following information is provided:

Clicks: The number of clicks to the promoted listings.
Listings Sold: The total number of promoted listings sold.
Sales: The amount earned from promoted listings based on the sold price.



Manage Promoted Closet
Update your budget after your free trial and view your selected budget per week, the percentage of budget used, and your invoices at any time by going to My Promoted Closet > on the left-hand side, select Manage.
While Poshmark doesn't come right out and say it, the information about budgets and reporting of clicks may indicate this will be a cost per click ad option.
---
Poshmark has announced they are testing a new Promoted Closest program to advertise in prominent locations across search results and brand pages.
The beta program is a free trial as Poshmark is looking to test how this prominent placement may impact sales and will initially only be available to sellers with the largest closest so Poshmark can have a good amount of test data to collect.
Introducing Promoted Closet, a new beta feature for US sellers to increase the visibility of their listings to millions of shoppers on Poshmark. This beta program is a part of our ongoing efforts to empower sellers with more tools to make sales and grow their businesses. With Promoted Closet, your listings will become eligible for promotion in prominent locations across search results and brand pages and you'll be able to see how well your promoted listings are doing with access to performance insights.



Participating sellers will have an opportunity to try the tool for free and provide feedback to help us create a valuable seller tool for the Poshmark community. Throughout the beta, we will be listening to feedback and improving the experience iteratively so we can roll out Promoted Closet to every seller in the US.



Poshmark has been, and will continue to be, a place where anyone can thrive and we are excited to bring you another tool to help promote your listings. During this beta period, we will be testing to see if increased visibility ultimately leads to a positive impact on sales.



FAQ's
How can sellers participate in the beta program?



To test this new feature, we are initially reaching out to Posh Ambassador IIs located in the US who use Poshmark on desktop to manage their closet. We will be granting access on a rolling basis, starting with the largest closets with the most available listings. This will help ensure that we have enough listings to thoroughly test the performance of Promoted Closet. As we continue to learn and refine the beta experience, the criteria is subject to change. Interested sellers can join the waitlist by filling out this form.



How will Poshmark determine when to let more sellers into the beta program?



As our team monitors feedback, addresses bugs and issues, and improves the product experience, we will open up access for more sellers to join on a rolling basis. We are testing with a diverse set of closets and capturing feedback from different types of sellers to build the most successful experience for the broader community.



How will selected sellers be notified?



Our team will contact sellers via email with instructions to access Promoted Closet and start their free trial. We encourage sellers to confirm the email address associated with their Poshmark account is current. In addition, sellers must be opted in to receive announcement email notifications.



When can sellers expect Promoted Closet to be available to everyone?



Our goal is to make this available to as many sellers as quickly as possible; however, we will not sacrifice quality for speed. It is our intention to build a tool that every seller can benefit from and we recognize that it will take time to test and improve.



How can I learn more or share general feedback about Promoted Closet?



We welcome any questions and feedback to support@poshmark.com. A member of Team Posh will respond as soon as possible.
---
After the initial free trial period, I expect the end result of the testing will be a seller paid advertising option, possibly similar to eBay's Promoted Listings ad products.
Last year, before the Naver buy out was announced, I predicted Poshmark may be looking to introduce seller-paid ad products based on comments made by CFO Rodrigo Brumana stopped by the Goldman Sachs 2022 Communacopia + Technology Conference.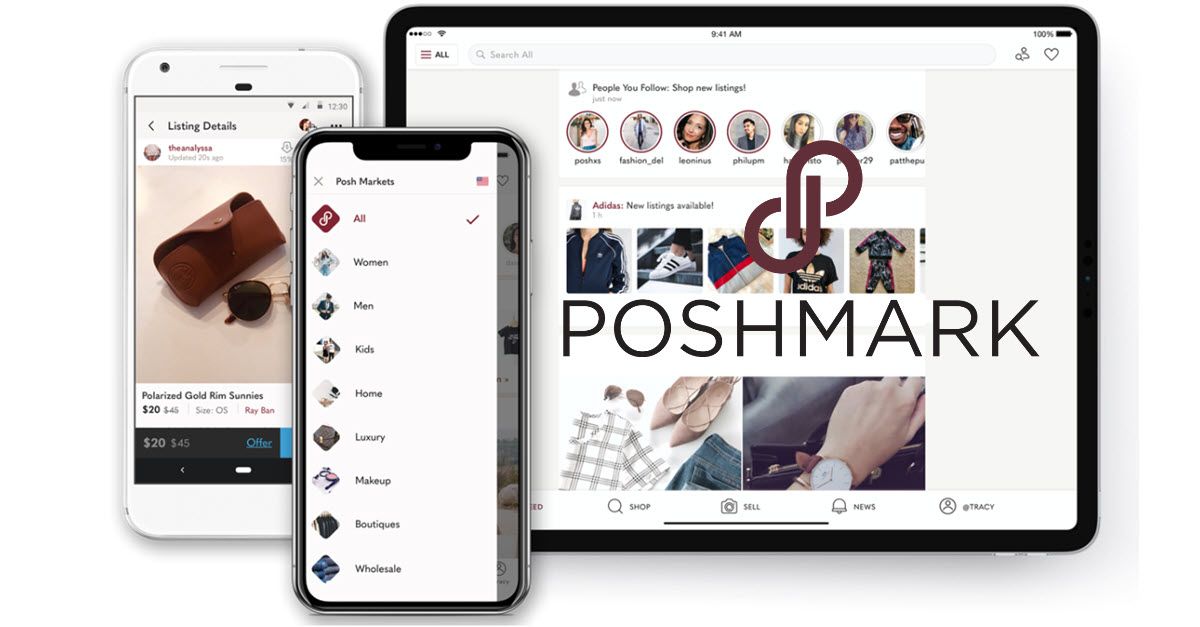 At the time, such a move would have made sense as shareholders were eager to see increased take rate through advertising options on the platform.
The Naver acquisition took Poshmark private, so the stakes may have changes slightly, but you can bet Naver is also looking to see a return on their investment and may see seller-paid advertising as an important piece of the pie.
---
What do you think of Poshmark Promoted Closets? Would you pay for advertising above and beyond existing selling fees to promote your listings across the platform?
Let us know in the comments below!
---