Nike Quietly Enters Pre-Owned Refurbished Sneaker Game
Nike is quietly expanding on their limited in-store refurbished program, making restored sneakers available to buy online at up to 50% off retail prices.
On Tuesday, Nike quietly rolled out an online refurbished sneaker program that was previously offered only at select stores.



Dubbed Nike Refurbished, the site offers a digital version of the initiative that Nike introduced in April 2021 as part of its ongoing Move to Zero mission.



Made up of returns, exchanges, and shoes with small imperfections, the Swoosh has given a second life to sneakers in categories ranging from men's and women's performance shoes to lifestyle and Jordan footwear.



"Nike's goal is a circular, zero carbon, zero waste future," the brand said in a statement. "While Nike Refurbished footwear is available at select Nike stores, we are also testing offering Nike Refurbished products online to extend the life of authentic Nike product at a value price."
You can check out the new offering at https://refurbished.nike.com/ but you'll need to sign up for a free Nike account in order to access these deals.
REFURBISHED PRODUCTS
Nike Refurbished Products are Nike products that cannot be sold as new. We inspect like-new, gently worn, and slightly imperfect products and provide them for purchase. The three categories of products are described as follows:

Like New - Perfect or near-perfect condition. These products are like new with no sign of wear or flaws.
Gently Worn - These products are in great condition with visible light wear or slight imperfections.
Slightly Imperfect - These products have no signs of wear but are slightly imperfect (for example: stain, mark, discoloration, or fading). Otherwise like new.



ALL NIKE REFURBISHED PRODUCTS ARE SOLD "AS IS" AND "AS AVAILABLE",WITHOUT EXPRESS OR IMPLIED REPRESENTATION OR WARRANTY OF ANY KIND.
For now, Nike Refurbished is only available in the US and it's important to note - all sales are final.
What is Nike Refurbished return policy and process?
Items ordered from Nike Refurbished online are final sale. Items may only be returned if they arrive damaged, defective, or do not match the description. For assistance with your order, please email help@refurb.nike.com.



Note: Nike Refurbished product purchased online may NOT be returned in store at this time.



Can I exchange my Nike Refurbished order?
Due to the nature of Nike Refurbished product availability and constantly changing inventory, we are not able to offer exchanges at this time.
Nike clearly has an eye on the resale market here, limiting quantities and warning of potential consequences for those are found to be reselling these items.
NO PURCHASE FOR RESALE; ORDER LIMITS
Nike Refurbished is intended solely for the benefit of end consumers, and therefore purchase of products with the intent to resale to other consumers, businesses or third parties is strictly prohibited.



Each transaction on Nike Refurbished is subject to a quantity limit of 5 items.



If NIKE determines that a purchase or order is intended for resale as described above, NIKE reserves the right, in its sole discretion, and as it relates to such purchase or order, to (1) suspend the application of any NIKE policy that provides a right or benefit intended for direct to consumer purchases; and (2) take any action to hinder such purchase or order (and deter future purchases or orders), including without limitation, to restrict sales to any consumer, consumer account, or member account, cancel orders, charge restocking fees (as applicable), decline to issue refunds or take returns (as applicable), and/or suspend or close any account.
Due to the nature of the program, styles and sizes may be limited and prices may vary.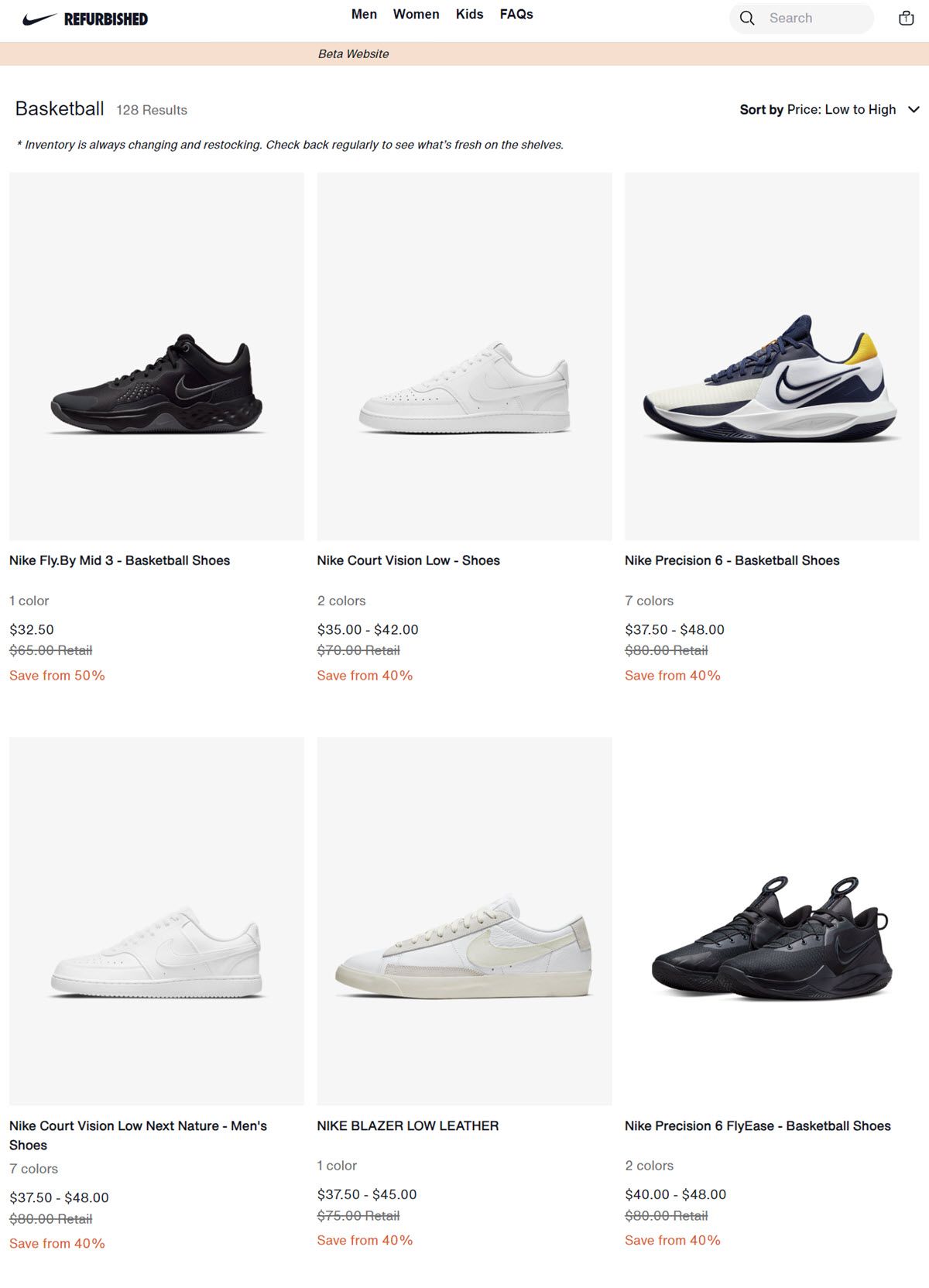 ---
Will Nike's refurbished program steal some thunder from eBay, StockX and GOAT? Let us know what you think in the comments below!
---