Holiday Hustle: eBay Sellers Grapple With Rising Ad Costs
As other marketplaces put holiday marketing plans into motion, eBay makes it clear many sellers will once again be on their own to drive seasonal sales at ever increasing costs for Promoted Listings ads and seller-funded discounts.
The eBay Ads Holiday Guide for 2023 has been released and unsurprisingly, eBay is pushing Promoted Listings Advanced cost per click ads hard as they work to ramp up seller adoption.
eBay is offering sellers 50% off their first Promoted Listings Advanced campaign, up to $100 to try to entice them to try cost per click ads, though as usual - make sure you read the terms and conditions carefully before signing up!
Enjoy the Gift of 50% Off Your First Promoted Listings Advanced Campaign, up to $100.



With eBay Promoted Listings Advanced, gain exclusive access to prime ad placements on eBay, have control over your ad spend budget, and get your listings in front of interested buyers with advanced campaign controls.



Qualifying Members that have been invited to participate will receive the Promotion when launching their first campaign on the US ebay.com site and incurring Promoted Listings Advanced Ad fees during the Discount Period.*
For the Holiday Guide, eBay conducted a shopper survey that included over 3,000 participants, inclusive of 1,500+ eBay buyers.
However, it's important to keep in mind those surveyed are likely a very carefully curated group and may not represent a statistically relevant sample of eBay's ~132 Million active buyer base.
eBay says the survey revealed that 71% of respondents start their holiday shopping on online marketplaces, with eBay being in the top 3.
eBay is a top destination for holiday shoppers
Marketplaces are the starting point for the majority of holiday shopping journeys. This is emphasized by the majority of U.S. consumers surveyed (71%) saying they begin their holiday shopping on online marketplaces.



eBay was named as one of the top three destinations for holiday shopping and great deals. This gives eBay a unique edge on the season, as the marketplace is home to a wealth of holiday shoppers who start their search specifically with us.
The ads team also says shoppers are very influenced by ads during the holidays, emphasizing the need for well-targeted and measured advertising campaigns.
The impact of ads is great
Survey data showed that one-third (33%) shoppers say they are very influenced by ads during the holidays, with more than 50% of gifts they purchase being different from what they originally intended to purchase, due to ads. This percentage rises to almost half (47%) of Millennial shoppers.



For eBay sellers, this emphasizes the need for well-targeted and measured advertising campaigns, as eBay shoppers are highly influenced during the season.
Many sellers are wondering why eBay does not take their own advice on this matter, noting other marketplaces are pulling out the marketing stops to stay top of mind for holiday shoppers while eBay's seasonal plans remain a mystery.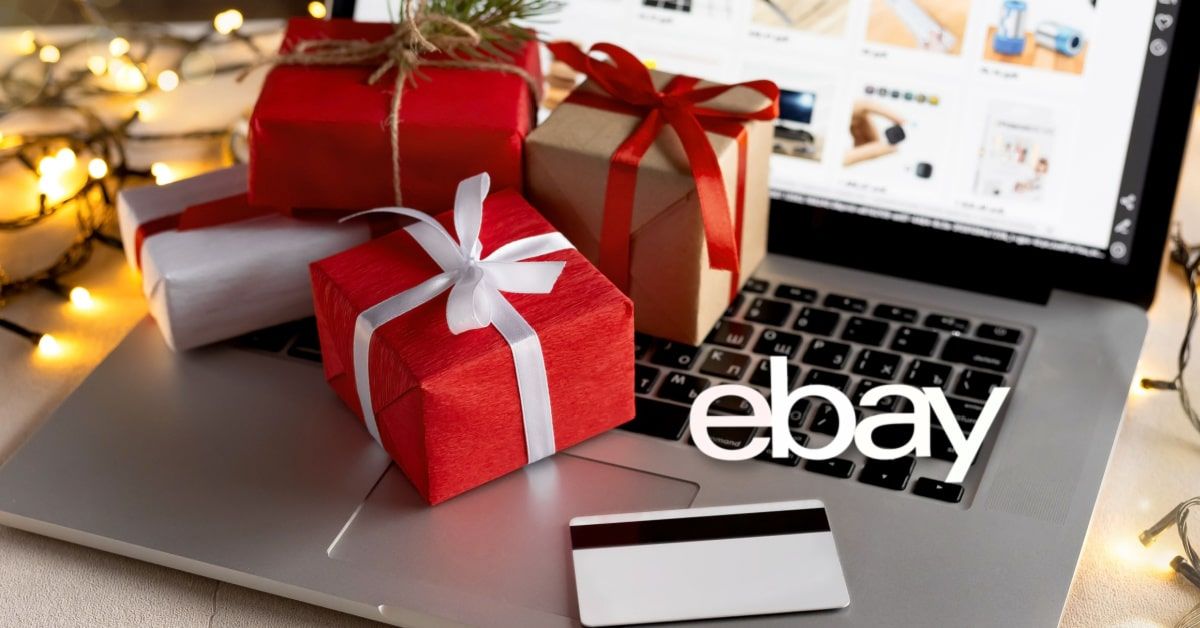 On that note, a rather embarrassing typo in the eBay Ads Holiday Guide may have been unintentionally a little too honest.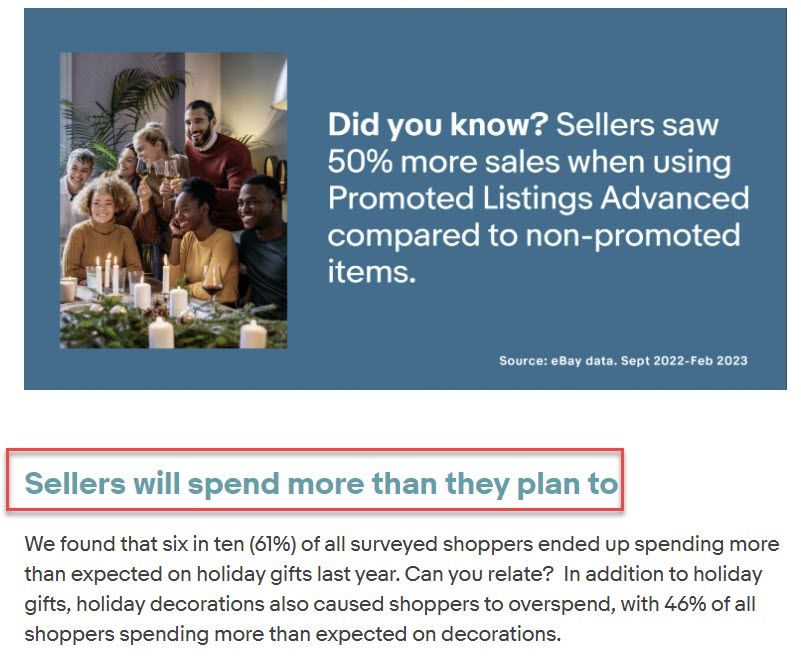 Sellers will spend more than they plan to
We found that six in ten (61%) of all surveyed shoppers ended up spending more than expected on holiday gifts last year. Can you relate? In addition to holiday gifts, holiday decorations also caused shoppers to overspend, with 46% of all shoppers spending more than expected on decorations.



While buyers are likely to splurge and spend a bit more than they anticipate, they will still demand quality items at great values. In fact, more than half (53%) of shoppers cited good value for money as a priority when shopping for gifts this year. Being competitive with pricing, and strategic with when and how you boost visibility of your listings with advertising is critical to maximizing the value of your ad spend.
The context shows they clearly meant to say buyers will spend more than they plan to, but sellers who are feeling the pinch of ever increasing ad fees say they appreciate the honesty - even if it wasn't intentional.
Yep, if I use ebay ads, I will almost certainly end up spending more with ebay than I planned...Thanks for being honest about that, ebay!
That is hilarious...but true! I just jacked up my PLS dynamic rate to a 12% cap.
It's not quite clear how exactly eBay expects sellers to be able to provide "quality items at great values" and competitive pricing while also paying suggested ad fees averaging an additional 10-15%+ (on top of final value fee commissions) and/or expensive cost per click ad campaigns.
Sellers in the eBay community are reacting to eBay's apparent strategy of pushing them to pay for cost per click ads instead of investing in brand building marketing to drive holiday sales for the whole site.
If you're a seller and you've logged into your My eBay recently you've probably noticed a banner near the top of the page "Wrap up more sales this season with Promoted Listings Advanced. Get your listings in front of interested buyers and drive holiday sales with ad placements across eBay."



My question to eBay is where is eBay advertising to help sellers and ultimately themselves bring in business? Where are all the tv ads to drive traffic to eBay?



Most of eBay's competitors are doing some type of tv advertising: Amazon, Poshmark, Mercari, Threadup, Etsy, Stock X, Bonanza, Dealdash, Overstock, Walmart, Target, etc etc. These are all competitors of eBay and they're all doing some form of advertising simply to remind buyers about their site.



eBay isn't the only game in town any more and they used to have some rather good tv commercials. The only commercials I've seen from eBay over the past 5 years are from eBay Motors.



It would be extremely helpful for eBay to ramp up some type of ad campaign as we move toward the holiday season. Part of what eBay should be offering to it's sellers is a legitimate ad campaign that benefits not just eBay Motors, but all categories.
A couple of well established sellers here have tried to get an answer as to what eBay is doing concerning the holiday season - every well known outlet is advertising, but eBay has not announced anything.



I think that's a bad move - the whole point of advertising is to keep the company front of mind, and eBay already gets forgotten in many conversations about online selling, particularly in the younger market.



I doubt too many people are purchasing car parts for Christmas gifts (I know some do, I've happily gotten bike parts for Christmas before), but they need to remind people of the wide variety of items available on eBay that are not available just anywhere.
I am one of those sellers, and still, no response.



To be clear, I'd like to know the plans, at least in a general way. My own concern is less about the media ebay chooses---TV, radio, Social media, Streaming, etc---and more about the timing and the content. We just went through the Big Retail Kickoff with Amazon Prime and many businesses riding the coattails of that, but ebay? Not much about ebay doing anything.



As far as the rest of the business world is concerned, we are well into the Holiday Season....ebay has made some token nods to this on the site's Home Page, but little else that I've seen.



The last couple years, ebay has done NO real Holiday Marketing for the SITE....it has done marketing for the FOCUS CATEGORIES (P&A, Luxury Goods, Trading Cards, etc) This has not been by accident. If you watch Jordan's presentation from ebay open (available on YouTube), it is clear that ebay believes this limited marketing benefits ALL of us, not just Focus Category sellers. I, personally, am unconvinced, despite Jordan's efforts.



So for me the biggest question is: Is this going to be a THIRD straight Holiday Season where most sellers are relegated to the table crumbs that result from the Focus Marketing, or will ebay FINALLY recognize that the rapid increase in competition has made it imperative that ebay market the SITE and the huge selection on the site?



I suspect ebay's non-response to seller questions might, in itself, be the response: Focus Category Marketing, Full Speed Ahead! No Site Wide Marketing Campaign...yet again.



But, it sure would be nice if ebay had the guts to say so. Or would surprise me and tell me it won't all be Focus Category marketing this year.
Just a few weeks ago, sellers tuned in to the annual eBay Open seller conference and were told repeatedly (on pre-recorded videos) just how much eBay values their sellers and how all of the executives love engaging with sellers and receiving feedback.
VP Global Advertising Alex Kazim was notably absent from the eBay Open line up, though he did apparently have time to stop by Advertising Week New York this week to tell industry insiders all about "how promoted ads work on eBay to enhance seller experiences."
Perhaps it's time for Kazim to step into the eBay community and host an Ask Me Anything session to actually engage with the sellers whose experiences are supposedly being "enhanced."
The feedback may be truly enlightening, should eBay care to listen.
---
Editor's note: eBay corrected the typo in their Holiday 2023 Ad Guide after publishing but the previous version can still be found on the Internet Archive.
---