eBay Summer Sales Slump Or Signs Of A Marketplace In Decline?
UPDATE 7-31-22
eBay community staff say "the team" has been investigating seller concerns about the decline in sales on the platform. To absolutely no one's surprise. they found no problems on their end and have instead shrugged off the "little" decrease in sales as the result of the end of the pandemic ecommerce boom.
Hello all! I've heard back from the team investigating the concerns about a drop in sales and they said the following:



The change to view counts has done nothing to impact raw view count numbers. Listings are still going to get the same number of views as they would have previously, subject to site-wide trends. We have not impacted or changed anything on the buyer's side. The change in how we count views itself doesn't impact buy-side impressions, page views, or conversions. It's just a selling reporting tool that filters out what we consider to be inhuman traffic, and reflects that number to our sellers.



However, we recognize sales as a whole have decreased a little. We speculate this is related to the end of lock-downs across most of the world as we see this across the board with online sales.



Where do we go from here? We'll continue to run site-wide analyses from a Data Analytics perspective. If anything outside of the normal and somewhat expected decrease in sales given what's been noted above, then we'll work to implement measures to solve for whatever is found, in an effort to ensure we're doing what we can to help connect buyers and sellers.
---
Many eBay sellers have watched sales plummet over the last few months with some chalking it up to normal seasonal fluctuations coupled with broader economic woes and others concerned there could be wider implications for the overall health of the marketplace.
SVP GM America's Jordan Sweetnam weighed in last month with some "Summer trends" to help sellers weather the season.
However, one community member didn't find Jordan's suggestions particularly helpful.
I just re-read the "Summer Trends" June 27th post by the SVP + General Manager, American Market (link below). However, what I would really like news and details on is how eBay will turn around the continued decline in sales that many, many members are reporting here on The Community, and a lot of them seem to be newer posters.



With Pay per Click PLS Advanced kicking off last year, the November 2021 Category reshuffling, the more recent Views counter change and other changes made to the venue's programming in the last 6-8 months I have lost confidence in the Search algorithms being able to function properly.



Earlier this year on the Traffic report Impressions took an abrupt nose dive ... 80.5% in a very, very short period of time. Historically I run at least one PLS Standard Campaign per quarter and they normally do well but not so in 2022 ... this year the two I ran under performed which is baffling considering one of the ways the venue makes additional income is through promotion fees ... and in checking Traffic the last few days Impressions are once again dropping.



For myself and the categories I sell in I am not buying in to the economy excuse for declining sales ... if that were true then I and others would be making a killing on acquiring low priced inventory to resell ... in fact, the opposite seems to be happening - meaning competition to acquire inventory is stiffer then in the recent past.



Something is seriously amiss within the organization and someone or some group knows what is is ... just wish they would let the rest of us know too ...
The eBay for Business Podcast today even acknowledged sales have been slow for many, though they framed it as an annual event impacting the broader retail landscape, rather than something specific to the eBay marketplace
Griff: Summer brings sun, warmth, parties, flies, bugs. Those are the outdoor stuff. And as many seasoned sellers know a retail summer slump, but have no fear. There are ways to help beat that summer slow down.



All retail businesses see an expected dip during the summer months. And I'm sure eBay sellers can attest to this fact knowing what sells best during the dog days of summer is very important of course, but knowing how to best market your existing inventory during the summer season is also crucial to making sales and joining us to talk about the various seller tools that eBay provides when it comes to promotions and how to use them effectively is Parin Jogani, Senior Product Manager on the Selling Team. Welcome back Parin.
Parin's advice boiled down to basically using Offers and Promotions to provide discounts and/or using Promoted Listings ads to try to increase visibility - advice most sellers are already very familiar with because it appears to be the only thing eBay has to offer.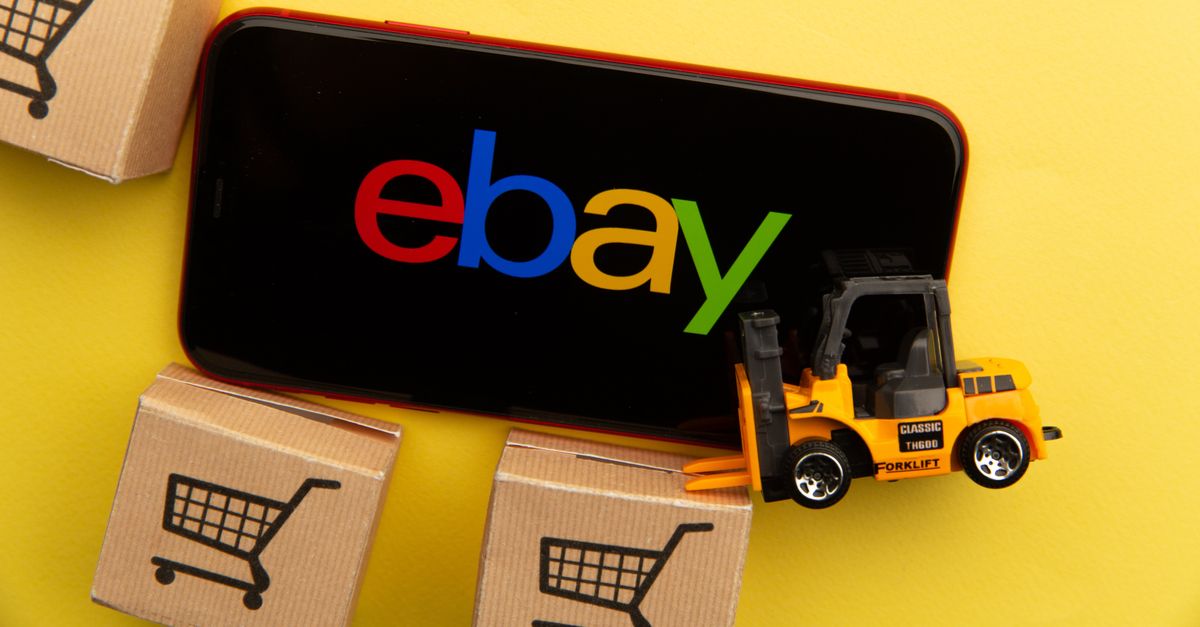 Not only does eBay constantly put pressure on the "race to the bottom" with discounts, they are apparently clueless about the rising costs of doing business on the platform.
Griff: One of the worst things that a seller can do when they're experiencing a summer slowdown, I wanna make this clear is nothing. And a lot of sellers do they just think, well, you know, poor me, my sales aren't happening. Like they were, there's nothing I can do, but whether you're a big retailer or a small seller, the realities of the marketplace are the same. Right? And you, sometimes you gotta incentivize those buyers to make the sale.



Parin: And even more true with all the rising costs today. Promotions are proven to get buyers to shop from you. It's proven that when inflation is so high, they're gonna value shop. Shoppers are gonna look for the best deal and you'll see what works best for your margins. And effectively use these tools.



Griff: We haven't talked about 'em in a long time and I thought it might be a good point to mention the Promoted Listings features as well. I see a lot of sellers not using them correctly. For example, promoting an item where the price is obviously much higher than the other items that show up on the page, thinking that that's gonna help me get the item sold. That's not a really good strategy. Is it?



Parin: A lot of data out there that shows that price is the number one factor and buyers are smart. They will do comparison not only across different sellers on eBay, but they'll also do price comparison of the product on other marketplaces.



And increasing the price, that may be one of the worst things we can do as any business is to increase the price, thinking that just because your item is visible, maybe results in a sale. So yeah, price increasing strategy is more often than not. They don't work cause buyers are smart.
Increasing the price may be one of the worst things "we" can do?! Maybe Parin should share that insight with the eBay Ads team that just forced through a mandatory Promoted Listing rate increase on top of the defacto increase they already got a month ago by including shipping and tax in the fee calculation.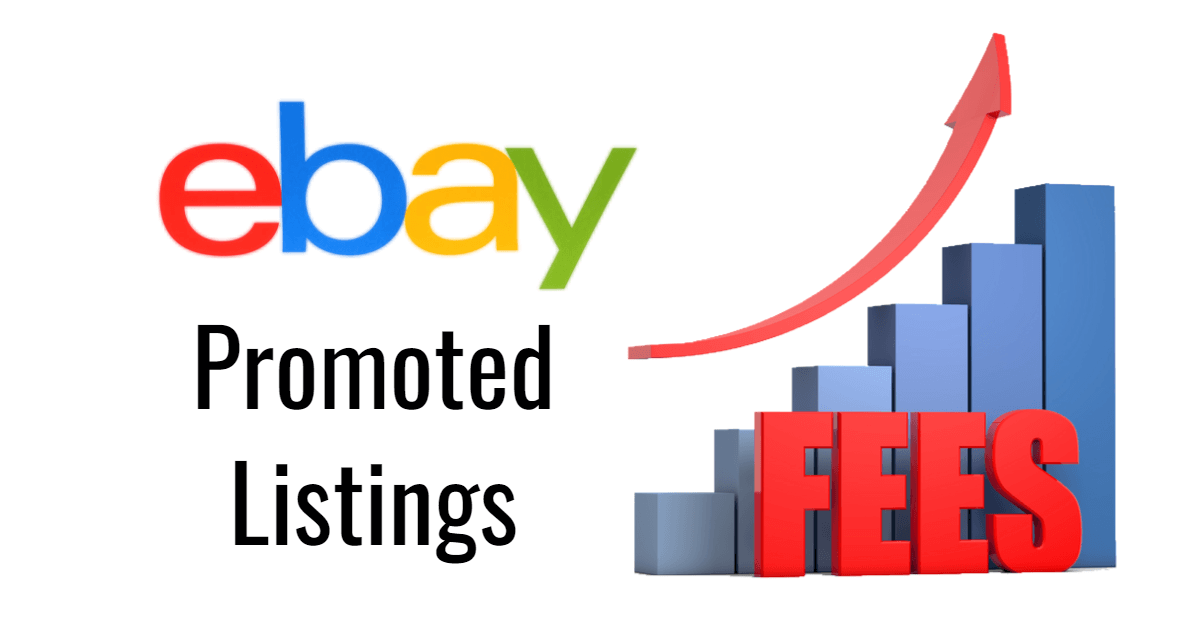 How exactly does eBay believe sellers are supposed to magically be able to continue to pay ever increasing take rates while also driving prices lower and lower through discounts, offers and other promotions?
"They will do comparison not only across different sellers on eBay, but they'll also do price comparison of the product on other marketplaces."
If that's the case, what happens when eBay's constant ratcheting up of take rate forces prices to rise across the marketplace to the point where items offered on eBay are no longer competitive against other marketplaces?
eBay has been hemorrhaging buyers for the last year and interestingly, they declined to provide active seller numbers on Q1 2022 earnings report.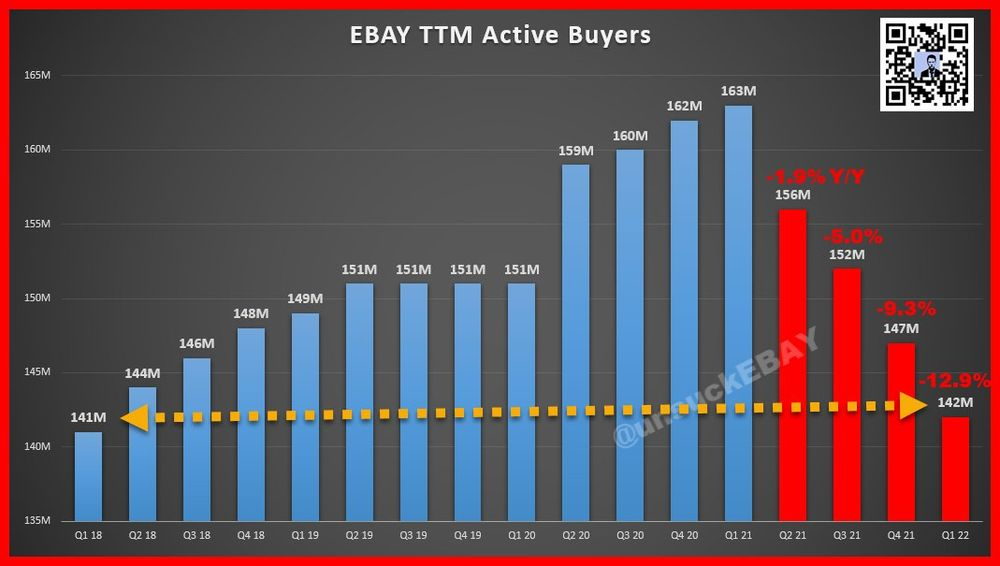 The problem appears to go well beyond seasonal or even economic woes as active buyers have fallen all the way back to Q1 2018 levels.
---
So sellers, what do you think - are we just seeing a normal Summer slump coupled with various economic factors or signs of a declining marketplace?
How do your current eBay sales compare to your sales on other marketplaces?
What would you like to see eBay do to help sellers increase sales beyond the oft repeated advice to use discounts, promotions and Promoted Listings?
Let us know in the comments below!
---