eBay Scalpers Sell Raspberry Rally Girl Scout Cookies For Insane Prices
eBay is once again in the news for all the wrong reasons - this time with scalpers flooding the site with Raspberry Rally Girl Scout cookies at hundreds of dollars over regular retail prices.
Regular readers of Value Added Resource will know how I feel about eBay turning a blind eye to these things, but this one is even more egregious than usual since none of the money made on eBay will be going to benefit the Girl Scouts. 👎
Currently there are hundreds of active listings for $200-$500+ for a case of 12 boxes (normal price would be ~$6/box, ~$72 for a case).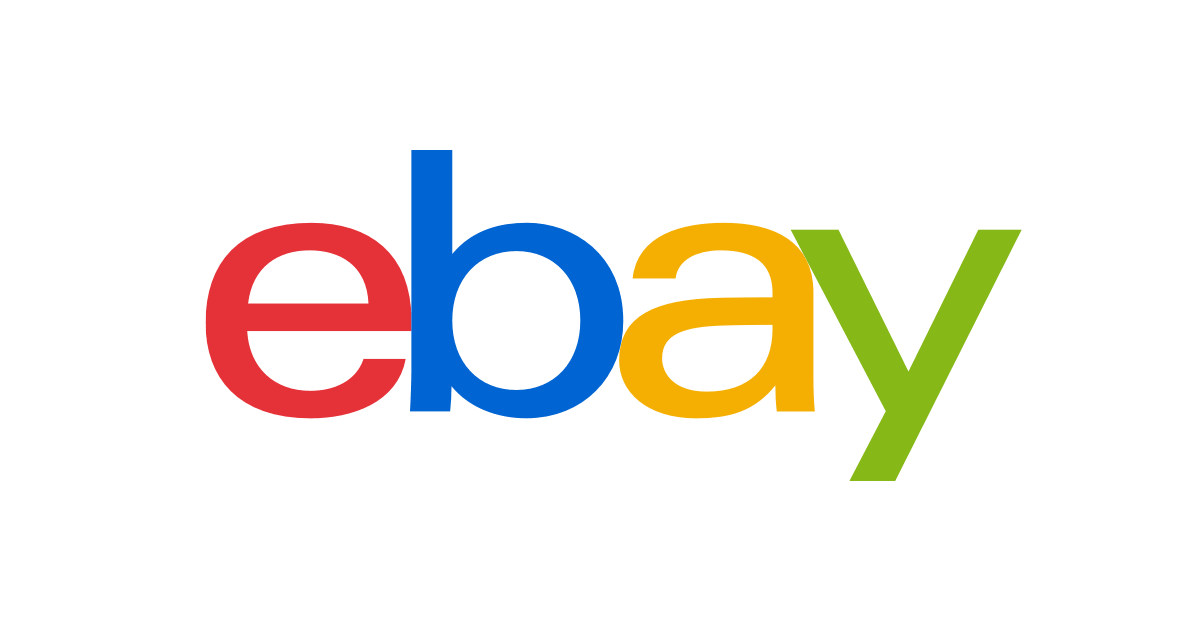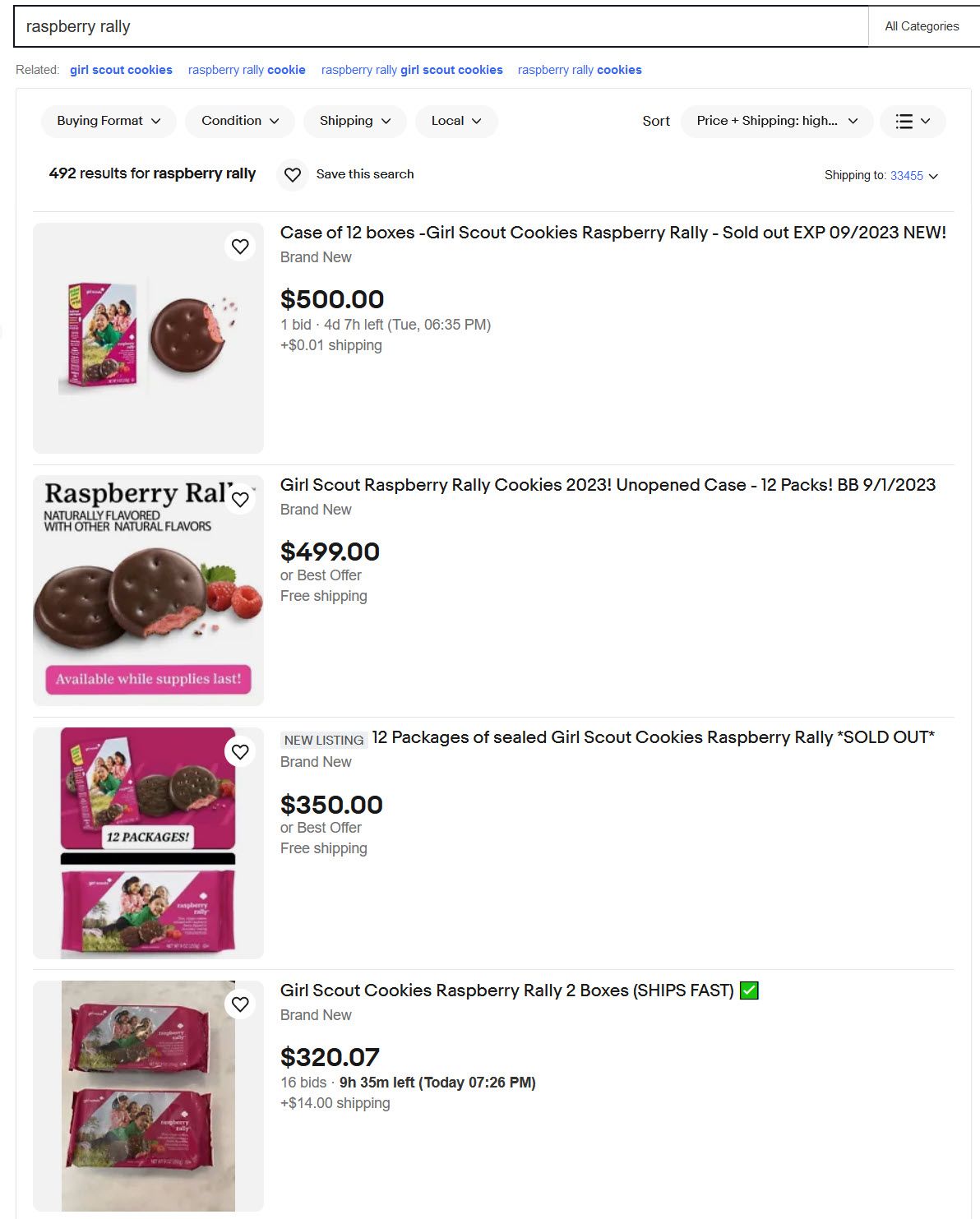 ---
Girl Scouts of the USA expressed their frustration with the eBay sales in a statement to Today, saying they are sad the sellers and the platform are disregarding the core mission of the cookie program and making a profit without supporting the GSUSA.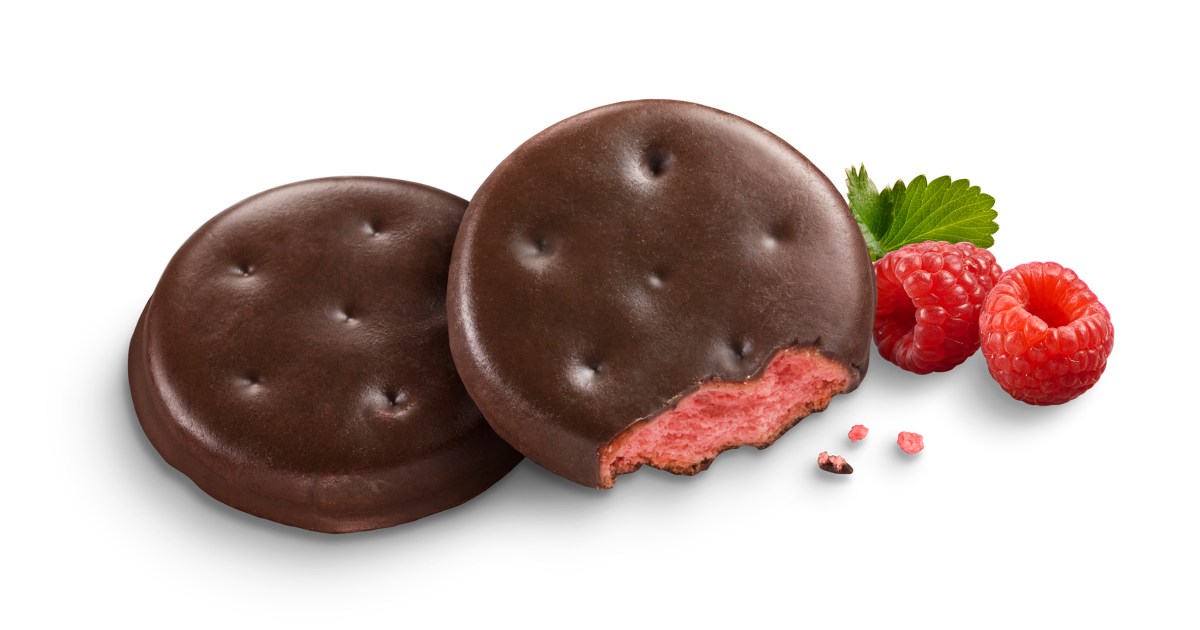 "Girl Scouts of the USA is disappointed to see unauthorized resales of Girl Scout cookies online through third-party e-commerce platforms. While we are happy that there's such a strong demand for our cookies year-over-year, we're saddened that the platforms and the sellers are disregarding the core mission of the cookie program and are looking to make a profit off of the name without supporting our mission and the largest girl-led entrepreneurship program in the world," a Girl Scouts of the USA spokesperson said.



"When cookies are purchased through an unauthorized third-party seller, Girl Scout troops are deprived of valuable experience and, more importantly, proceeds that fund critical programming throughout the year."



The spokesperson noted that the only authorized points of sale are in person or online through a local Girl Scout troop.



"Girl Scouts of the USA, your local Girl Scout council, and our licensed cookie bakers cannot guarantee the freshness or integrity of cookies bought through unauthorized sites," the spokesperson added.



"In many instances, these cookies are expired, or the sellers are using Girl Scouts' intellectual property without permission. We encourage everyone interested in purchasing Girl Scout Cookies to visit www.girlscoutcookies.org to connect with Girl Scouts in your community."
An eBay spokesperson told Today they support the entrepreneurial spirit of local Girl Scout troops but the sale of the cookies does not violate eBay policies.
"eBay's purpose is to connect people and build communities to create economic opportunity for all," the spokesperson stated. "We strongly support the entrepreneurial spirit of hardworking local Girl Scout troops and encourage cookie-seekers to also support their local Girl Scouts, however the sale of Girl Scout cookies does not violate eBay policies."
Frankly, that is an incredibly disingenuous and outright dishonest statement - full stop.
First, if the listings violate intellectual property as the GSUSA says, eBay should be assisting in having those listings removed through the company's Verified Rights Owner (VeRO) Program.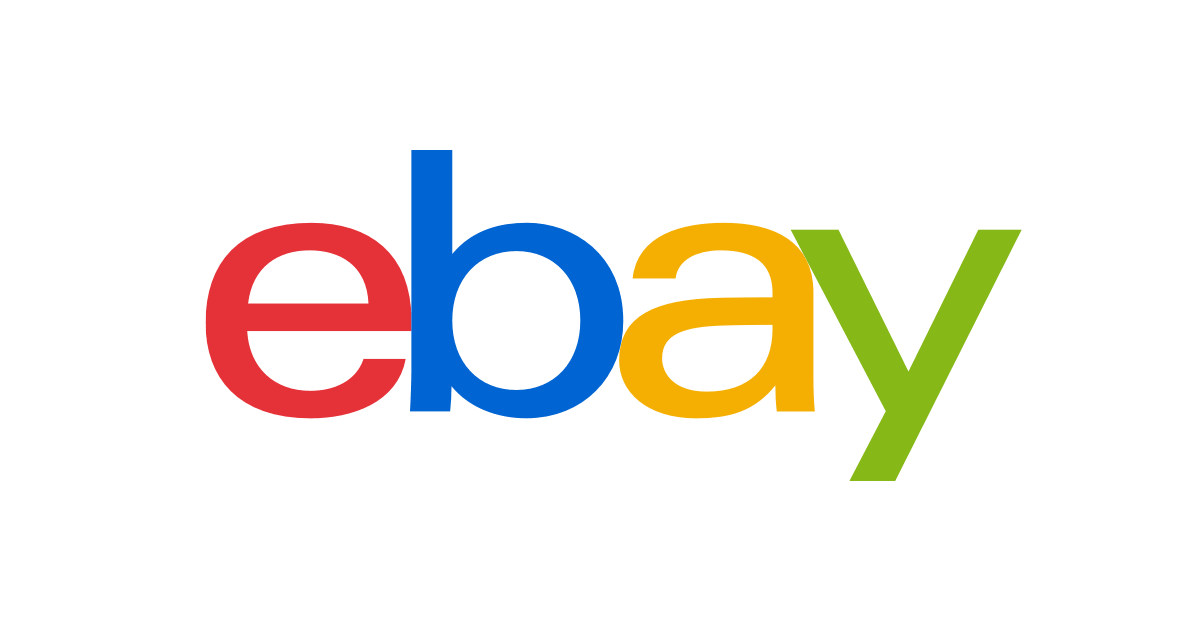 Secondly, many of the listings are being sold as "pre-sales" since the sellers do not actually have the items in hand yet.
eBay's presale policy states
Presale listings must guarantee that the item will be shipped within 30 days of purchase.

The date the item will be available to ship must be clearly stated in the listing.

Listings must clearly indicate in the title and description that the item is being offered for presale.
Many of the listings that are presales violate the presale policies because they don't specify they are presale and do not provide a specific available ship date clearly stated in the listing.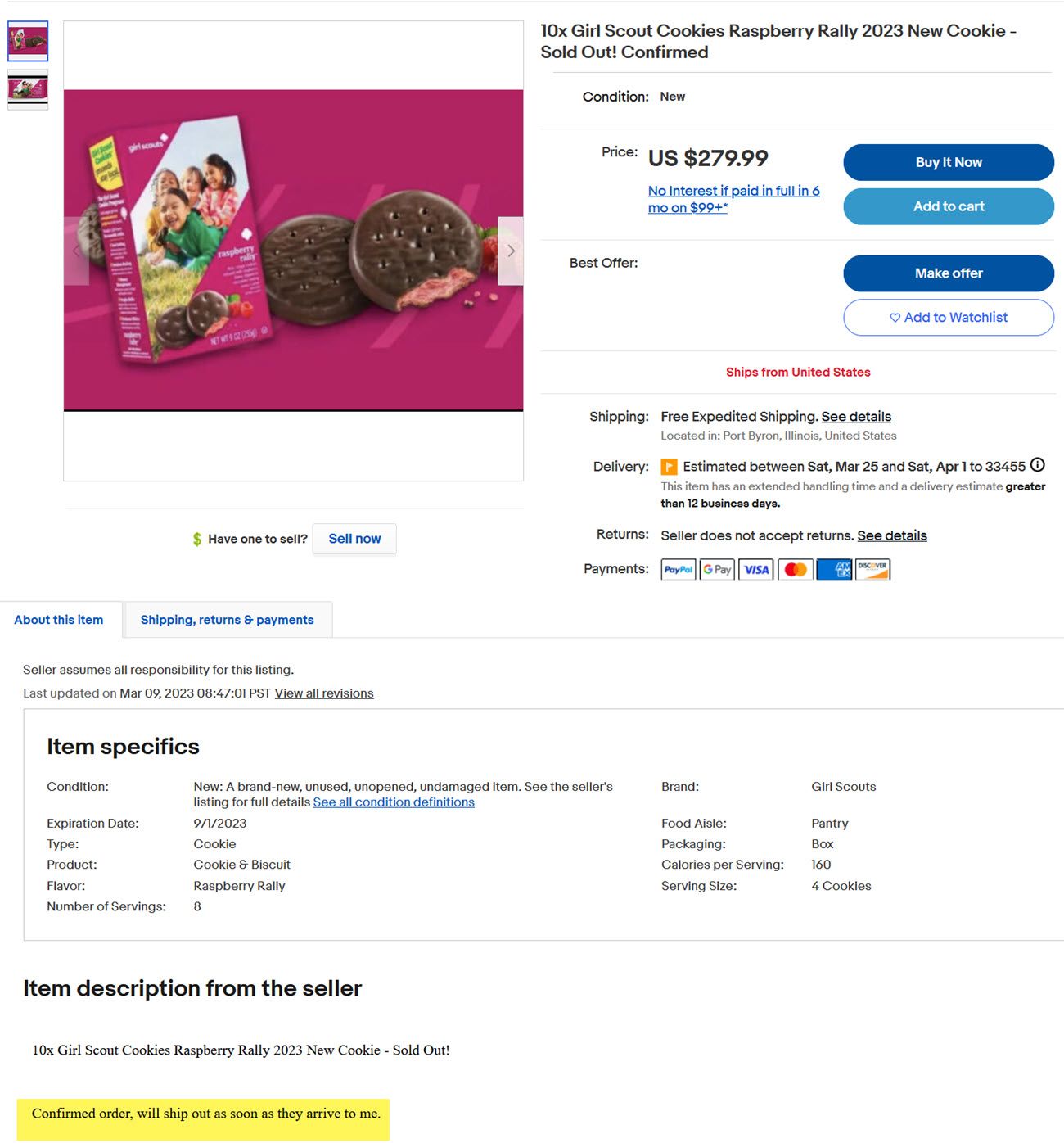 Thirdly, as I pointed out with a similar Pokemon Oreo debacle in 2021, eBay's food policy explicitly states for all food products, an expiration date must be clearly provided in the listing.
Per eBay's Food Policy Page:
Certain food products are not allowed on eBay. Listings for food items that are allowed must follow our policy.We take the health and safety of our members very seriously, so when listing allowed food items, make sure to follow our policy.



What is the policy?

The following and similar food items are not allowed:
Unpasteurized dairy products (except cheese that follows government guidelines)
Unpasteurized fruit or vegetable juice
Wild mushroom (except for morel and shitake mushrooms)
Ackee fruit or seeds
Expired food
Government assistance benefits that can be used for food



When listing food items that are allowed, sellers must:

Ensure food items are properly packaged and stored safely
Clearly state the expiration date in the item description
State how perishable items will be delivered, and ensure they are delivered to the buyer before the expiration date



Activity that doesn't follow eBay policy could result in a range of actions including for example: administratively ending or canceling listings, hiding or demoting all listings from search results, lowering seller rating, buying or selling restrictions, and account suspension. All fees paid or payable in relation to listings or accounts on which we take any action will not be refunded or otherwise credited to your account.
Again, many of the listings I've found for the Raspberry Rally cookies do not state an expiration date, clearly in violation of eBay's policies.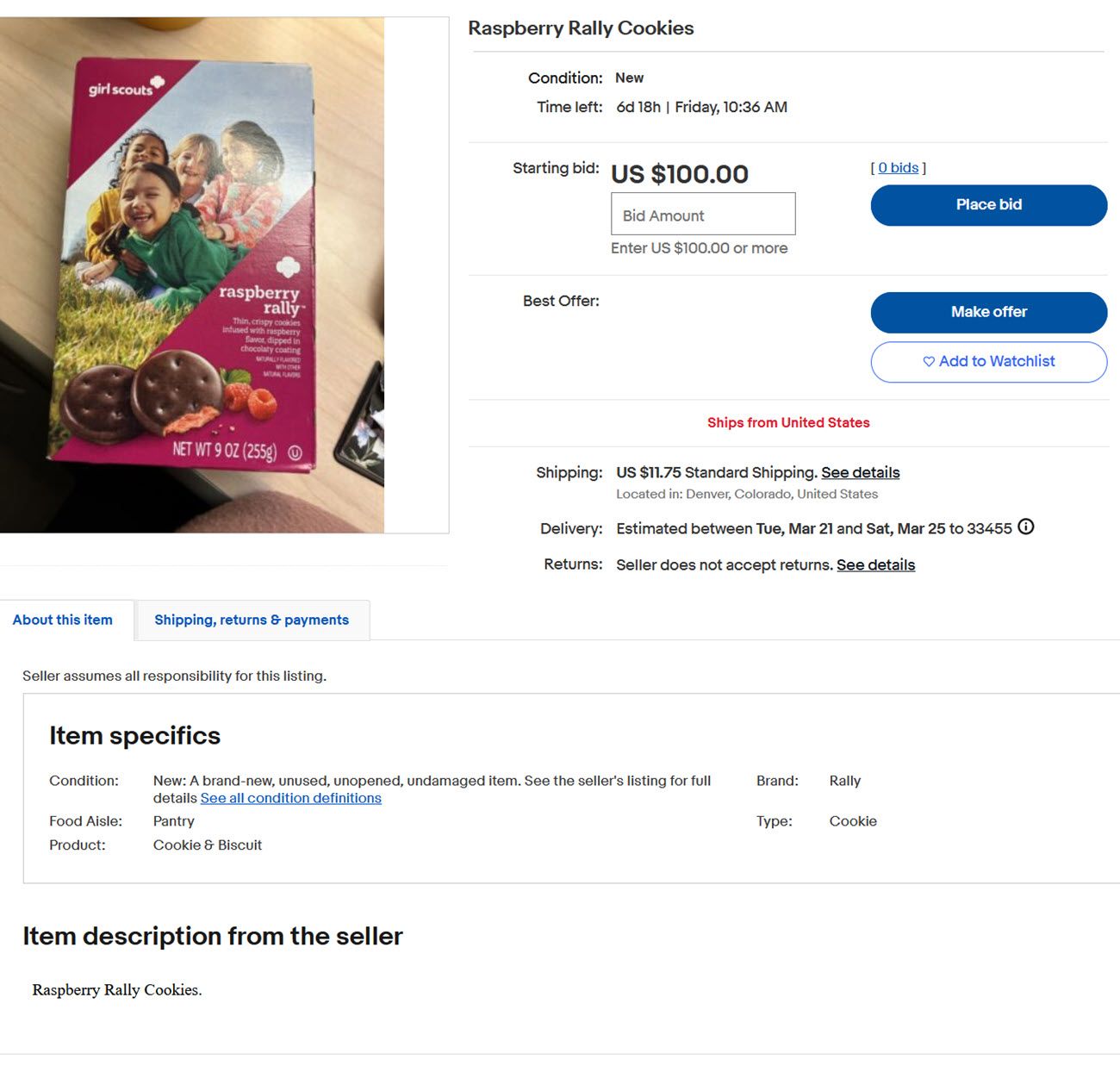 So yes, many of these listings are absolutely in violation of one or more eBay policies and to say otherwise is...a word I wouldn't use in front of a Girl Scout. 😉
As usual with these issues, eBay will likely just put the burden on users to report listing violations rather than take any responsibility themselves to proactively police their marketplace and enforce their policies.
So, in lieu of eBay proactively removing the listings, I'd settle for them taking unsuckEBAY's suggestion to donate 2x the scalper proceeds to the Girl Scouts of the USA.
According to eBay's own research tool, Terapeak, there's been about $74,000 in sales of Raspberry Rally cookies so far...let's just round up to an even $200K donation, which would be chump change to eBay in the grand scheme of things.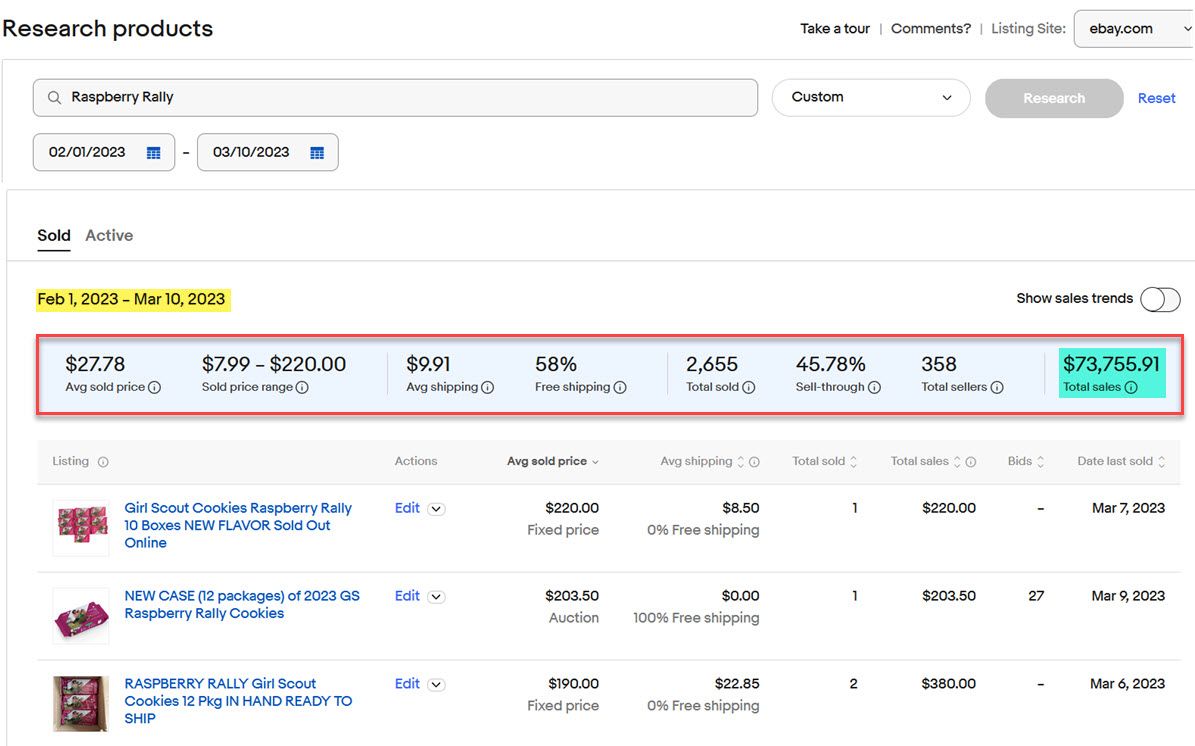 ---
What do you think? Should eBay make a "good will" donation to the Girl Scouts of the USA and show they really meant it when they said they "strongly support the entrepreneurial spirit of hardworking local Girl Scout troops"?
Let us know in the comments below!
---