eBay Charges Store Fees A Month & Half Late
Some sellers have reported eBay is not collecting monthly store subscription fees on time- and more importantly, not clearly communicating once the problem has been discovered and corrected
A seller in the community reported receiving this email from eBay, with nothing at all indicating what the system issue was or which charges and/or credits on their account were related to this error.
We have corrected a system error



Dear Seller,
We recently identified a system issue that caused some charges and/or credits to not apply to your eBay account. We have corrected the issue. You will see these charges/credits applied to your account when you next loging to your eBay account and view your updated invoices. We apologize for any inconvenience.



The eBay team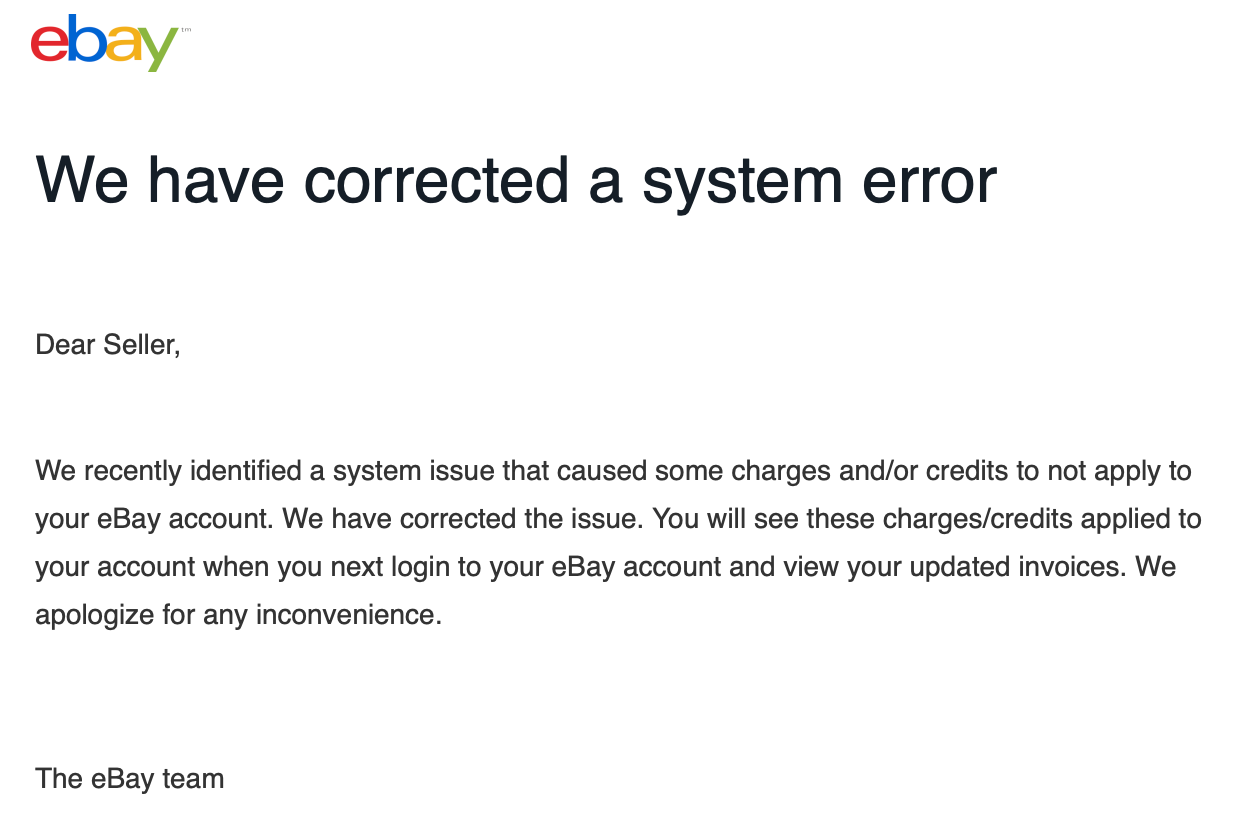 The seller was eventually able to figure out the missing fees were for the store subscription on one of their account, though eBay didn't make the process easy.
I love how they send a generic e-mail referencing "charges and/or credits" without telling you what it's about. Then in your transaction history- none of the line items affected are flagged in any way- there is no note to let you know what's going on.



If this wasn't about the store fee it would have been a lot of work going through each line item to figure out what was going on.
---
It seems to be a possibly intermittent issue, with several reports over the last few months.
My transactions show that Ebay has not charged me a store subscription fee for past 2 months. Normally, the charge has come up on the 16th, but for September and October I don't see the store fee. Not sure how to go about it, because I don't want to end up paying a big chunk at once once they wake up and see they have not charged me, or worse yet pay late fees on it. How can I contact Ebay and clarify the situation?
On this thread from October, an eBay community staff member acknowledged there was a "known issue" with a tech ticket open.
Velvet@eBay said:
I checked once more and it looks like this is a known issue a few other sellers have experienced as well. I found that a ticket was recently started so I've added you to it and we thank you for your efforts to ensure your subscription is paid for the month of September.
---
It may not seem like a big deal, but if eBay misses charging the store fee and adds it at a later time, there may not be enough funds in the seller's Managed Payments pending amount to cover the fee at that time. In that case, eBay would then try to hit the seller's bank account or payment method on file for the owed amount, which could end up costing sellers overdraft fees if they were not expecting the charge.
eBay should be much more proactive and seller friendly in handling billing mistakes like this.  First and foremost, give the seller enough detail in the notice so they can see exactly what the charges and/or credits are for without having to search through every transaction.
Beyond that, it would certainly help strengthen seller trust in these situations if our "partner" gave advanced notice and an exact date of when the fees will be applied (say 3 business days, for example) so sellers can proactively manage their cashflow and not incur possible overdraft or penalty fees from unexpected charges.
---
Did you receive a notice from eBay about this billing error? Let me know in the comments below!
---