Amazon Gift Card Confirmation Emails Raise Hacking Concerns
Poorly worded emails meant to warn users about fake gift card scams have spectacularly backfired on Amazon, raising customer concerns about accounts being hacked and flooding support with panicked questions.
The emails were sent out last night with subject lines like "Important information about your hotels.com gift card" - other variations included Google Play and Mastercard.
It went on to say
Dear Amazon Customer, thank you for purchasing ___ gift cards from Amazon.com.



We would like our customers to be ware of some importnat information relating to purchases of ___ gift cards.



There are a variety of scams in which fraudsters try to trick others into paying with gift cards from well-known brands. To learn more about some common scam attempts that may involve asking for payment using gift cards please click on the button below, or alternatively contact us now.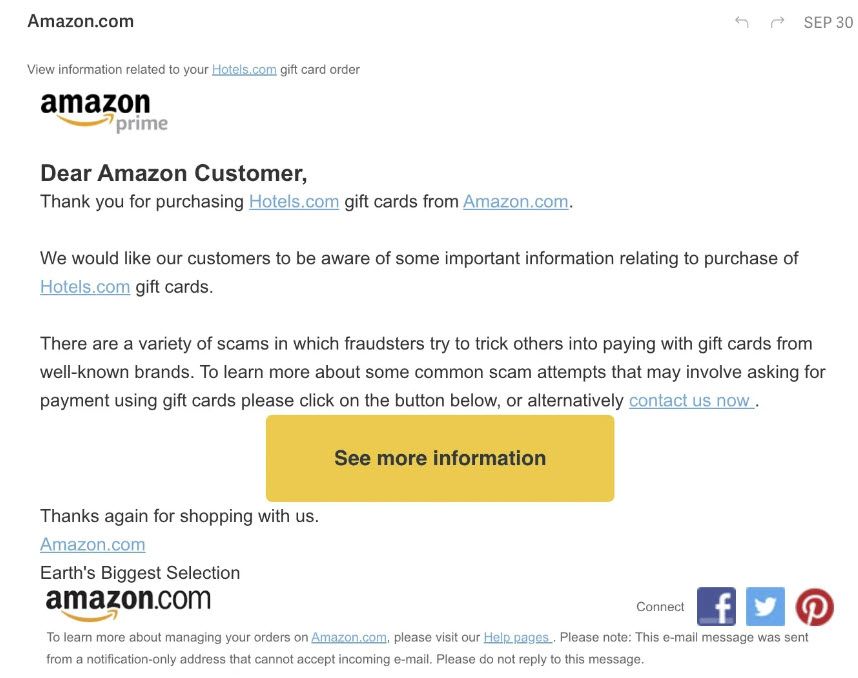 Customers who received the email understandably went into a panic - this email rings pretty much every red flag and alarm bell we've been told for years to look for when sniffing out fraud and scams.
However, they were perplexed when they could not find any unrecognized charges on their cards or unauthorized orders in their Amazon accounts. Fearing their accounts had been hacked, customers have been flooding Amazon's phone and online support channels looking for answers.
One Reddit thread with almost 800 responses revealed some were finally able to get an answer from Amazon - it was all a big misunderstanding caused by a very poorly worded email.
Received three emails about purchased amazon gift cards



Hello,



I feel like I'm pretty in tune to the crap scammers try to pull but this one has be scratching my head.



My wife received three emails from amazon regarding recently purchased amazon gift cards. All three for different services. Google Play, Hotels.com and Mastercard. We logged in to her amazon account (didn't click any links) and there is nothing in her purchase history. Also nothing on her Amazon credit card.



I can't figure out the scam



Edit: I'm still seeing a lot of posts about this. It was a poorly worded email from Amazon. No actual purchases were made, or accounts compromised. Now back to our regularly scheduled program 😁
I just got off the phone with a rep because I also received 3 emails regarding purchased Google Play, Hotels.com, and Mastercard gift cards.



Basically she told me they were poorly worded emails intended to warn customers about potential scams. Not in relation to any actual purchases made. They're being flooded with calls over it lol
Yeah it's poorly worded!! "Thank you for your purchase"



AMAZON: WE ARE TRYING TO EDUCATE BY MISLEADING YOU!
Even worse, apparently Amazon's social support reps were/are either unaware of this issue or not permitted to admit it was a mistake, instead directing customers to report the email as a spoof or
You know you've really mishandled a situation when you make it into marketing guru Seth Godin's blog as an example of "what not to do."
We can learn a lot about what not to do from this.



First, if you make a mistake by email, fix it. Fix it by email AND fix it on your site. Let everyone who got the wrong note know, even if it's embarrassing.



Second, if your company is built on email, establish a consistent look and feel, an approval process and most of all, definitely, a way to confirm that you actually sent it...



...Now that Amazon has bolloxed up both parts of this process (they got thousands and thousands of complaints last night, overwhelming their hard-working frontline support workers) they've opened the door for countless spammers and scammers who lack imagination but are good at following a trail.
Amazon has not yet responded to a request for comment and there have been no public acknowledgements or apologies issued to address the error.
Did you receive this suspicious email from Amazon about gift card purchases? Let us know in the comments below!
---