Etsy Up To Host First Ever Virtual Holiday Kickoff
Etsy announced today they will be hosting Etsy Up: Holiday Edition - their first ever virtual holiday kickoff event on September 8th at 1 PM Eastern.
As we head into one of the busiest shopping seasons, we're always looking for new ways to connect you to educational content to help you grow your Etsy shop. We're excited to announce that we're hosting Etsy Up: Holiday Edition on September 8 at 1PM ET to help you get ready for your best holiday season yet!



Etsy Up is our first-ever virtual global seller event. We'll be sharing insightful content from Etsy experts and fellow Etsy sellers to help you prepare and grow your shop this holiday season. You'll also have access to tailor-made speakers, panels, and workshops that will focus on entrepreneurship and creativity, as well as how to make the most of Etsy's tools. There will also be an interactive chat so you can connect with other Etsy sellers. Plus, some fun surprises that will be announced during the event. Lastly, the team at Adobe will share how you can use the professionally designed templates in Adobe Express to create your brand, enhance your shop, and streamline your social media marketing workflow.



RSVP here to confirm your spot at Etsy Up: Holiday Edition! It's totally free and open to all Etsy sellers. Attendees will receive a free four month premium trial of Adobe Express* And don't forget to mark your calendars and tune in on September 8 at 1:00 PM ET to kick start holiday prep for your shop. To learn more about this upcoming event, click here.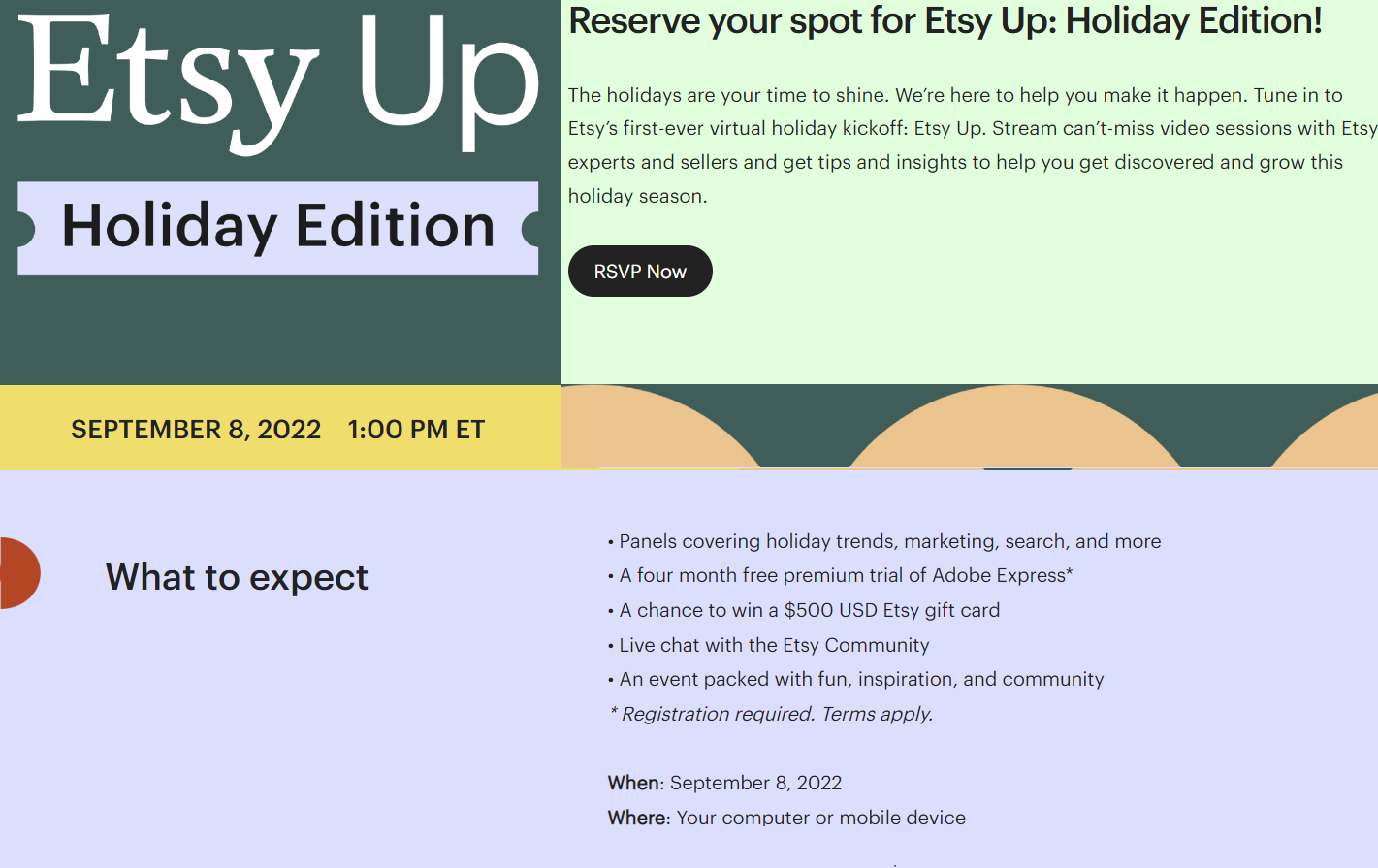 ---