eBay Motors Sellers Object To Guaranteed Fit Video Forced On Listings
Sellers are frustrated that eBay is place a Guaranteed Fit promotional video onto their listings in the Motors Parts & Accessories categories with some objecting to being forced to advertise for eBay and others worried about the video giving buyers unrealistic expectations.
Just noticed eBay is putting a short video in the gallery of all my eBay motors listings (Parts & Accessories).



It goes over the new "Guaranteed Fit" program they rolled out. But now it shows up after the initial listing image and buyers need to scroll past it just to see the actual item for sale.



I'm sure there isn't, but is there a way to remove/ opt out of having it there? I was never notified they were going to automatically add this to my listings. And if I go to revise listing, it doesn't show up in the gallery section, only visible on actual listing page.
It's going to cause a lot of problems. The ebay database of vehicle compatibility isn't even complete. There's a lot of early vehicle years and models missing or not listed correctly. Not to mention there's a ton of variables to consider with some parts that not all reference books outline. It would literally take hours and be a full time job just for one person to accurately attribute every part to every model.
I noticed this morning June 2nd, 2023 that Ebay Motors has inserted their parts Guaranteed Fit video into all of my listings. Most would consider this an affront to their personal business branding and listing practices, thoughts anyone?
Yes, I see this unwanted video on my listing as well. It does not appear when revising the listing, so cannot be removed. They are also adding a video on the Vehicle Protection Program to vehicle listings. This is obnoxious and arrogant, spamming users without permission from the seller.
Ebay Motors Guaranteed Fit Video appears to have been added by ebay to several of our motors listings at the second picture? Cannot be removed when editing the listing. Are we the only ones, what purpose does the video serve on every listing in ebay motors even when we do not have the applicable models listed?
I can confirm its happened to me. I had it appear in a listing for a tire cover with no applicable models listed. It fits tires of a certain size, oversize actually, as no vehicle would come standard with that size. I have no idea what they think they are accomplishing, other than another example of trying to make things better and actually making them worse.
---
eBay also inserts similar videos into listings for their various authentication programs as well as certified refurbished and some sellers in those categories also objected when those videos were added.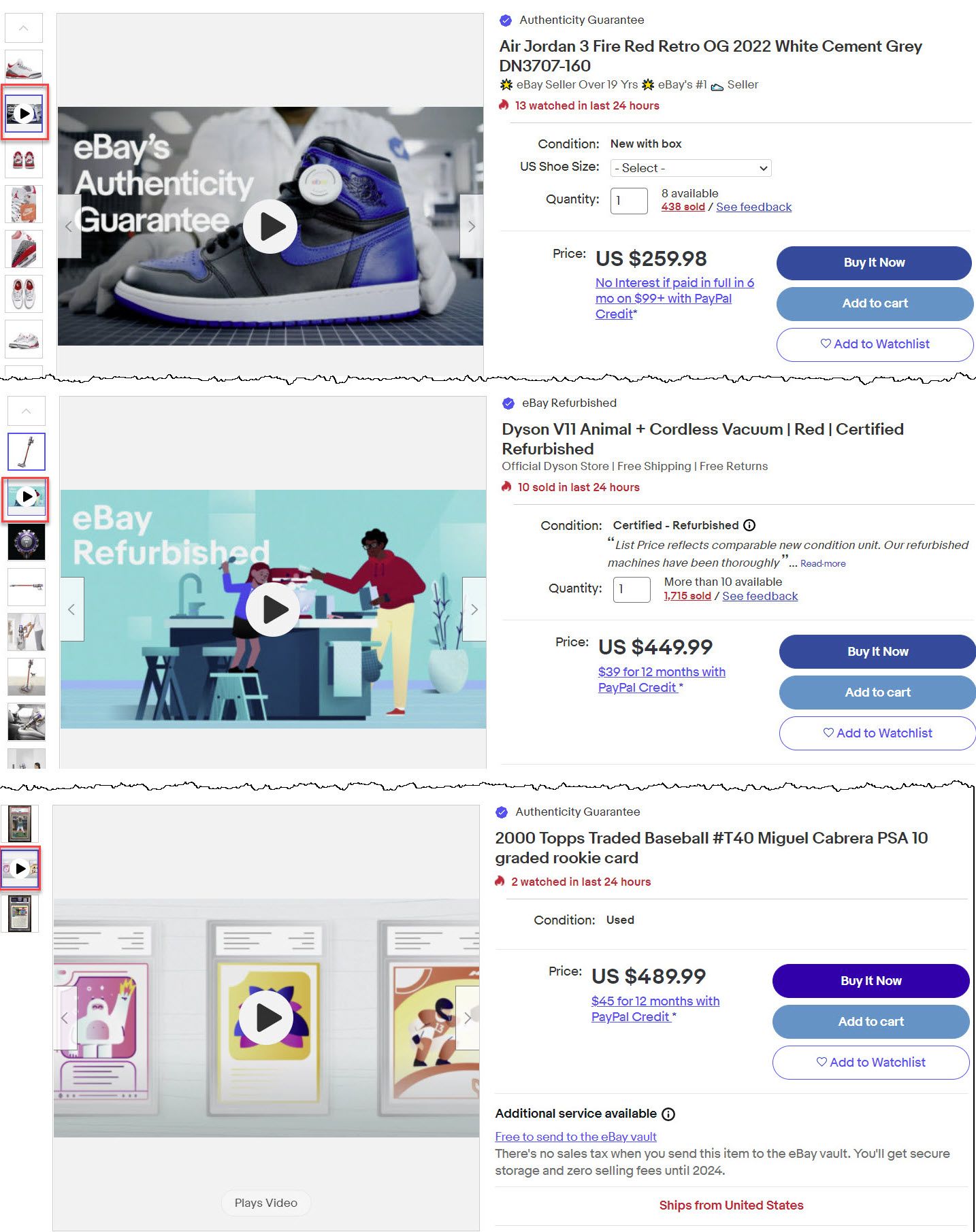 There's a fine line here from a marketing perspective - these are not competitor ads like Promoted Listings, they are simply educational/promotional content that may actually help sellers in instances where the eBay program being promoted may help seal the deal with authentication, refurbished warranties etc.
Where eBay has gone wrong in the execution is they have applied these videos to many listings by top level category, regardless of whether the listing actually qualifies for the promoted program or not.
For example - eBay shows the Guaranteed Fit video on many listings for tires and wheels: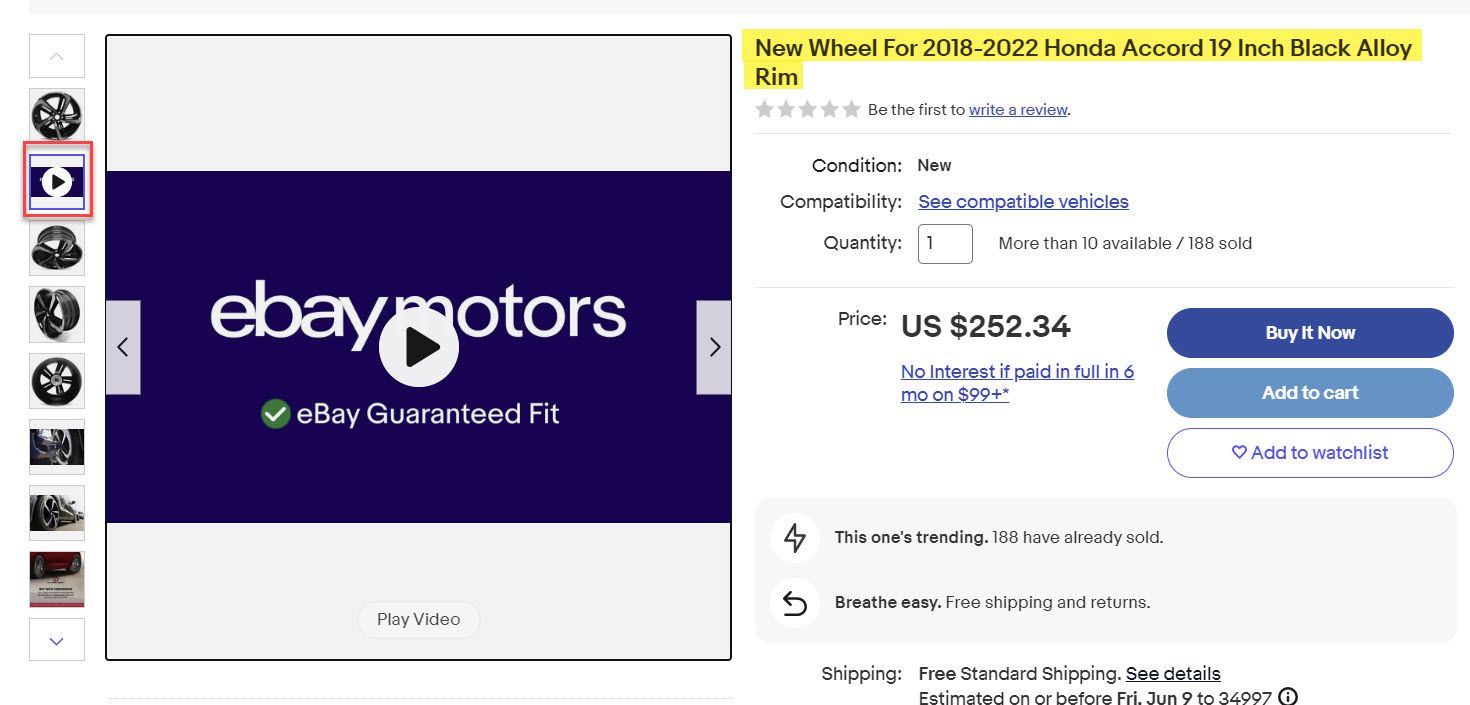 However, per the terms of the Guaranteed Fit program, wheels and tires are explicitly excluded.
What items are excluded from eBay Guaranteed Fit?
Tires and wheels are currently excluded from eBay Guaranteed Fit. We will still confirm which tires and wheels are compatible for your vehicle using the checkmark. Your tires and wheels may still be eligible for a return under our eBay Money Back Guarantee.
eBay's legal team would likely point to the fact that the listing doesn't include the Guaranteed Fit green check mark, thus there is no implied promise of qualification.
Of course that doesn't change the fact many buyers may believe the video means the listing qualifies and it won't protect sellers from returns and negative feedback when those falsely set buyer expectations aren't met.
If eBay is going to co-opt sellers' listings to insert promotional content for their various authentication and guarantee schemes, they have an obligation to ensure they are only doing so on listings which actually qualify for these programs.
Anything less is false advertising and engaginge in unethical business practices toward both buyers and sellers on the platform.
---