eBay Sign In, Buying & Shipping Problems - Log In Loop
UPDATE: According to eBay community reps and the system status page, this issue has been resolved and the site should be back to normal operations - let us know in the comments below if you're still having problems!
---
eBay users report log in problems on the site today, with repeated password entry required every time they navigate to a new page or try to purchase items or ship items.
Anyone else having to enter their password over and over, between items, when bouncing back to MyeBay, etc?
I have been attempting to update my listings and starting about 1230 PST had issues getting into the promoted % within listings, then it had trouble updating the % when I finally did get into that screen.



So I switched it up and tried to create a new listing and bam...Log in screen. Create new listing...Log in screen. Sell Similar...Log in screen. Go to the Respond to Open Messages...Log in screen. EVERYTHING sends me to the log in screen and when I do log in it just refreshes to the log in screen again.



Have tried on both Google Chrome and Firefox. Everything seems to work on my mobile, but NOTHING works on desktop.
Today I couldn't log in for a while then it started working, now I have to relog in every time I wanna go to a different page on ebay!!
Problems with shipping appear to be related to not being able to recognize a payment method.
I keep trying to login to ship my items and it keeps asking me for my password even after I already submitted it but this problem has been reported elsewhere. The problem is when I actually do get to the shipping label page it either says "Something went wrong. Sorry, an error occurred while loading the page. Please try again.



If you see this page again, please check you are using a supported browser version. See supported browsers"



or it does load but then won't let me print shipping and displays an error "We were unable to load payment options. Please try again later. "
---
In rare occurrence, the eBay system status page is actually reflecting this issue, showing disruptions in Buying, Sign In, and Shipping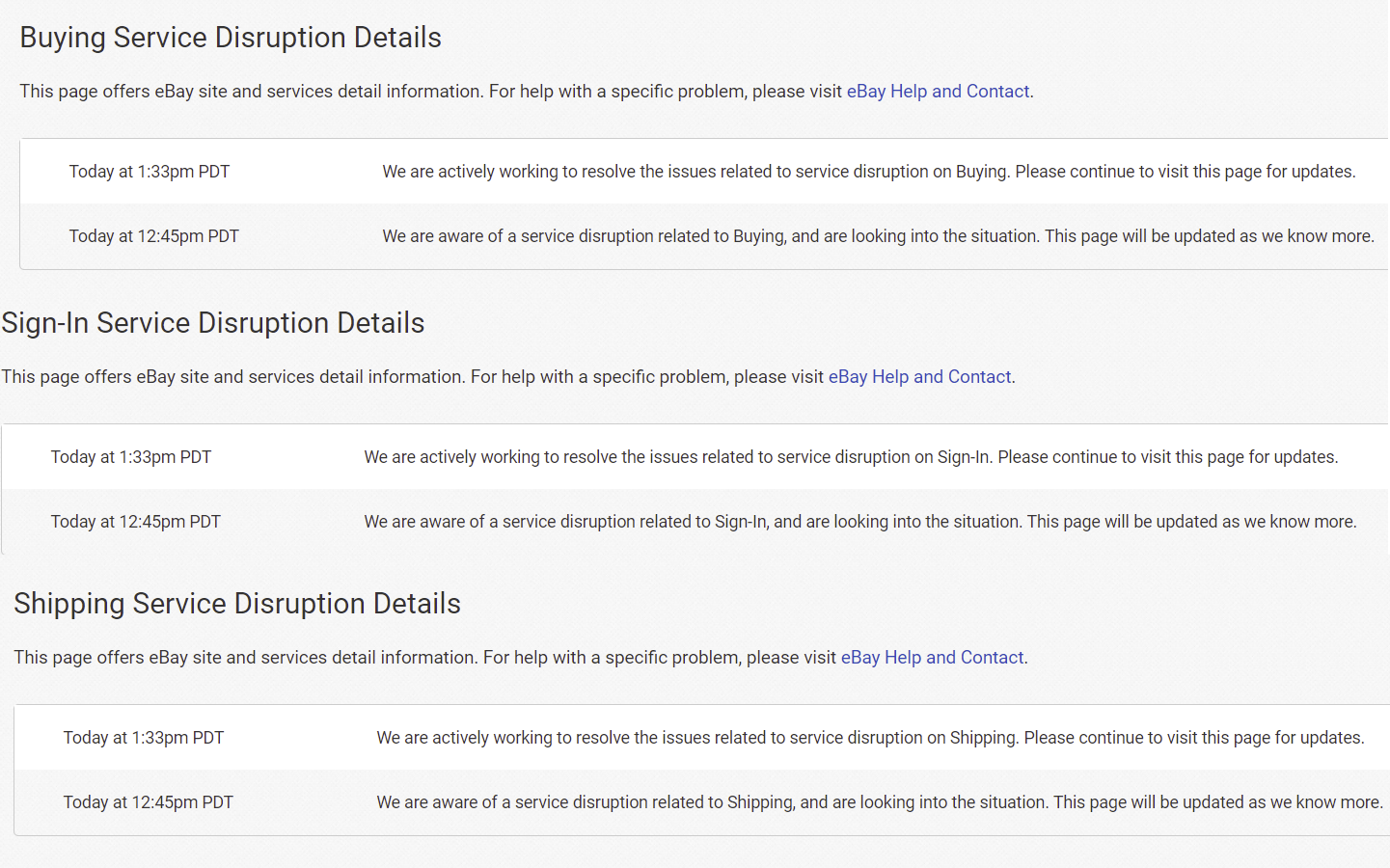 ---
The problem currently seems to be affecting desktop experience only, but the app is still reportedly working normally. I'll update as more information becomes available.
---