eBay Listing Form Can't Enter ISBN For Books
UPDATE 6-7-22
eBay community staff say this issue has been fixed and I've confirmed it on the listing form as well.
Hey everyone! Thanks everyone for reporting the issue. The product & technology team has fixed the ISBN issue on the new listing tool - please try to list your item again.

---
eBay sellers are reporting a bug in the newest version of the listing form preventing entering the ISBN item specific.
I was out of town and wasn't able to create any new listings for about a month. Have dozens of new books to list yet item specifics will not let me enter an ISBN. I've tried w/ my templates, create new listing, sell, and sell similar (ISBN is on other seller's listing but won't import).



I have ebay concierge so I chatted w/ebay yesterday. Rep said there were no reports of this glitch but she had same problem when she tried creating a listing! She took my latest item # and ebay fixed that one listing but it's still not working on any new listing. I am putting ISBN in title for now, but I want this fixed; it's particularly helpful with new books as you enter the ISBN and you are done.



Before I call ebay again, is anyone else having this problem? The word "ISBN" appears under "Additional" item specifics (not under "Required" where it used to be), but the word is just hanging there, 1-5 times, with no options to fill or click on it.
Just spoke to ebay rep for a second time. They recommend that anyone having this problem call in and report the issue to ebay. They are not aware of any "sitewide" issues with entering ISBN numbers, and they need more sellers to report the issue before they address what is obviously a glitch affecting multiple sellers.
---
In a brief test, I was able to replicate the problem in Books>Antiquarian, Textbooks, Education & Reference, Catalogs, and Audiobooks.
In each case, ISBN shows multiple times in the item specifics list, but there is no text field to enter the number into.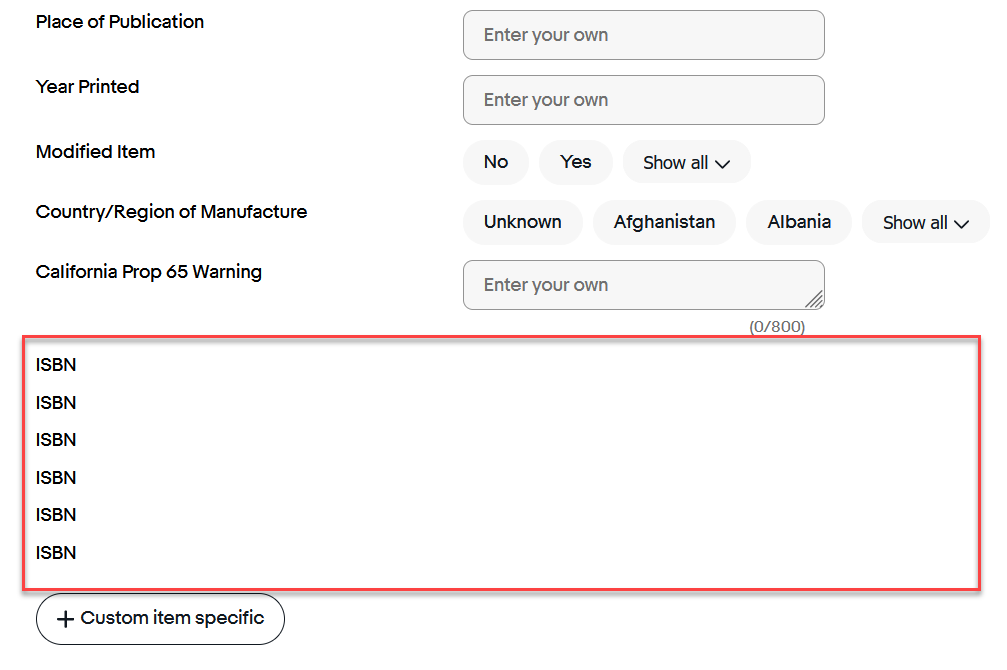 ---