Guest article contributed by eBay seller Jackie Miller

eBay's return system is a constant source of confusion and frustration for sellers. eBay has done things like change the return policy without notifying sellers and provides less than clear information about how long returns will stay open. Last Spring, a new return timeframe was announced through the Seller Update. By the time Fall arrived, the timeframe was extended again without any announcement.
eBay quietly changed the policy page leaving sellers scratching their heads as to why returns were staying open longer with their funds on hold throughout. These days, eBay may close a return within 15 business days or they may wait up to 35 business days, nearly 2 calendar months. Sellers never know exactly when returns will close and their funds released. When pressed for information about these unannounced changes, eBay's response has been to say they'll pass the feedback along to the relevant teams. [Side by side comparison of old and new return policy timeframes.]
eBay causes further confusion when it comes to abandoned returns. They attempt to coax sellers into refunding when returns appear abandoned, despite nothing ever being shipped back and no available tracking information. eBay goes as far as changing the shipping status to delivered within the return request and taking away the option for a seller to view the return details, pushing the option to refund instead.
They even provide a specific date by which a refund should be issued, attempting to scare the seller into refunding. This display understandably causes concern that a case not resolved defect will result if sellers let the system take over. Defects for cases closed without resolution can be one of the most harmful demerits for a selling account to take on.

When it's approved, the return details will show a date by which eBay may close out the return if there's no sign of shipment by the buyer. Before that date arrives, the Manage Returns page presents as follows:

In this example, the return-by date was September 20, 2021. When that date arrives, the return details page changes to show a false delivered status even though there is no tracking information and the buyer didn't ship anything back.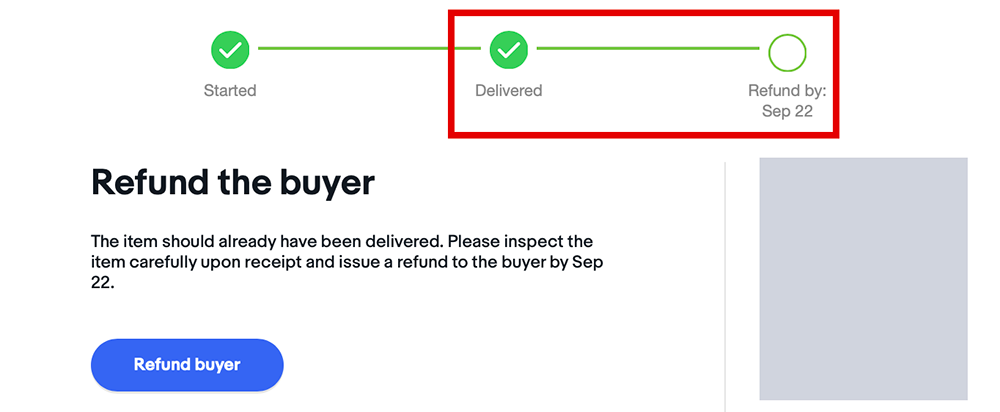 If the seller doesn't refund the buyer within 2 business days (the date showing on the return details - in this example it's September 22, 2021), eBay will remove the option to See Details from the manage returns page and they will push sellers towards refunding by changing the display as follows:

Taking it even further, eBay adds that abandoned return to the Tasks pane on the Seller Hub Overview page: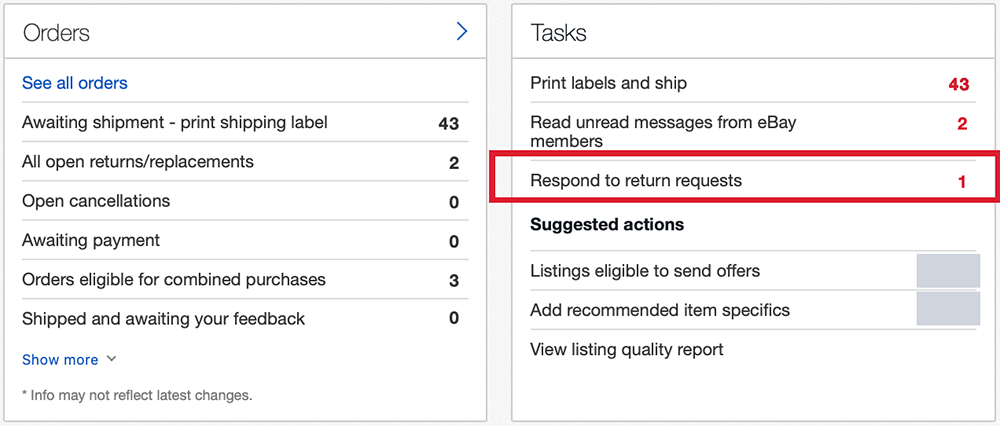 Active returns aren't added to the tasks pane until tracking confirms delivery. Abandoned returns are added there because a certain amount of time has passed and eBay tries to make sellers believe that issuing a refund is now a required action.
Despite how it appears within these misleading displays, the system will not automatically refund the buyer after the refund-by date when there's no tracking to support delivery. Consistent with the Spring 2020 Seller Update, when the refund-by date passes, there is no option for sellers to ask eBay to step in and close the return. Eventually, if no action is taken by the buyer, the return will time out with funds finally released to the seller.

This issue has been ongoing for years with sellers speaking up about the confusion and calling it a scare tactic. eBay's response in the past has been to brush off these complaints. They conveyed a message through their Community forums that they believe the return policy pages and the use of the word "should" on the return details page is clear enough communication to sellers that a refund is not required. eBay has not given any reason behind the false delivered status.
---
What do you think of these misleading and confusing tactics? Let us know in the comments below.