Note from Liz - this post is not meant to be an exhaustive synopsis of the weekly chat. I've chosen to highlight topics I found particularly interesting - the full chat can be found here:
---
This seller was upset that a case accidentally opened by a buyer was not being removed from his service metrics despite being told it would be.
For 3 weeks I have been contacting ebay to have them restore my service metrics. In this time they have failed every time to correct the issue. On Feb 12th a buyer opened a INAD (Item Not As Described) case on me BY ACCIDENT, buyer messaged me and apologized and explained it was intended for another seller.



Ebay seen the message and closed the case with me not at fault. OK, the issue is however the defect was never removed from my service metrics. I have called and called and talked to ebay rep after ebay rep many times over the past 3 weeks about the issue and every time I fully explain it and said reps "make a report" to send it to "proper team" and 24-48 hrs later I get a mail from said team saying "sorry, we have corrected the issue… blah blah blah" and direct me to Seller Dashboard… but every time the defect is not corrected, it's still there, and to top it off the seller dashboard seller level and service metrics don't even match.
Unfortunately, it looks like they were given bad information from the phone support reps, as confirmed by eBay staff in the chat
I'm sorry that this has been such an incredibly frustrating situation for you. It's upsetting to be told repeatedly that something will be removed only to not have it happen. I want to clarify a few things that may help explain why you're seeing nothing happen after your contacts to CS.



Service Metrics are not part of your seller performance - they are a separate record of Not as Described returns and Item not Received requests. You can read more about them here and here. The metric is designed to look at all opened requests regardless of outcome or reason and compare it to peers in the same category (there are some limited exceptions spelled out in the second link).



A service metric record is not considered a 'defect' and doesn't fall under the same reasons for removal that you highlight in your screenshot. This is why you're not seeing the number change, even if teammates are saying they will submit a defect appeal (more on that below).



Additionally - the return section in your Seller Dashboard is going to count the return that was opened as a return for the category. That's another module that looks at open-rate, not outcome. This isn't something that would typically be removed.



You should always be treated with respect, not just with the words we use but also of your time. I'd rather tell you up front that this isn't something that will be removed than to make you promises that we'll 'look into it' when the reality is that this isn't something that will be removed.



With all that said, teammates should be providing you that information up front, not making you promises when it's not something that will happen. I will have your contacts to CS reviewed and appropriate coaching provided to the employees involved.


Sellers are often upset about eBay's stance on service metrics - arguing that the process for determining "peer group" is not made clear enough and the 5% extra fee penalty is unfair, especially when buyers can and often do choose the wrong return reason (either by accident as in this example or intentionally to avoid paying for return shipping.)
---
This one really caught my eye - it's the first I've heard about this category and notably, this question did not receive a response.  I'll be keeping an eye on this topic, watch for future updates!
There is a new category (Collectibles>Virtual & Crypto Collectibles) that eBay created specifically for NFTs. VeVe NFTs are very commonly sold on eBay now.



The issue is you do not have an option for "no shipping". If you choose Local Pickup" you can avoid this, but that cuts out international sellers. If you choose International shipping, you have automatic shipping charges that apply.



Selling under the classified ads section is not a viable option, because the new category was created precisely for this. What is needed is a "Digital delivery" option rather than standard shipping.



Any ideas on getting around this until eBay updates the shipping in this category? Also when might that happen?
---
It appears that within certain categories, that AMEX or American Express, is not an available payment option on seller's listings who are enrolled in Managed Payments.



Is this a temporary glitch or a new policy? Will eBay at some point in time stop accepting American Express as a payment option all together or in certain categories, or when items are over $xxxxx amount of dollars?



American Express is still available on seller's listings who are NOT IN Managed Payments and are still having their payments processed by PayPal.



I have not searched all of the eBay categories but I have observed that this is taking place in the Coin and Paper Money categories, the Watch categories, and certain Jewelry categories.
This seller also linked to a very in-depth community post about this topic that's worth a read.  If there are limitations on payment methods for certain categories or certain dollar amounts, eBay needs to make that crystal clear to buyers and sellers.
eBay staff said they had reached out to get more information and would let the seller know what they found.
---
I posted about a listing being promoted by eBay's Twitter account which is in violation of eBay's Presale Policies.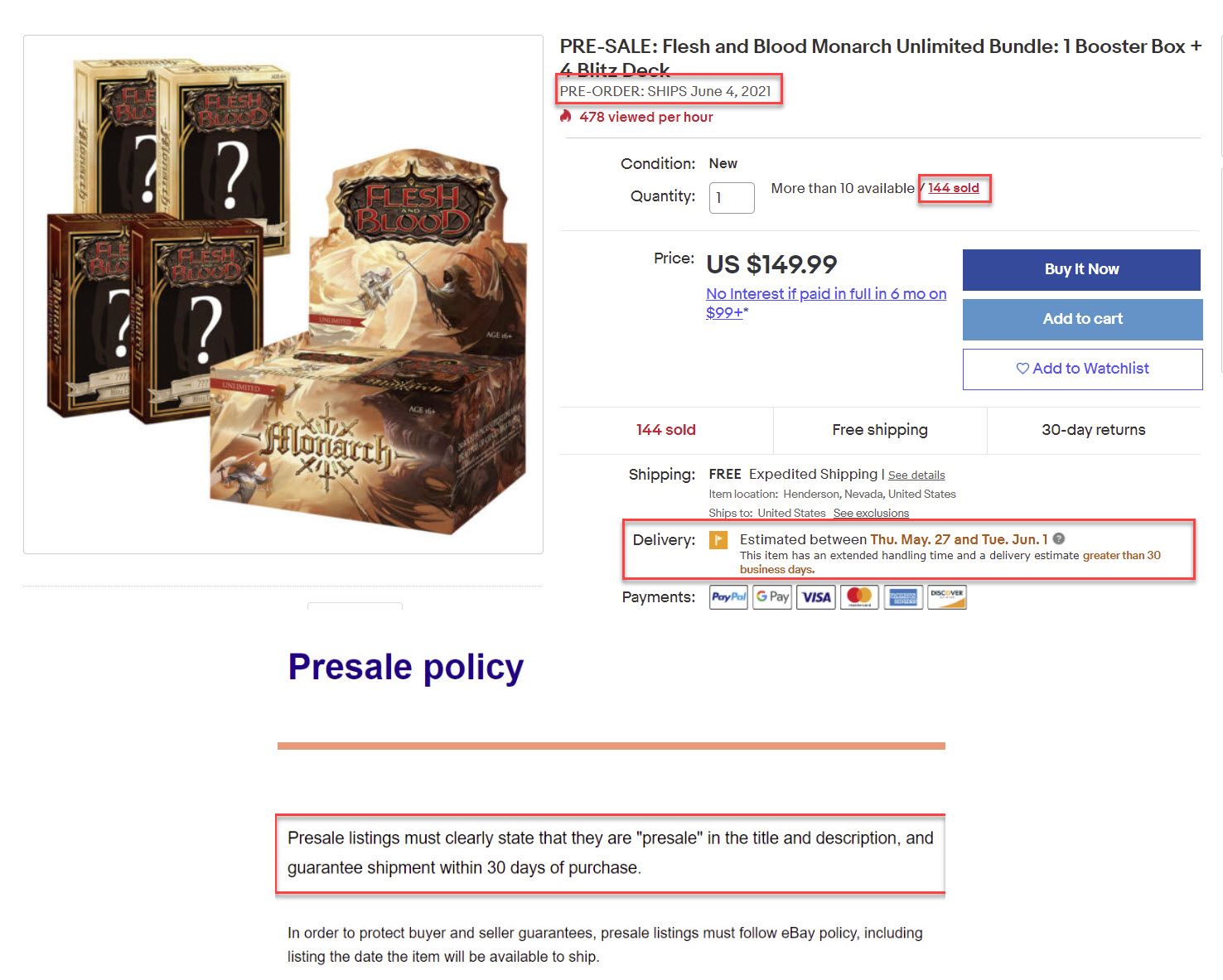 This listing was promoted by the official eBay Twitter page, despite the fact that it is clearly in violation of eBay's Presale Policies requiring shipment within 30 days.



The listing has been reported through the "report listing" link, but despite this and several reports by multiple Twitter users, the listing remains active.



Please forward this issue to Chief Compliance Officer Molly Finn as there may be regulatory issues in play here as well.



While the listing does state a shipping date of June 4th in the subtitle, eBay is automatically calculating and displaying a different/conflicting shipping date based on obviously false handling time settings, which is certainly misleading to buyers.
eBay staff responded thanking me for bringing it to their attention and promising to get it reported, however this listing is still active with 145 sold so far.
---
This seller brings up an interesting point - Head of Ads and Brand Partnerships Scott Kelliher made an appearance on this week's eBay for Business podcast talking about this new feature and really emphasized the point that sellers could "set it and forget it."
It would seem sellers aren't convinced that "set it and forget it" is a good strategy and would prefer more visibility both in the campaign (as this seller pointed out) and in the reporting for Managed Payments.
So, I recently ended my Promoted Listings campaigns and, as an experiment, put my listings into one of the new "automated" campaigns. I get that with the automated campaign, ebay is automatically changing my PL rate to the daily "suggested rate" (up to the max percentage I set when I created the new campaign). So, I'm fine with all that.



But now....how do I find what the actual rate is, today, for an item in my campaign? My Active Listings no longer show a percentage rate, they just say "automated"
Sellers need to have visibility into the actual rate as it automatically adjusts on a daily basis - hopefully Harry Temkin can get that added to this tool ASAP!
---